Meet the reformer: Laura Williamson, sounding a progressive Carolina call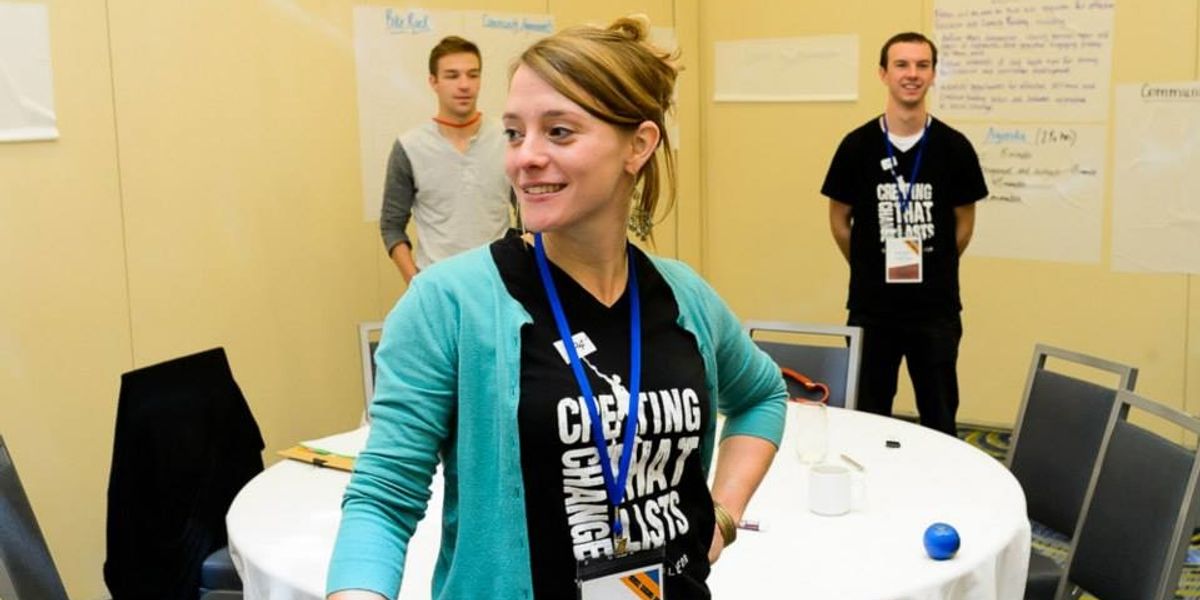 Photo courtesy Laura Williamson
Laura Williamson says her career was shaped by growing up in North Carolina, which she describes as being historically at the center of the best and worst of American democracy. She spent seven years working with young people at progressive groups and got a master's in public affairs at Princeton before joining Demos in the summer of 2018. The think tank aims to combat "threats to democracy, racial equity and economic inclusion" and as a senior policy analyst she's focused on voter registration, voting rights, money in politics and civic participation. Her answers have been lightly edited for clarity and length.

What's democracy's biggest challenge, in 10 words or less?
Abolishing all disenfranchisement schemes and achieving an inclusive, multiracial democracy.
---
Describe your very first civic engagement.
Testifying at the North Carolina General Assembly against cuts to funding for vocational education. The woodworking classes I took throughout high school were among the most formative of my public school education, so as a high school senior I advocated for their continued funding to lawmakers in Raleigh.
What was your biggest professional triumph?
It's actually a triumph-in-progress. At Demos, we are privileged to work with powerful grassroots leaders redefining democracy and pushing the reform conversation across the country. Alongside these Inclusive Democracy Project leaders we are dreaming and scheming about what it would take to build a truly inclusive democracy — without limiting ourselves by what's perceived as politically feasible or reasonable — and to chart a radical reform agenda that meets the challenge. Our agenda is in progress and, like all real victories, is benefitting from the efforts of many smart and talented people. Stay tuned, it'll be ready for public consumption soon!
Sign up for The Fulcrum newsletter
And your most disappointing setback?
They have always come after I've not listened well enough, have brought too much ego and taken things too personally, or not followed my gut about when a process or decision felt off.
How does your identity influence the way you go about your work?
I'm from North Carolina, where we pioneered multiracial, pro-justice fusion politics during Reconstruction, civil disobedience during the civil rights movement and franchise-expanding voting reforms since the 1990s. More recently, we have also been home to the vanguard of voter suppression and other democracy stifling tactics since the Supreme Court gutted the Voting Rights Act. I stand on the shoulders of giants and against the abdication of our identity as democracy leaders. I also do this work because, as a white woman, I know the exclusion of entire communities from our democracy was — and is still — led by my people and, often, in my name. I work every day to undo that legacy and ongoing reality.
What's the best advice you've ever been given?
Learn to simultaneously practice patience and show up with urgency in all the work I do.
Create a new flavor for Ben & Jerry's.
Impeaches and Cream
West Wing or Veep?
West Wing — for the sometimes-too-earnest belief that government can be a force for good, not the centrist politics!
What's the last thing you do on your phone at night?
Turn on do not disturb.
What is your deepest, darkest secret?
I'm deeply terrified by karaoke.
From Your Site Articles
Related Articles Around the Web