Warren would best Biden in ranked-choice nominating contest, poll shows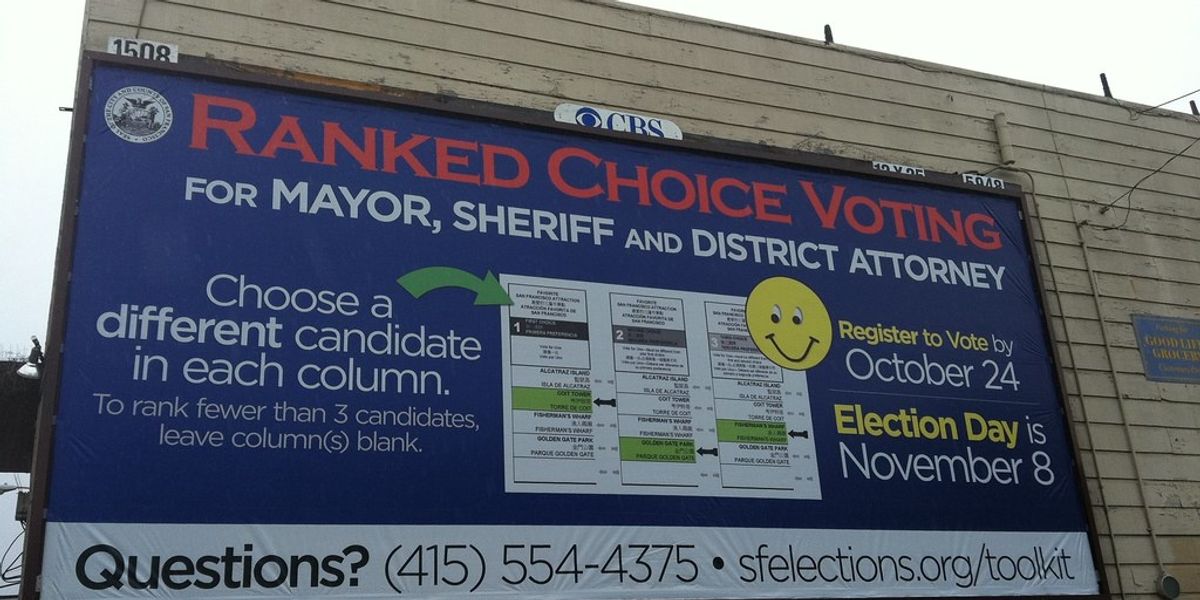 Flickr
If Democrats were given the opportunity to vote for more than one candidate among those seeking the presidential nomination, then Elizabeth Warren would win, according to a poll out Thursday by advocates of ranked-choice voting.
The unusual survey is sure to be cited not only by the Massachusetts senator – as evidence she enjoys more widespread enthusiasm than her rivals, and the potential to expand her base as the field shrinks -- but also by those who say democracy is better served by a voting system that rewards consensus candidates.
---
The FairVote sponsored poll of 1,002 likely Democratic primary voters has former Vice President Joe Biden as the top choice of 27 percent, the same as his average share in all the national polling done since Labor Day. The Massachusetts senator was at 24 percent when voters were asked to make a singular choice, a higher-than average showing for her.
But when these same voters used ranked-choice voting – under which they could vote for more than one candidate and put their selection in order of preference – Warren showed a greater depth of support than Biden.
Using such a system, Warren would end up besting Biden 53 percent to 47 percent.
Sign up for The Fulcrum newsletter
"In contrast to how most single choice opinion polling is used, ranked-choice surveys allow a greater understanding of how voters are considering a field of options, what depth of support candidates have in rankings and how one candidate's fall over the course of the campaign could affect others' rise," said Rob Richie, the CEO of FairVote, which commissioned the survey.
Warren's victory under the ranked-choice system, according to the poll, would come mainly from being supported relatively strongly by those who would first choose Sen. Bernie Sanders of Vermont or Sen. Kamala Harris of California. Respondents who made those two their top picks favored Warren over Biden as their second choice by a wide margin.
Warren also had the highest favorability ranking of the 20 candidates polled, at 74 percent, followed by both Biden and Sanders at 69 percent. And in a head-to-head matchup, she outpolled Biden 49 percent to 43 percent.
The survey also found support for the ranked-choice voting approach. Almost all of those polled did choose more than one candidate when given the chance. More than two-thirds described the process of choosing more than one candidate as easy. And about two-thirds said they favored ranked-choice voting, compared to 13 percent who opposed it.
Respondents said that health care, climate change and gun violence were the top issues they wanted to see addressed in the upcoming debates among the Democratic candidates.
Critics of ranked-choice voting fear that it would confuse voters.
Democrats in several states -- including Hawaii, Alaska, Kansas and Wyoming -- are planning to use ranked-choice voting in their 2020 primaries, although the Democratic National Committee has yet to sign off on states' voting plans. Plans for the presidential debut of so-called RCV in the crucial first-in-the-nation Iowa caucuses seem to have been scraped, however.