Long lines, language barriers & misleading info: A Super Tuesday sampler
https://twitter.com/saramswann?lang=en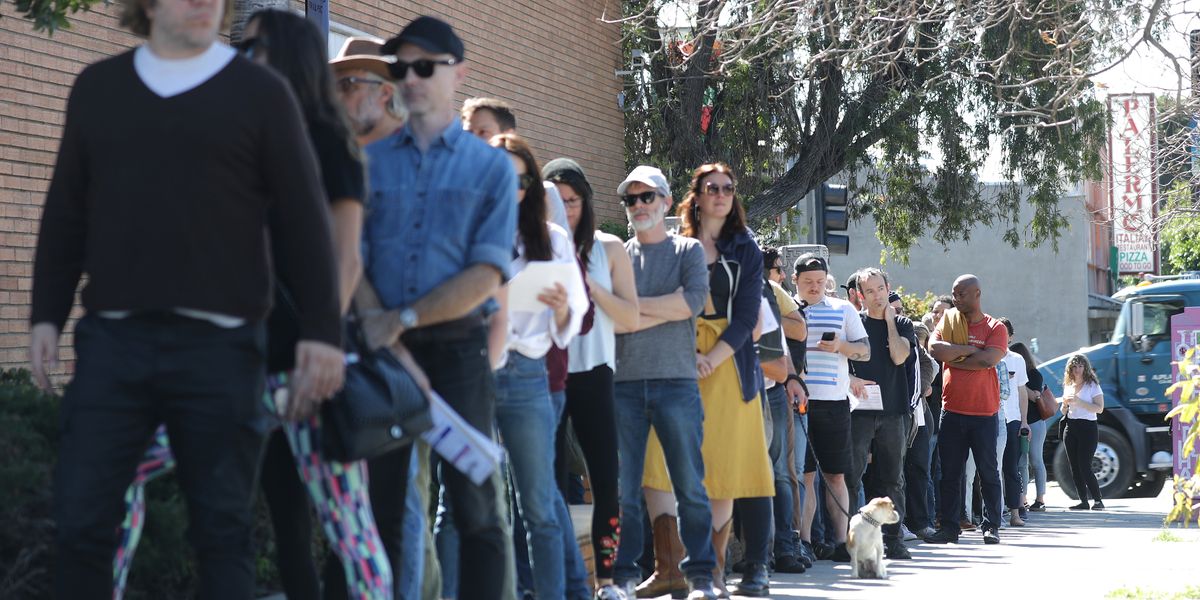 Mario Tama/Getty Images
High voter turnout was both a blessing and a curse on Super Tuesday. While more participation in elections gave civic advocates something to cheer about, long lines in two of the biggest states plus a wave of online disinformation left voting rights groups with a to-do list before the next primaries.

During the biggest day of voting in the Democratic presidential contest, hotlines operated in 11 languages by a coalition of progressive groups fielded more than 2,000 calls from voters expressing concern and confusion.
But as the polls started to close Tuesday evening, representatives of the so-called Election Protection coalition, led by the Lawyer's Committee for Civil Rights Under Law, told reporters they believe the primaries in all 14 states generally went off with few if any hitches.
---
Still, learning from reported problems will be "critical" in making sure the rest of the election season is similarly smooth, said Erica Bernal-Martinez, chief operating officer of the National Association of Latino Elected and Appointed Officials (NALEO) Action Fund, which ran a hotline in Spanish and English.
Michigan and five other states will vote Tuesday, the next contests in what's effectively become a nominating battle between former Vice President Joe Biden and Sen. Bernie Sanders of Vermont. Billionaire Michael Bloomberg ended his quest and endorsed Biden on Wednesday, while Sen. Elizabeth Warren of Massachusetts was contemplating her options after poor showings from coast to coast.
Sign up for The Fulcrum newsletter
At least 12.6 million ballots were cast Tuesday and, with results still being tabulated in California and Maine, it was clear turnout exceeded the Democratic primary numbers four years ago in at least seven states. (Four states switched from caucuses in 2016, so a full comparison is not possible.)
These were the issues raised by the Election Protection team:
California: This was the first test of several new voting procedures in Los Angeles County, the most populous county in the country. Perhaps the biggest change was a switch from traditional precinct-sized polling stations to vote centers, allowing residents to vote at nearly 1,000 locations regardless of where in the county they live.
Staff at the vote centers also used more modern technology to check in voters and update their registration using ePollbooks, instead of printed voter rolls. New ballot marking devices, with a paper trail, were also introduced. Additionally, in all of California's 58 counties, this election was the first that allowed for early voting and same-day voter registration.
While the changes were intended to make voting easier and more accessible, they also slowed the process considerably — resulting in wait times as long as three hours. Voters were assured they'd be allowed to vote so long as they were in line by closing time, said Kathay Feng, executive director of Common Cause California.
Texas: Thousands of voters were compelled to wait more than two hours after the polls closed before casting their ballots — the result of a turnout surge of as much as 50 percent from the Democratic contest in 2016, when 1.4 million ballots were cast.
Most of the delays were reported in precincts with college campuses and in the state's two biggest cities, Dallas and Houston. Voting in at least one precinct, at Texas Southern University, did not finish until 1:30 a.m. Still, there were no reports of problems connected to the state's decision to shutter dozens of smaller polling places in the last few years.
North Carolina: Two counties reported mishaps but state election officials were quick to respond, said Tomas Lopez, executive director of Democracy North Carolina.
In Winston-Salem, the state's fifth largest city, a precinct ran out of ballots and turned some voters away. And on the eastern side of the state, a precinct in the small town of Windsor had difficulty setting up a printer, which caused delays. As a result, the Board of Elections extended polling hours by at least 30 minutes in the two precincts.
Tennessee: Deadly tornadoes that swept across much of the state a few hours before the polls opened destroyed homes, claimed at least 24 lives and prevented at least 15 polling sites from operating in Nashville, the state's largest city.
The Lawyer's Committee filed a lawsuit in state court Tuesday hoping to force a reopening of the polls through Friday for voters in areas hardest hit by the storm. "There was simply no meaningful way for them to overcome the obstacles that stood between them and the polls," said the group's president, Kristen Clarke.
Disinformation: Instances were reported across all 14 states, mostly on social media.
Common Cause spokesman Jay Riestenberg said his group reached out to address confusion expressed by more than 200 voters on social media. They had been given incorrect information about voting procedures, including being told the wrong primary date and that they could cast ballots on Twitter or with a text message.
Common Cause has been in contact with the social media platforms, mainly Twitter, to flag content containing disinformation. The group marked dozens of posts for disinformation and within two hours Twitter had removed the content.
Non-English voting assistance: Hotline administrators reported several states lacked the proper resources to assist voters who are not English speakers. The reports came in to hotlines staffed not only in English but in Spanish, Arabic and eight Asian languages, but many polling sites did not have these language assistance capabilities.
NALEO's Bernal-Martinez said a surge of Latino voters, particularly in California and Texas, was held back a bit. Without enough Spanish-speaking volunteers at polling sites, she said, some voters were mistakenly asked to vote provisionally or simply were not given proper assistance.