Voter ID laws pose significant barriers to transgender voters
https://twitter.com/saramswann?lang=en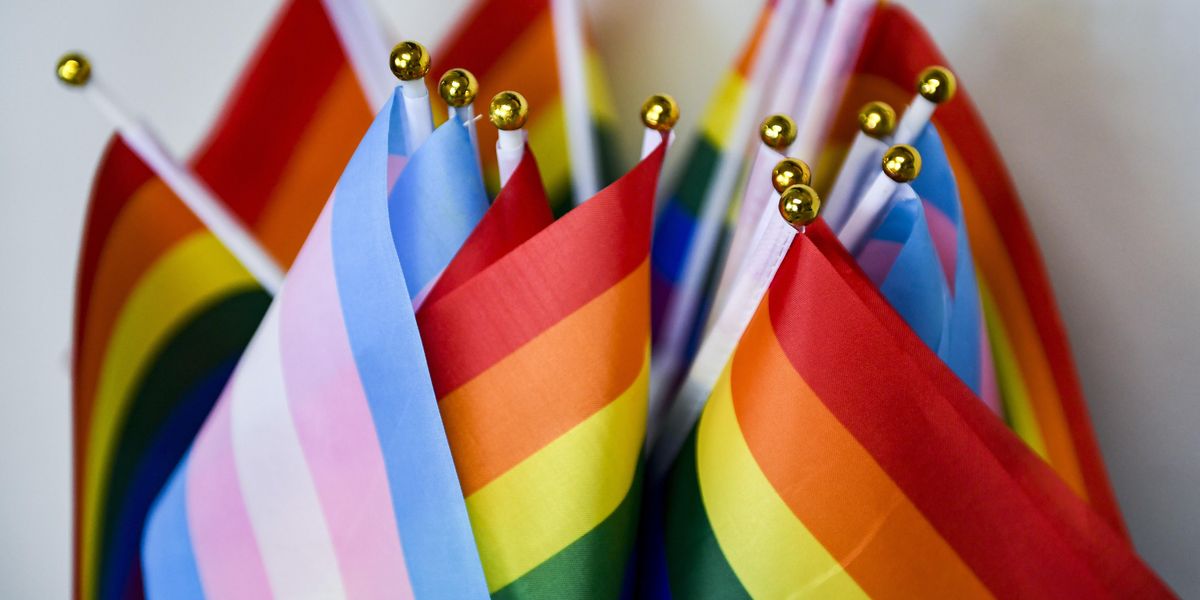 Ben Hasty/Getty Images
In most parts of the country, transgender and nonbinary voters face significant barriers to the ballot box — which have only increased with the recent wave of restrictive voting laws.

In particular, requiring identification in order to cast a ballot can make voting inaccessible and even unsafe for trans and nonbinary people whose IDs don't match their name or gender. Many states also have strict and extensive processes for updating IDs, creating an additional obstacle.
To help trans and nonbinary voters navigate these rules, and in honor of Pride Month, HeadCount has partnered with VoteRiders to launch #TransPeopleVote. The initiative is part of the larger "Vote With Pride" campaign, aimed at supporting all LGBTQ voters.
---
HeadCount is known for encouraging voter registration at concerts and music festivals. For the Vote With Pride campaign, the organization wanted to bring that same event-based approach (plus online and social outreach) to the LGBTQ community, which is often underrepresented and disenfranchised in elections.
"HeadCount through this Vote With Pride initiative really aims to connect members of the LGBTQ community to the tools that they need to vote safely and actively engage in civic life," said Miranda Rosenblum, who is leading the campaign for HeadCount.
Sign up for The Fulcrum newsletter
The campaign started last year, ahead of the 2020 election. This year HeadCount is highlighting the particular barriers trans and nonbinary voters face at the polls and providing resources to that community to help ease the voting process. During Pride Month, the #TransPeopleVote and the Vote With Pride campaigns will be front-and-center to bolster voter registration and participation for the LGBTQ community.
Thirty-six states require some form of identification in order to cast a ballot. Two dozen states have rules that impede a person's ability to update the name and gender marker on their ID. Twenty-two states have both types of laws, making it especially difficult for their trans and nonbinary residents to vote in elections.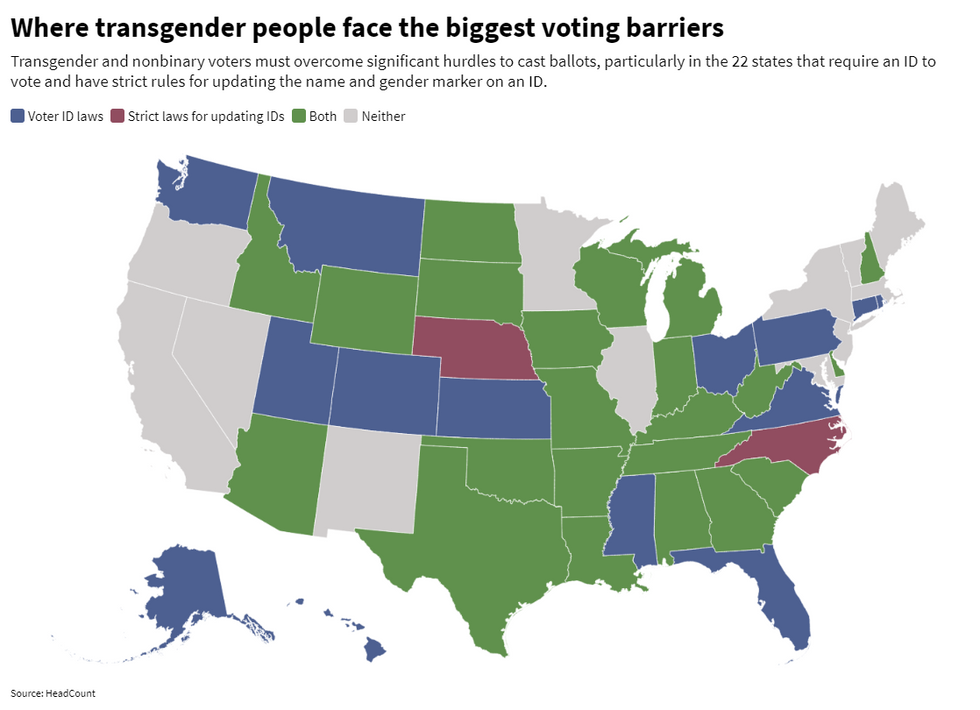 In 14 states, trans and nonbinary people have to provide proof of gender affirmation surgery — an expensive operation that is inaccessible to many — in order to update the gender marker on their ID. Another 16 states require name changes to be published in newspapers, another costly ordeal.

"This kind of high barrier in order to update your identification to feel good about presenting your ID makes it really difficult for trans folks to be able to have an ID that really represents them," Rosenblum said.
Voting barriers can be even more insurmountable for people with criminal backgrounds, which disproportionately affects the LGBTQ community. Nearly one in six transgender Americans have been to prison, according to HeadCount. LGBTQ people are 2.25 times more likely to be incarcerated than other people, according to the Prison Policy Institute.
For Black transgender individuals, the incarceration rate is nearly one in two. Twenty-five states have additional restrictions around name changes for people with criminal records, often felony convictions.
If these barriers were lower, trans and nonbinary people could have a voice and make a bigger difference in elections at the local, state and federal level, especially ones with small margins of victory, Rosenblum said.
HeadCount's website provides an overview of state laws around voting and ID change requirements and recommends the steps trans and nonbinary people should take to get an updated ID before casting a ballot. If a person cannot update their ID in time for an election, the website also advises on what steps to take to ensure a safe and secure voting experience.
Because trans and nonbinary voters are more likely to experience harassment at the polls, on account of their name or gender marker not matching their gender presentation, voting by mail is often a safer option for them. But states like Arizona, Georgia and Florida have recently approved measures rolling back mail-in voting.
Through the organization's partnership with VoteRiders, there is also a free voter hotline people can text or call to receive additional assistance. The hotline is staffed by a team of voting experts who are trans-competent, Rosenblum said.
"The more education that we can provide for folks outside of the trans and nonbinary community to really understand how significant some of these barriers are — and then on the other side, the number of resources we can provide for trans and nonbinary people to have an affirming experience when they vote — it can change our democracy," Rosenblum said.