HeadCount turns fans into voters
https://twitter.com/davidmeyers?lang=en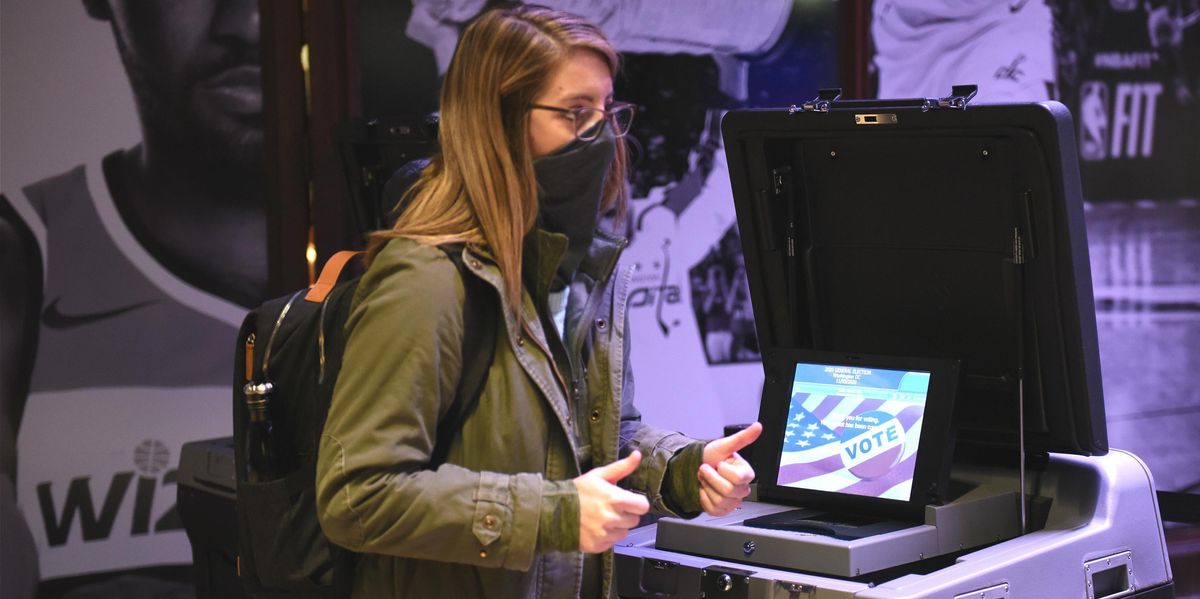 Chen Mengtong/China News Service via Getty Images
With fewer than 70 days remaining until the midterm elections, one of the biggest voter registration organizations is expanding its efforts to make sure people are prepared to cast a ballot this fall.

And if you attend a sporting event or concert, there's a decent chance you will interact with someone from the nonprofit, nonpartisan group HeadCount.
Last month, HeadCount announced a new partnership with Monumental Sports, which owns the Washington Wizards, Capitals and Mystics as well as the the Capital One Arena, to provide voter registration services at NBA, NHL and WNBA games in Washington, D.C., as well as concerts and other events at the venue.
HeadCount already works with some of the biggest music stars and corporate brands, and Director of Partnerships and Events Whitt Bell hinted there are more sports-oriented partnerships in the works.
---
"We're basically taking our model that we use for concerts, festivals and community events and templatizing it, and putting it in literally a new arena," Bell said.
Founded in 2004, HeadCount has helped more than 1 million people register to vote by partnering with performers like Beyoncé, Harry Styles, Dead and Co., supporting music festivals including Lollapalooza, Bonnaroo and brands such as Ben & Jerry's and Spotify and running online campaigns.
Sign up for The Fulcrum newsletter
In advance of National Voter Registration Day on Sept. 20, HeadCount has been working to expand its partnerships, with Monumental Sports serving as the next big professional athletics deal, following an event accompanying last winter's NHL all-star game in Las Vegas.
"Monumental wanted to start us as big as they could, which was not with one team but with three," Bell said.
The partnership began in July, with HeadCount setting up voter registration tables at the Mystics' final games of the WNBA season, played at Capital One and the Entertainment & Sports Arena in D.C. With the Mystics now eliminated from postseason play, the sports segment of the partnership will resume this fall when the NHL's Capitals and NBA's Wizards begin preseason games and then continue through their entire 2022-23 seasons.
"We see a lot of value in the season partnerships," Bell said, explaining that regularly participating in events has a far bigger impact than a single occurrence. "Like with artists – we don't ask to do a single concert, we want to do the whole tour."
HeadCount will also run tables during every Capital One Arena concert leading up to Election Day (Nov. 8). Scheduled artists include Kid Cudi, Mary J. Blog, Lizzo, Post Malone, The Killers and Smashing Pumpkins and Iron Maiden.

"We have guaranteed staffing at every event, with local volunteers supporting that," Bell said, explaining that standard staffing includes four to six people but those numbers can be scaled up.
When staffers engage with event attendees, their first question is always whether they are registered to vote. If not, the staffers will help people fill out the paperwork. For those who have registered, staffers will move to a secondary set of actions that include checking registration status, encouraging people to register as volunteers or signing up for absentee ballots.
At least one Grammy-winning global star is helping with voter registration efforts despite not even performing in the United States in the run-up to Election Day.
In July, HeadCount and Billie Eilish announced a contest in which those who register to vote or check their registration status could win a trip to see Eilish perform in Australia and New Zealand in September. In addition to being stops on her world tour, those two nations have much higher voter participation rates than the United States.
"I'm working with HeadCount to encourage everyone to show up at the polls and use their voice during these midterm elections," Eilish said. With what is going on in our country, we need to get out to the polls and vote for what we believe in. Not showing up is not an option."
HeadCount isn't the only organization leading voter engagement efforts. More Than a Vote, the group founded by NBA star LeBron James, has worked with sports teams and arenas to turn those facilities into voting centers. It has also provided funding for election workers in majority-Black districts.
Other artists and celebrities,
such as Lady Gaga
, used social media to encourage their fans to vote in 2020.