Stopping more Wisconsin election meltdowns subject of new suit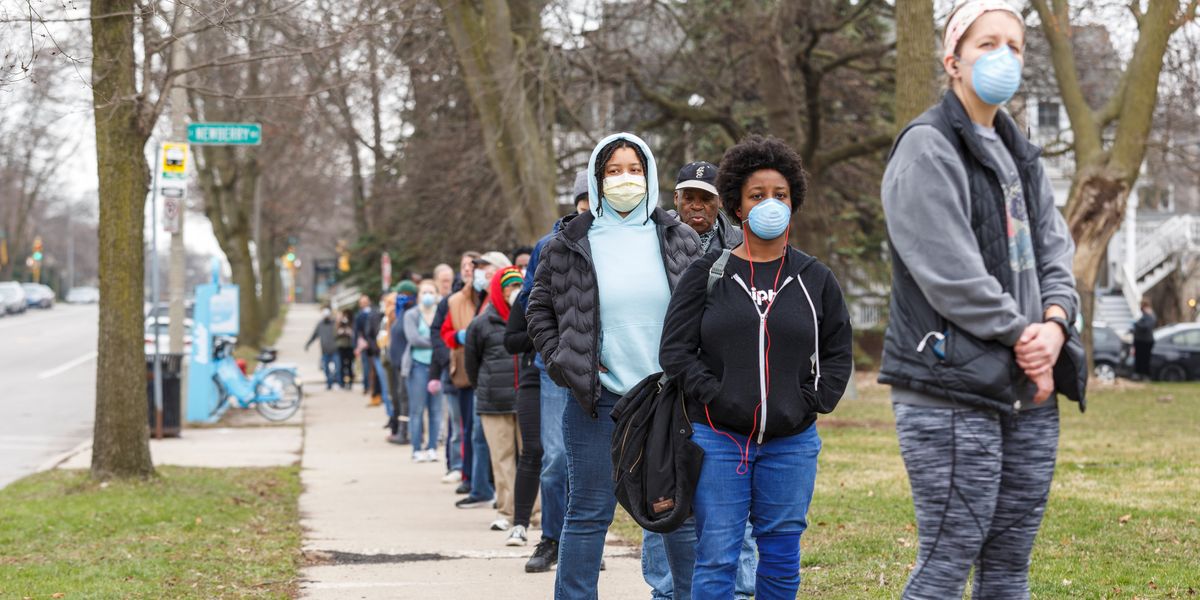 The Washington Post/Getty Images
Hoping to prevent a repeat of Wisconsin's plagued elections last month, a disability rights group is asking a federal judge to force sweeping changes allowing more absentee voting and ensuring safer polling places in time for the next primaries this summer.

The lawsuit, filed Monday, joins dozens across the country by Democrats and progressive advocacy groups working to ease restrictions on mail-in voting so that turnout remains robust despite the coronavirus pandemic. But the claims in Wisconsin carry special weight now — not only because the state is a presidential battleground but also because, as one expert quoted in the suit described it, Wisconsin's April primary was the biggest election failure since the Voting Rights Act was enacted in 1965.
---
The lawsuit asks the court to ensure in-person voting is safely conducted and an adequate number of poll workers are hired and trained to fully staff voting stations.

It also wants every registered voter to be sent forms for requesting absentee ballots for both the Aug. 11 congressional and legislative primaries and the Nov. 3 general election — and to compel the state to drop the requirement that absentee ballots be returned with a witness' signature.
The plaintiffs want to compel Wisconsin to start counting absentee ballots before Election Day and to count any ballot that is postmarked by Election Day and arrives at election offices within a week.
Sign up for The Fulcrum newsletter
The suit was filed as the state Election Commission issued its postmortem on the spring primary. The report said the turnout of 1.6 million was the second-highest ever for such a contest, bested only by four years ago, when contested presidential nominations for both parties were on the ballot.
And 62 percent of the ballots (964,433, to be precise) were returned by mail — nearly six times the number of mail-in votes in any other state primary. Just 26 percent of votes were cast in person on April 7, with the remaining 12 percent cast early but in person.
The commission says that, if typical turnout patterns for a presidential general election hold, more than 1.8 million mail-in ballots could be requested for November — which would "present terrific challenges for Wisconsin election officials at all levels."
The suit is relying on some precedents benefiting voters, and combating others, that were set last month as conservative majorities on both the U.S. Supreme Court and the Wisconsin Supreme Court ruled on a flurry of lawsuits ahead of the primary.
Shortly before the April 7 voting, a federal judge ruled that absentee ballots postmarked by that day and arriving by April 13 would be counted. The judge also said people should be allowed to include with their absentee ballots a statement saying it was not safe to get a witness' signature. The 7th Circuit Court of Appeals blocked the waiver of the signature requirement.
And after the GOP-majority Legislature refused Democratic Gov. Tony Evers' request for legislation delaying the election, he issued an executive order doing just that — which then got blocked by the state's top court. The nation's high court, however, did agree with the trial judge that absentee ballots should be counted so long as they were mailed by Election Day.
The day of the election, many polling sites were not open because workers did not show up. This left voters in masks and gloves standing in long lines, and subsequently several dozen of them, and several poll workers, have tested positive for Covid-19.
And a large number of absentee ballots never arrived at voters' homes and many completed ballots were not delivered in time to election offices.
All of these problems amounted to widespread violations of the Voting Rights Act and the Americans with Disabilities Act along with the constitutional protections of free speech under the First Amendment and equal protection rights under the 14th Amendment, the lawsuit alleges, and must not be allowed to persist in the next elections.
The 70-page lawsuit was filed by Black Leaders Organizing for Communities, Disability Rights Wisconsin and three voters who faced life-and-death decisions about whether to vote because of the coronavirus pandemic.
Among them is 61-year-old Jill Swenson, who lives alone in Appleton and has chronic obstructive pulmonary disease. She received an absentee ballot for the April 7 primary but was unable to get someone to countersign it without risking her health. She turned in the ballot anyway but it was not counted.
Several other lawsuits challenging Wisconsin's rules are already moving along in both state and federal court. The state's 10 electoral votes are central to both nominees this fall. President Trump won them by only 0.7 percentage points last time, the first GOP nominee to carry the state since 1984.