Your Take: The federal investigation of former President Trump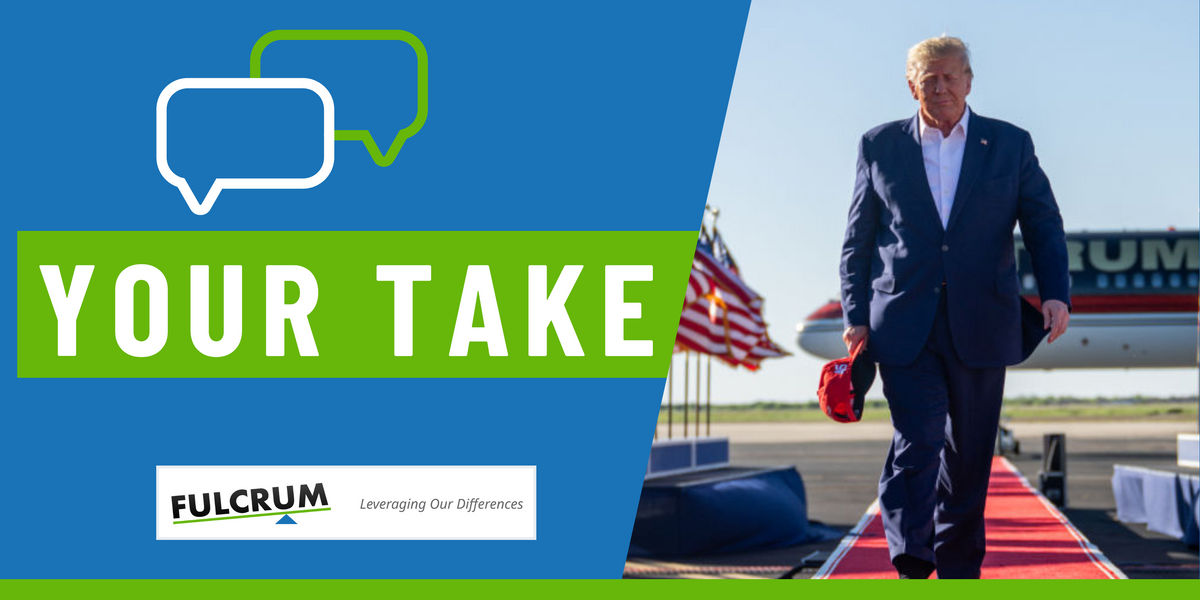 What timing! Earlier this week we asked the following questions of our Fulcrum community regarding the socio-political conundrums that could result from the federal prosecution of former presidents and other elected officials. We asked:
How legally accountable should we hold our highest elected officials for their actions during and after their terms? Can those responsible for deciding be truly impartial?
Does the prosecution of a former president politically weaponize the Justice Department?
This inquiry was spawned by the self-reported and now confirmed news of the pending arrest of former President Trump, who is being investigated for various crimes both during and after his time in office. There exists a growing fear on both sides of the aisle that the outcome of any federal investigation will yield bad fruit; with the lines between misconduct and crime continuing to blur, there seems to be no way to avoid the political enigma swirling around this issue.
---
The intensity with which those engaged offer their perspective is an indicator of the pivotal crossroads to which this investigation has brought us. Agreement is sparse. But the importance of how our justice system proceeds will be a poignant signal to the current state of American law. And even while many disagree on this issue, one common theme remains: justice is and always will be of paramount importance. The only problem is, whatever justice may be, none of us may be ready for its consequences.
Sign up for The Fulcrum newsletter
Here is a sample of your thoughts. Responses have been edited for length and clarity.
Our officials should be fully accountable for any action they commit. They are citizens first. [The Justice Department] is doing their job of prosecuting illegal actions, no matter the person being prosecuted. - David James
Elected officials should be held as accountable as any other person charged with criminal activity. A cross-section of citizens should be able to try any case as impartially as any other person. - Dan Wall
No one should be above the law. Felonies should be prosecuted. Supporters of the accused will make the claim that prosecuting a former president weaponizes the Justice Department. But alleged crimes must be investigated and, if supported by evidence, charged and prosecuted. - William Hunn
Actions post term should be prosecuted like anyone else. Actions during their term should only be for direct actions against our country, another country or our government. - Deb Porter
Totally accountable. If our highest elected officials are not held completely accountable for their actions, then "equal justice under the law" is just a fairytale we Americans tell ourselves. - Mary Friesan
Those who are responsible for deciding on the issues of legality and accountability also represent we the people and are tasked with upholding the laws. This is their job description. If they cannot fulfill their duties, they should not be in that position. - Kim S.
If there is a clear case of Presidential misconduct (or post-Presidential misconduct), then "No man is above the law" should be the clear rule of the day. This is not political. This is a matter of the law of the land. - Donna Kuck
The simple answer is that EVERYONE should be held accountable for their actions. But the sad truth is, in America, there are multiple tiers of justice, especially for the rich and the political/media class. - Randy Ricks
Impartiality is a concern for any and all judgements against citizen Jane Doe, or against celebrity public figures. But, [prosecuting a former president] is no more than prosecuting my neighbor, John Doe, for committing a felony. - John Christian Caldwell
If a crime has been committed and the person is found guilty they should be punished like anyone else and his or her political belief should not be used to distract the real issue. Guilty or innocence of a crime is the real issue. - Ron Tobias
[The prosecution of a former president] weaponizes the Justice Department to some degree, but too bad. We live in a polarized time. If this were a Democrat, Republicans would be all over this like spots on dice. - Nance Allen
The Justice department is not being weaponized. The court will determine if the charges are proven to be true. - Michele Risa
I love this country and I love our government but to have one man sit there and allow them to break the law is not the path to democracy. - Machelle Webb