Texas puts its new elections law to the test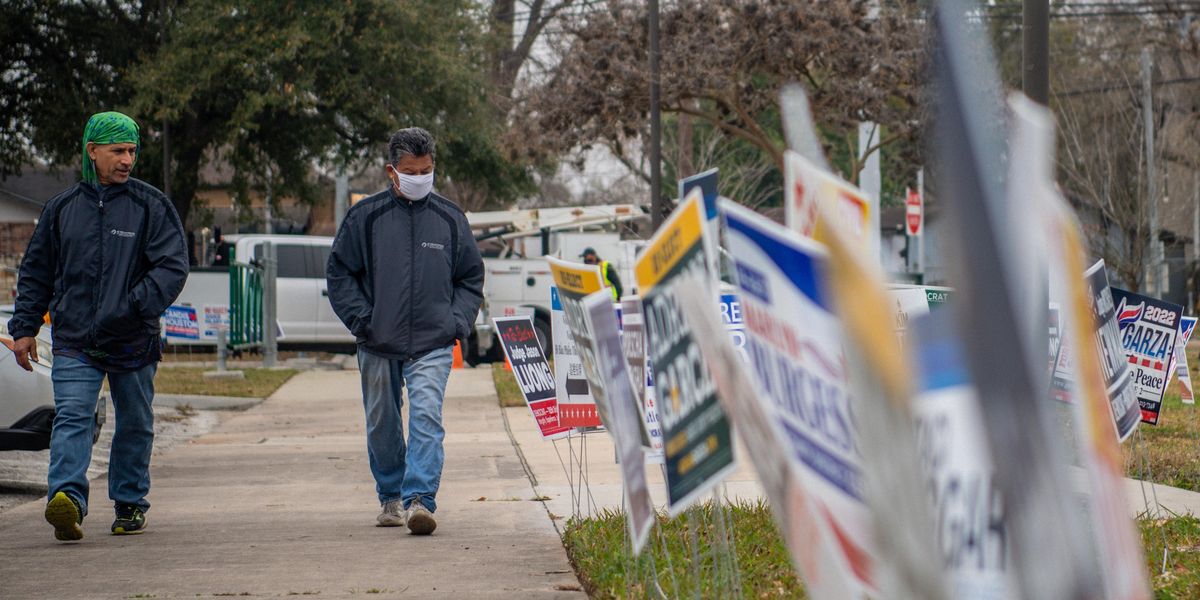 Brandon Bell/Getty Images
Levine is an elections integrity fellow at the Alliance for Securing Democracy, which develops strategies to deter and defend against autocratic efforts to interfere in democratic institutions.

Fueled by false conspiracy theories about a stolen presidential election, at least 19 states passed measures in 2021 that make it unnecessarily harder to cast, count and/or certify votes. A Texas law known as SB 1 may be the worst of the lot, and the state's March 1 primary elections could provide the first hints of how such efforts will impact the conduct of the 2022 midterm elections and beyond. With voting now upon us, concerns abound, but it's not too late to begin mitigating some of them.
---
First, the challenges. Thanks to SB 1, Texas applications for mail ballots must now include either a driver's license number or the last four digits of a voter's Social Security number, depending on which one the voter provided when they registered to vote. Because many voters don't recall which number they provided at registration, and local election officials don't have reliable ways to cross-reference this information, thousands of applications across the state are now being rejected. More recently, thousands of voters who returned completed mail ballots have also had them rejected by local officials, due to similar problems with the ID requirements in SB 1. Either of these issues could impact whether some voters are successfully able to vote in the primary.
Sign up for The Fulcrum newsletter
SB 1 has also banned several procedures that maintained the security of the voting process while making it more accessible in 2020, including drive-thru voting, 24-hour voting and the distribution of mail-in ballot applications. These prohibitions will undoubtedly lead to more in-person voting on Election Day, which makes it more likely that an attack against or failure in a jurisdiction's election infrastructure on March 1 could disenfranchise larger numbers of voters.
Texas also appears to be taking steps that undermine confidence in a system that has worked well. Although the Texas secretary of state who oversaw the 2020 election declared it "smooth and secure," Texas has taken a number of steps that seem at odds with this declaration. For example, SB 1 empowers partisan poll watchers to roam nearly anywhere in the polling place, with little recourse for malfeasance. This could lead to more interference in voting, including the intimidation of voters and election workers.
Despite being a bill ostensibly aimed at improving the security of Texas elections, SB 1 missed the opportunity to do just that. It failed to push for the quick replacement of paperless voting systems and did not include robust requirements for a post-election audit — two of the well-established ways to boost election security.
Over 92 percent of votes in the 2020 presidential election were cast on a paper ballot, which proved to be critical in the days following the election, when falsehoods about hacked voting machines began to spread among the public. States with paper-based systems can rebut baseless assertions of this kind by hand counting portions of the ballots to verify the accuracy of their machine-counted results. But jurisdictions whose systems produce no independently auditable record can't as easily disprove such claims. According to Verified Voting, about 12 percent of Texas' registered voters live in jurisdictions using paperless voting systems for all voters.
Notwithstanding the shortcomings of Texas' elections system, those participating in the March primary should not allow pessimism to turn into resignation or despair. It's important that Texas voters vote (early, if possible), whether in-person or by mail. Because SB 1 made several changes to when and where many Texans can cast a ballot, they should reach out to their local election officials to confirm their options and come up with a plan to vote.
Texans should also try to serve as poll workers because SB 1 is likely to increase the number of votes cast in person at Election Day polling places. Persons with disabilities or language-access issues could face more difficulty getting assistance than before because SB 1 established potential criminal penalties for those who assist voters. Additionally, some voters could be more likely to find themselves subject to harassment by partisan poll watchers. It's critical that the individuals staffing polling places have the customer service skills to work with poll watchers while ensuring a smooth and secure experience for these voters.
Finally, it's important that Texans, in concert with local election officials and other trusted sources, continue to amplify accurate information about the primary while combating false information. A lot of changes have been made to Texas elections since 2020; it's imperative that Texas voters be aware of them so that they can make informed decisions about when and how to cast their ballot.
Texas' 2022 election may not be as smooth as its 2020 presidential contest, but that shouldn't prevent election officials and voters from taking steps to ensure that the election is safe and secure.