The state of voting: Oct. 3, 2022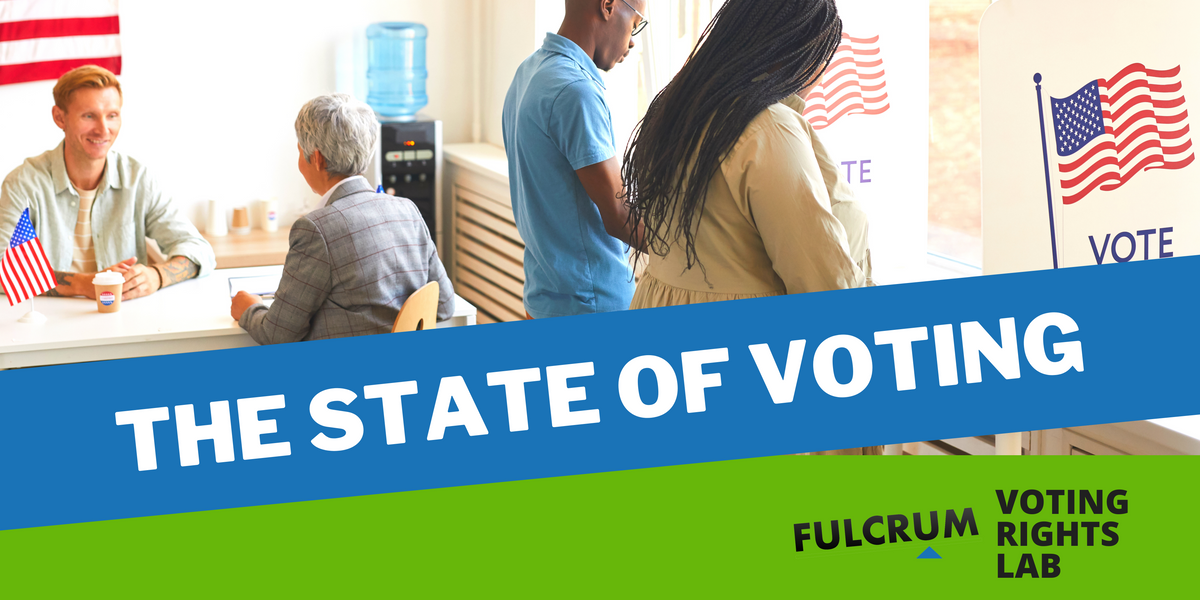 This weekly update summarizing legislative activity affecting voting and elections is powered by the Voting Rights Lab. Sign up for VRL's weekly newsletter here.
The Voting Rights Lab is tracking 2,201 bills so far this session, with 580 bills that tighten voter access or election administration and 1,054 bills that expand the rules. The rest are neutral, mixed or unclear in their impact.
If it seems like Wisconsin courts are continuously pulled into lawsuits over election laws, it's because they are. There's yet another lawsuit in the Badger State, and this one seeks to prohibit voters from intentionally canceling their returned mail ballots before Election Day.
Elsewhere, California Gov. Gavin Newsom signed several bills last week, including new laws that will require the placement of drop boxes on state university campuses, protect election workers, improve bilingual poll worker recruitment, and improve voter list maintenance. The Michigan Legislature passed a bill that would allow election officials to start processing mail ballots prior to Election Day. A federal court blocked enforcement of a new Arizona law, finding that it violates the National Voter Registration Act and is likely unconstitutionally vague. A Pennsylvania court ruled that counties may allow voters to correct errors on their mail ballot envelopes. And, finally, in Montana, a trial court declared new voting restrictions unconstitutional, permanently enjoining their enforcement.
Sign up for The Fulcrum newsletter
Here are the details:
---
California enacts four laws to improve voter access. Newsom signed four bills into law last Monday. Collectively, they will improve bilingual poll worker recruitment, place ballot drop boxes on state university campuses if school is in session during the election, protect election workers by enabling them to keep their identities and addresses confidential, and ensure voters are notified before their registrations are canceled, while improving the cancellation and restoration process for mentally incapacitated voters.
Michigan Legislature passes an election reform package, including a bill to allow clerks to start processing ballots before Election Day. On Wednesday, both chambers of the Legislature passed a package of four election bills by nearly unanimous votes. H.B. 4491 will allow clerks in jurisdictions with at least 10,000 residents to begin processing and verifying absentee ballots two days before Election Day. The bill also ensures that people who have died are removed from the voter registration list and clarifies rules about drop boxes. H.B. 6071 ensures polling places are not located in buildings owned by candidates and allows clerks to use central polling places that consolidate up to six precincts when it is convenient for voters. S.B. 311 and S.B. 8 allow active duty servicemembers to return ballots electronically beginning in 2024. Gov. Gretchen Whitmer is expected to sign the package in time for the mail voting and polling place provisions to take effect for November's election.
Federal court blocks enforcement of Arizona voter registration cancellation provisions. Last week, a federal district court issued a preliminary injunction that blocks the enforcement of two provisions of S.B. 1260, which passed earlier this year. One blocked provision would have required election officials to cancel voter registration in a manner that the court found violates the National Voter Registration Act. The other would have created a new felony that plaintiffs contend is unconstitutionally vague. Attorney General Mark Brnovich has appealed the ruling on behalf of the state. This injunction comes on the heels of a stipulation signed last month, in which the Arizona secretary of state agreed not to enforce a different voter purge law being challenged, H.B. 2243, which would require election officials to cancel registrations of voters whom they "have reason to believe" are not citizens.
Pennsylvania court allows counties to give voters an opportunity to fix errors on their mail ballot envelopes. Early last month, several national and state Republican groups filed a petition in Pennsylvania's Commonwealth Court (an intermediate appellate court) seeking to prevent county officials from notifying voters about minor errors on mail ballot return envelopes and giving them an opportunity to correct (or "cure") the issue. The Pennsylvania Code neither explicitly authorizes or prohibits counties from providing these options. On Thursday, the court denied the petition, rejecting the petitioners' argument that counties may not implement procedures unless they are explicitly authorized by the General Assembly.
Montana trial court declares new restrictions unconstitutional. A Montana trial court declared Friday that three laws passed in 2021 cannot be enforced because they violate provisions of the state's Constitution. H.B. 176 would have eliminated Election Day registration. S.B. 169 would have limited the types of IDs voters could use for registration and identification at polling locations. The blocked portion of H.B. 530 would have prohibited individuals from helping voters return their mail ballots. The court issued this permanent injunction a little more than a week after the Montana Supreme Court affirmed the preliminary injunction in the case.
New Wisconsin lawsuits aim to prevent mail voters from spoiling their ballots and seek clarity on witness address requirements. Under current law, Wisconsin voters who return their absentee ballot, but then realize they made a mistake or changed their mind about how they wish to vote, may spoil their ballot before Election Day and return a new one. A new lawsuit seeks to end this practice, asserting that the Wisconsin Election Commission guidance describing it is illegal. The suit is brought by the Wisconsin Institute for Law and Liberty, which has successfully sued to prohibit a number of voter access policies, including drop boxes and ballot return by family and friends.
Another lawsuit won by WILL prevents clerks from adding accurate witness address details to voters' ballot certificates to enable the ballots to be counted. The same lawsuit also invalidated the definition of what constitutes a witness address. As a result, two new lawsuits seek clarity on what level of detail is required for a mail ballot to be counted. For example, whether a ballot should be counted or rejected if the municipality is included but the ZIP code is missing.