Poll finds bipartisan support for reforming Electoral Count Act
https://twitter.com/saramswann?lang=en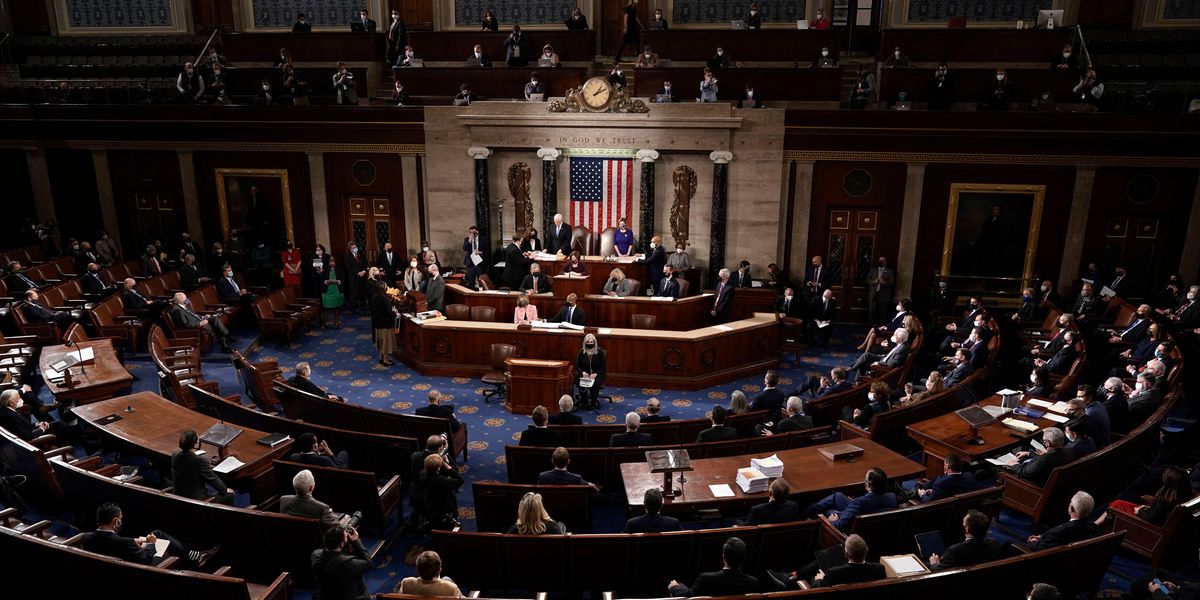 J. Scott Applewhite/Getty Images
A majority of voters across the political spectrum agree that the Electoral Count Act should be modernized to "protect the will of the people," recent polling found.

The Electoral Count Act of 1887 governs the casting and counting of electoral votes for president and vice president every four years, including Congress' role in the process. But election security and voting rights experts say the law's language is arcane and often confusing, which leaves room for misuse. Modernizing the law, experts say, would safeguard American democracy against another Jan. 6 insurrection or other potential crisis.
Proposed changes to the Electoral Count Act would establish more clearly defined rules for Congress and the vice president to follow, making it more difficult to reject a state's certified election results. Overall, 62 percent of voters surveyed supported such a change to the law, according to a poll released Tuesday by good-government groups Issue One, the Campaign Legal Center, Protect Democracy and RepresentUs.
---
Three-quarters of Democrats said they somewhat or strongly favored reforming the Electoral Count Act. More than half of independents (56 percent) and Republicans (52 percent) also indicated support.
Nearly two-thirds of voters said they would be more likely to support updating the law if the proposed changes were written by both Republican and Democratic members of Congress. Nearly seven in 10 Democrats would be more likely to support ECA reform if it was bipartisan, followed by 63 percent of Republicans and half of independents.
Sign up for The Fulcrum newsletter
"One of the reasons people say that America is 'exceptional' is that we regularly hold national elections run by the states per the Constitution, accept the outcome and peacefully transfer power based on the results," said Zach Wamp, a Republican who represented Tennessee in the U.S. House of Representative for eight terms and now co-chairs Issue One's ReFormers Caucus. "[The Electoral Count Act] must be modernized for the 21st century so that what happened January 6, 2021, doesn't happen again."
The voters primarily support ECA reform because they are worried a political party will try to overturn the results of an upcoming presidential election in order to put its own candidate in power. A majority of Democrats (56 percent), independents (53 percent) and Republicans (63 percent) raised concerns about this.
Most voters (58 percent) said there should be only a narrow set of circumstances in which Congress could reject a state's certified election results, compared to a quarter who said Congress should have broad power to reject results. While previous election certifications featured token opposition by members of Congress, the 2020 results were heavily contested by Republicans on Jan. 6, 2021, as rioters stormed the Capitol.
"As our poll shows, voters on both sides of the aisle are worried about partisan politicians trying to throw out a state's certified presidential election results," said Robert Jones from GS Strategy Group, which conducted the poll. "The public wants to see Congress act, and they strongly believe that a solution must be bipartisan. With the next presidential election having the potential to be one of the most contentious ever, this is one area where both Republicans and Democrats should be able to agree."
The nationwide online survey conducted by GS Strategy Group and ALG Research interviewed 1,012 registered voters between Sept. 20-26. The margin of error was 3.2 percentage points.