It was my honor to present ...
https://www.facebook.com/debilynm/
https://twitter.com/debilynm?lang=en
https://www.instagram.com/debilynmolineaux/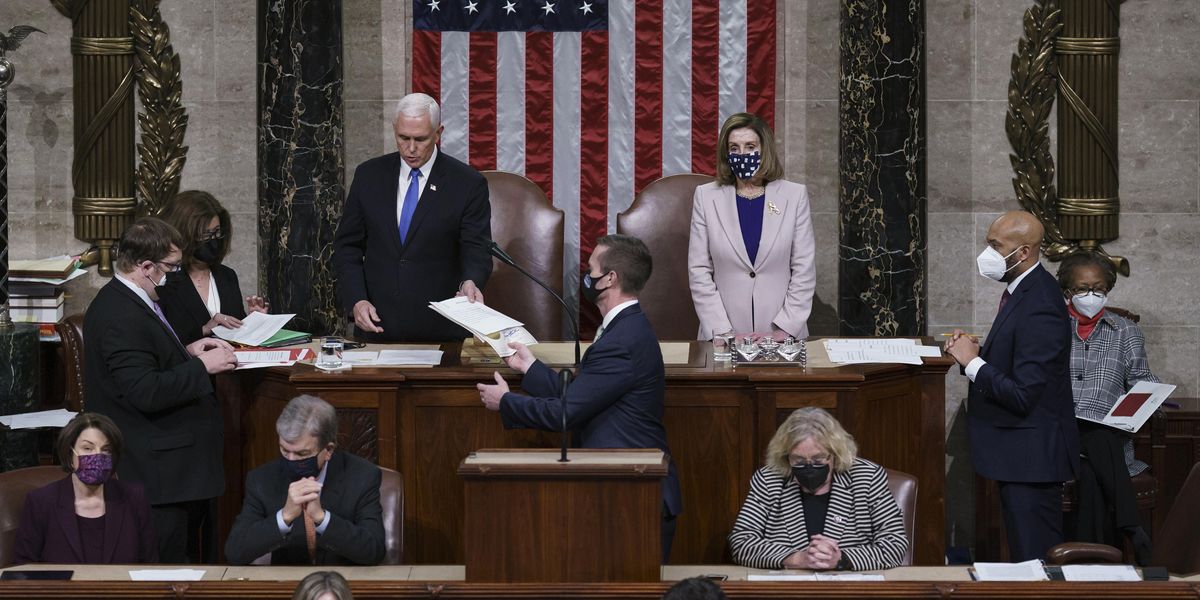 Pool/Getty Images
For the fifth time, the Congressional Management Foundation presented awards last week to members of Congress and their staff for exemplary service. In addition to the regular awards honoring constituent service, workplace environment, transparency and accountability, and innovation and modernization, CMF chose an unusual tribute this year, bestowing a Special Democracy Award to the nonpartisan floor staff of the U.S. House and Senate.

It was my honor to present that award on behalf of the Bridge Alliance, a founding partner of the Democracy Awards.
The Jan. 6, 2021, attack on the Capitol will leave a scar on the congressional community that will last forever. Many members of Congress, law enforcement officers and congressional staff have talked openly about the trauma the attacks had on their mental well-being. Yet there is one group rarely heard from who played a crucial role on that fateful day: the nonpartisan floor staff of the House and Senate. This is a group of public servants who are rarely recognized for their contributions. Yet without their dedication and hard work the engine of democracy would fail to function.
---
On Jan. 6 they were put in harm's way, asked to go above and beyond expectations, and worked with others to protect the peaceful transition of power, which is the hallmark of our democracy. These public servants were the stewards of democracy when we needed them most and continue to perform admirably as silent patriots serving under the dome. We owe them our gratitude for their outstanding work before, during and after Jan. 6, 2021.
Sign up for The Fulcrum newsletter
We hope this recognition will for a brief moment shine a light on the work of these silent patriots, and demonstrate to the broader congressional community — and indeed all Americans — that democracy doesn't simply function by itself. Democracy needs dedicated public servants, willing to make sacrifices, to perform their jobs irrespective of ideology and political party. We congratulate these staffers for their continued service to Congress and the American people. My edited remarks, honoring these people and their service, follow.
We know that for democracy to function, indeed for democracy to do so in a healthy way, requires work, patience and diligence. Each one of us should be working to strengthen democracy in America. The five principles of Bridge Alliance, to which our members align, state that we are better when we collaborate, embrace differences, focus on solutions with open mindedness, and insure Americans are informed and active. Through these principles, we empower college students to be prepared voters, bridge the cultural and political divides through thoughtful conversations, and improve our elections systems so every American can know their vote is counted accurately and that it matters.
Democracy, itself, is a process by which a nation of diverse individuals can make collective decisions. And in our democratic republic, we rely upon those who hold and honor the rules of engagement, our agreed upon processes, for our governance to work. Without people willing to learn the often arcane rules of our United States Congress, and guide our elected officials in the protocols, we would have chaos.
Most Americans never see the work of the floor staff of Congress. You are the people behind the scenes, on the floor of the House and Senate, who go quietly about your work, shepherding our representative democracy.
Never was your work, and the value of it, more visible and more important than on Jan. 6, 2021, when the Capitol was stormed and lives threatened for protecting the vote counting process following the presidential election of 2020. We owe each and every one of you a debt of gratitude for your service.
I asked my team at Bridge Alliance for ideas on what to say in presenting this award to you. Uniformly, they asked me to thank you. You demonstrated for all to see that the process of showing up, of staying vigilant and exhibiting dedication to completing your work, is what it takes to save our republic.
It is my honor to present you with this Special Award, recognizing the floor staff of the United States Congress for their exemplary actions to assure the continued peaceful transfer of power in the United States.
And with a tear in my eye and a quiver in my voice, we applauded these heroes. May they inspire us all to do the right thing when our country needs us most.