Reform leader Evan McMullin announces Senate bid in Utah
https://twitter.com/saramswann?lang=en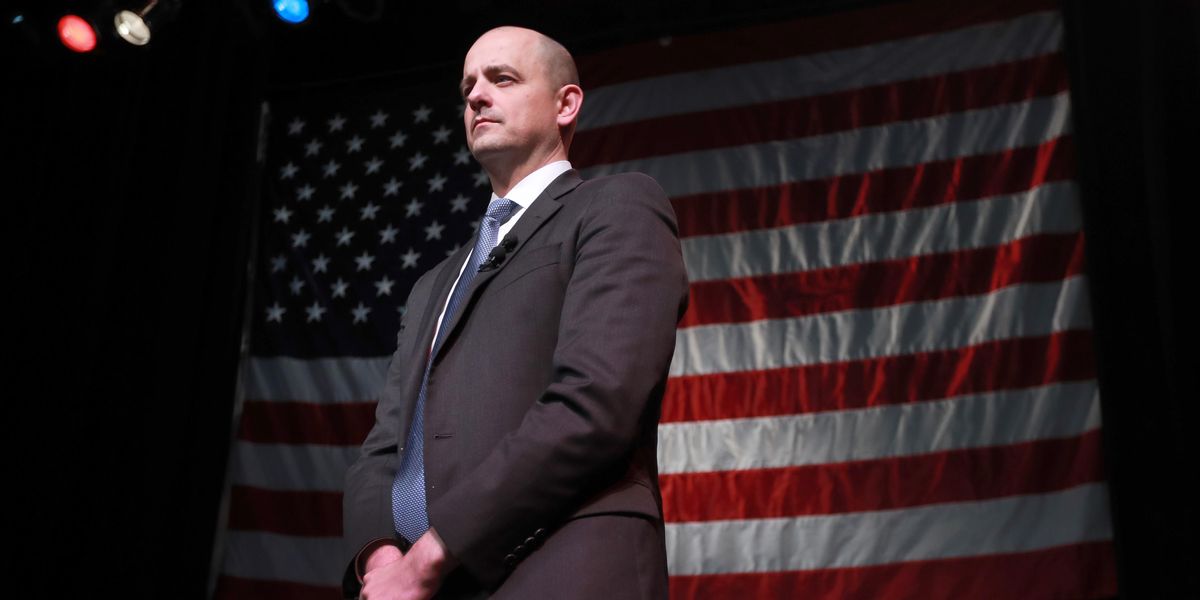 George Frey/Getty Images
Evan McMullin, who ran a third-party campaign for president in 2016, announced Tuesday he is challenging Sen. Mike Lee of Utah in next year's midterms.

Since his presidential campaign, McMullin has been focused on bridging political divides and advocating for government reform through Stand Up Republic, a nonprofit he launched alongside his running mate, Mindy Finn, in 2017. He is the latest in a series of political candidates to launch campaigns focused on democracy reform issues.
A Utah native, McMullin, 45, will again run as an independent candidate. In a video announcing his campaign, McMullin said the country has reached a crossroads with "our streets on fire and our temple of democracy desecrated" — a direct reference to the Jan. 6 insurrection at the Capitol. He also said partisan polarization is preventing Congress from governing.
---
"Our politics are broken," McMullin said in his campaign announcement. "And it's putting our country in danger. We need leaders who will unite rather than divide. Washington has left us so polarized that we're failing to overcome major problems facing the nation and it has to change."
Because of this polarization, America faces "crisis after crisis that never gets solved," McMullin said, including "forest fires, water shortages, a never-ending pandemic, the high costs of health care and an economy threatened by inflation and an exploding national debt."
Sign up for The Fulcrum newsletter
I'm Evan McMullin, I'm running for US Senate as an independent candidate here in Utah to defeat Mike Lee. Please wa… https://t.co/xVhTkKWRc1

— Evan McMullin 🇺🇸 (@Evan McMullin 🇺🇸) 1633446755.0
McMullin began his career as an undercover CIA officer soon after the Sept. 11 terrorist attacks. After about a decade, he left the agency and graduated from the Wharton School at the University of Pennsylvania. McMullin briefly worked for Goldman Sachs before getting involved in politics as a volunteer for Mitt Romney's presidential campaign in 2012.

He then went to work on Capitol Hill, advising Republicans and Democrats on national security issues. During the Republican presidential primaries in 2016, McMullin became a vocal critic of Donald Trump and left his job to launch his own presidential campaign. At that time, he also changed his political affiliation from Republican to independent.
While he garnered less than 1 percent of the vote nationally in 2016, he received more than 21 percent of the vote in Utah. Still, Lee holds a significant advantage over McMullin as an incumbent who last won re-election, in 2016, with 68 percent of the vote.
Earlier this year, another reform-minded candidate announced his bid for Senate in Wisconsin. Steven Olikara, former chief of the Millennial Action Project, is running as a Democrat in the hopes of challenging GOP incumbent Ron Johnson in next year's midterms.
In Massachusetts, Harvard University professor Danielle Allen is running to be the state's first elected woman — and second Black person — to serve as governor. A Democrat, Allen has been involved in efforts to bolster democracy and civic education.
And at the national level, Andrew Yang, who ran unsuccessful campaigns for president and New York mayor, is launching a new independent political party. Two key tents of the Forward Party are ranked-choice voting and open primaries.