Millennial Action Project and its founder begin new chapters
https://twitter.com/saramswann?lang=en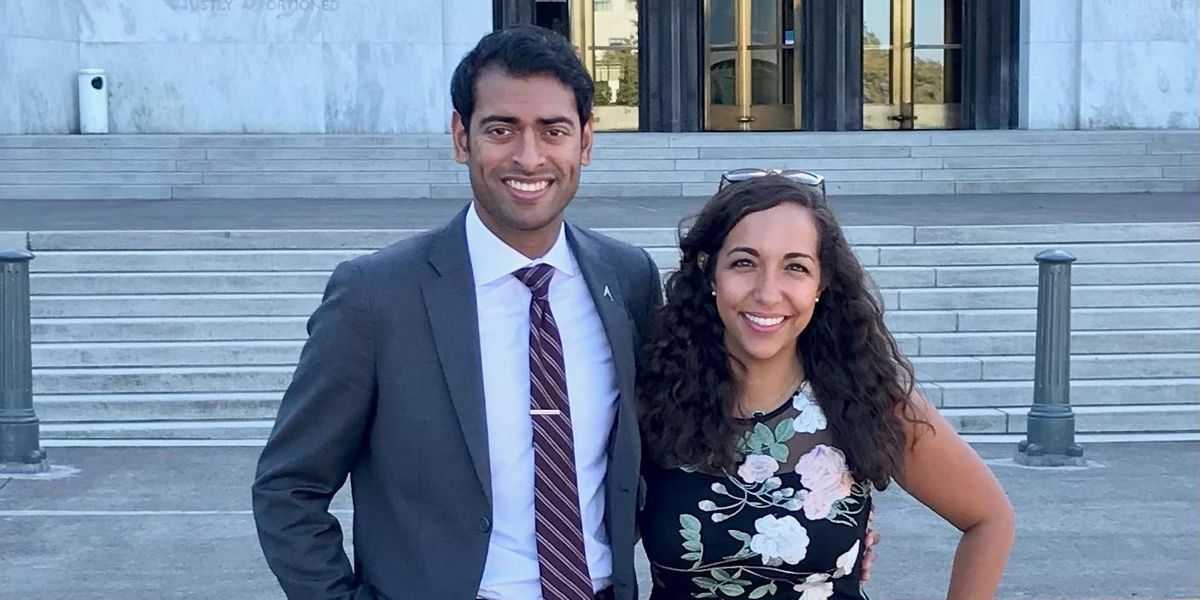 Courtesy Millennial Action Project
Growing up in Milwaukee, Steven Olikara felt that playing music was the only way to bring people of all backgrounds and ideologies together — until he was inspired to launch the Millennial Action Project.

Believing the trend toward polarization had put American democracy on perilous footing, Olikara decided to translate his musical performances into political involvement on a national scale. In 2013, he officially launched MAP with the hopes that the next generation could bridge the political divide and put America on the right path forward.
Now, after nearly a decade at the helm, Olikara has stepped down as both he and the organization enter new chapters. On Wednesday, the organization announced as his successor Layla Zaidane, who previously served as MAP's executive director and COO. As for Olikara's next steps, the 31-year-old has his sights set on a potential Senate run next year when Republican Ron Johnson's seat is up for election.
---
"I'll be focused on how we can raise the consciousness of our politics and how we can bring the MAP model to a new level in our country," Olikara said. "I'm very deeply engaged in how that model can make a positive impact in my home state of Wisconsin."
Sign up for The Fulcrum newsletter
His name is one of several that have been thrown out as possible Democratic contenders for Wisconsin's hotly contested Senate seat. Others include: Outagamie County Executive Tom Nelson, Lt. Gov. Mandela Barnes, state Treasurer Sarah Godlewski, Milwaukee Bucks Senior Vice President Alex Lasry and state Sen. Chris Larson of Milwaukee, according to the Milwaukee Journal Sentinel.
There's a chance Johnson, who is in his second term, may not seek re-election, which would dial up the competitiveness of that race. The 65-year-old senator has said previously that he intended to serve only two terms, but he has not yet made an official decision. If Johnson decides to retire, his open seat would be one of two in a state that went to Donald Trump in 2016 and Joe Biden in 2020. (The other is held by Pennsylvania Republican Pat Toomey, who announced his retirement last October.)
Regardless of where Olikara's political career takes him, he will stay involved with MAP as founder and senior advisor. (Olikara also serves on the board of directors for Issue One, which owns, but is journalistically independent from, The Fulcrum.) Over the last few months, he has been transitioning out of his leadership position while MAP's board of directors vetted more than 100 candidates for the role.
Ultimately, Zaidane was chosen because "there was no one quite so intimately connected or committed to MAP's mission and vision as Layla," board Chair Nicholas Maschari said in announcing her promotion.
Since joining MAP in 2016, Zaidane said, she has been "truly inspired by MAP's vision of a more inclusive democracy, led by young people."
As the new CEO, Zaidane will continue to grow the organization's Future Caucus Network, a bipartisan coalition of young legislators from across the country. Through this work, MAP and its caucus members will develop future-oriented solutions on issues such as climate change, criminal justice and democracy reform.
"It's hard to imagine a more important time for our country to move beyond the partisan framework that's defined our politics for far too long, and I am honored to be leading MAP and our network of young legislators in this movement," she said.
Zaidane, before joining MAP, was managing director of the youth-oriented Generation Progress and a marketing specialist for LivingSocial. She earned a degree from Georgetown University's School of Foreign Service.
During his time leading MAP, Olikara said his biggest accomplishments came when he saw the hard work of his staff and legislators in the Future Caucus pay off.
"Often it happens behind the scenes where they exhibit tremendous political courage to get a bill over the finish line or when they reach across the aisle to build a coalition," he said. "That always speaks deeply to the possibilities of this movement, so it's these stories of growth and leadership that, to me, are the most personally meaningful."
And millennials' impact on politics will only continue to grow. Last year's election saw more victories from young candidates than ever before: 1,641 people under the age of 45 were elected to state legislatures — representing nearly a quarter of the total seats. And 81 young members from both parties, including 23 freshmen and 58 incumbents, were elected to the House of Representatives.
Plus, Democrat Jon Ossoff won his January runoff in Georgia, making him at age 33 the youngest person elected to the Senate since Joe Biden in 1972. Another young senator, 43-year-old Republican Tom Cotton of Arkansas, was re-elected last year.
Olikara is hoping these young representatives will help inject new life into politics and political decision-making. One of the biggest problems MAP has tried to tackle from the outset is what he calls the "short-termism" of politics.
"It's all about short-term wins and short-term fixes, often at the expense of the long-term health of our country," he said. "It's been too politically convenient for our leaders to just kick the can down the road on a lot of generational problems, whether it's climate change or the national debts or preparing our workforce for the jobs of the future."
Having young people represented in state legislatures and Congress, Olikara said, is going to have a huge impact on policymaking because their generation brings different life experiences and ideas.
Reflecting on his time at MAP, Olikara said there is no person better suited to lead the organization into its next chapter than Zaidane.
"For over four years, Layla has been by my side for every major decision at MAP. She brought energy, conviction and dedication to her role first as COO and then as executive director & COO," he said. "As I step down from serving as CEO at the organization I helped found over eight years ago, I'm proud to pass the baton to such a capable leader. It's honestly a dream come true."