Pressure mounts on Senate Democrats to choose between voting rights and filibuster
https://twitter.com/saramswann?lang=en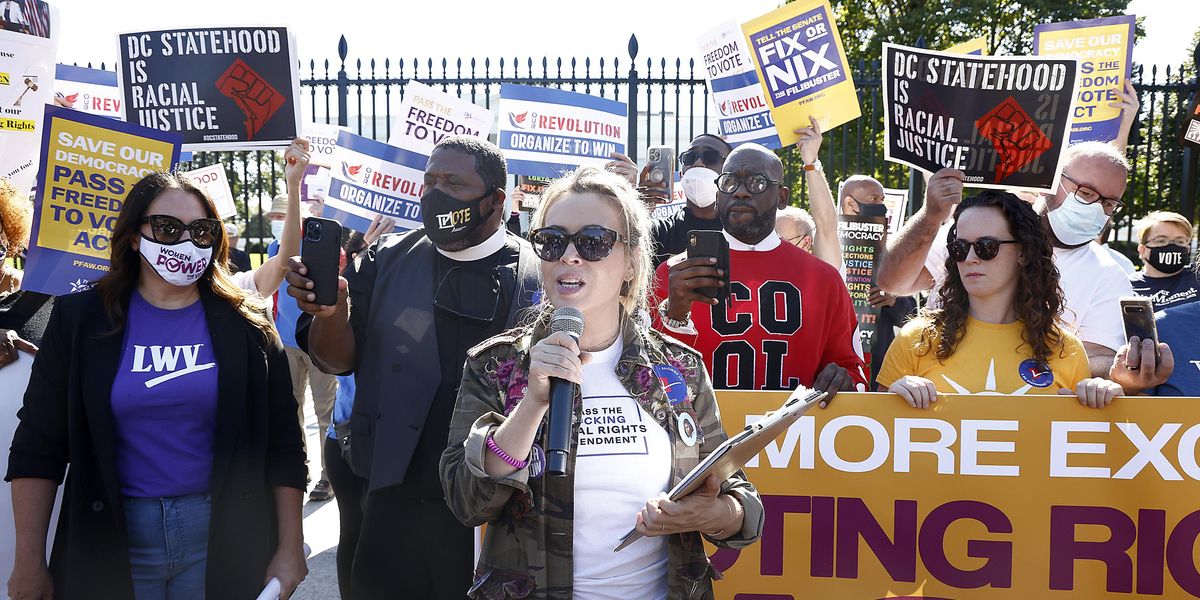 Paul Morigi/Getty Images
The massive elections reform bill known as the Freedom to Vote Act appears to be headed down the same path as its predecessor: blocked from Senate consideration by a Republican filibuster.

Senate Democrats plan to bring the compromise bill to the floor Wednesday for a procedural vote that would allow lawmakers to begin debating the legislation. However, that debate can only begin if 60 senators vote to stop a filibuster, and Republicans remain staunchly opposed to the bill.
Voting rights advocates expect the legislation to be stymied and have set their sites on eliminating the filibuster rule. They say Wednesday's vote will force Senate Democrats to choose between keeping an "archaic" procedural tool and enacting broad electoral reform.
---
"I, along with other coalition members, as well as Black and Brown voters across the United States, are disappointed. We are experiencing political theater at the expense of our lives, at the expense of justice for our communities and the work that we have done," said the Rev. Stephany Spaulding of Just Democracy, a coalition of more than 40 Black- and Brown-led social justice groups that support eliminating the Senate filibuster.

Democrats introduced the Freedom to Vote Act last month after the For the People Act was blocked by a GOP filibuster in June. The new, pared-down legislation includes many of the same provisions as the original bill, while making some concessions to appease moderate Democrat Joe Manchin of West Virginia. Manchin was the only Democratic holdout on the For the People Act, saying he believed any election reform legislation should have bipartisan support.
Sign up for The Fulcrum newsletter
Both bills would require states to allow no-excuse absentee voting and offer automatic voter registration. But the Freedom to Vote Act would also make Election Day a public holiday, a provision that was dropped from the For the People Act.
The Freedom to Vote Act also includes new protections for election administrators, who have faced heightened threats following the 2020 election. The bill would also empower voters to challenge burdens on their right to vote in court.
Under this legislation, states with voter identification laws would be required to follow certain standards, such as accepting a broad array of photo and non-photo ID documentation when verifying a voter's identity.
While the newer bill drops a provision that demands states adopt independent redistricting commissions, the Freedom to Vote Act does add new requirements to curb partisan gerrymandering and ensure the redistricting process is more fair and transparent. The bill also includes some campaign finance provisions, although they are significantly scaled back from what the For the People Act proposed.
These changes were made in response to critiques from election administrators who desired a more streamlined process and in the hopes of swaying Republicans to support the bill. But GOP lawmakers have not budged from their opposition.
Voting rights advocates have expressed frustration that these compromises were made in a fruitless attempt at bipartisanship.
Following Wednesday's anticipated blocking of the Freedom to Vote Act, Senate Democrats will be facing a "make or break" moment for American democracy, advocates say.
"Senate Democrats face a choice clearer than ever before: protect our democracy or protect the outdated, abused Senate filibuster," said Eli Zupnick, spokesperson for the Fix Our Senate coalition. "Despite Sen. Manchin's good faith outreach, there simply aren't 10 Republicans going to work with Democrats on this. Senate Democrats can have the filibuster, or they can defend our democracy. There is no third option, and we're running out of time."
A June poll conducted by Morning Consult and Politico didn't find majority support among voters for keeping or eliminating the filibuster. When voters were asked if the current Senate rule should be kept, 48 percent indicated support. But when voters were given a choice between whether legislation should pass with 60 votes or a simple 51-vote majority, 45 percent said the latter.
Another poll, this one conducted last month by Data For Progress, found supermajority support across party lines for the Freedom to Vote Act. Seven in 10 Americans overall indicated support. Democrats were most enthusiastic with 85 percent backing the legislation, followed by two-thirds of independents and 54 percent of Republicans.
"Americans overwhelmingly support the Freedom to Vote Act because they believe that every one of us should have the freedom to vote so that we all have an equal say in the future for our family and community, regardless of our age, our political party, our background or our zip code," said Common Cause president Karen Hobert Flynn.