The state of voting: July 5, 2022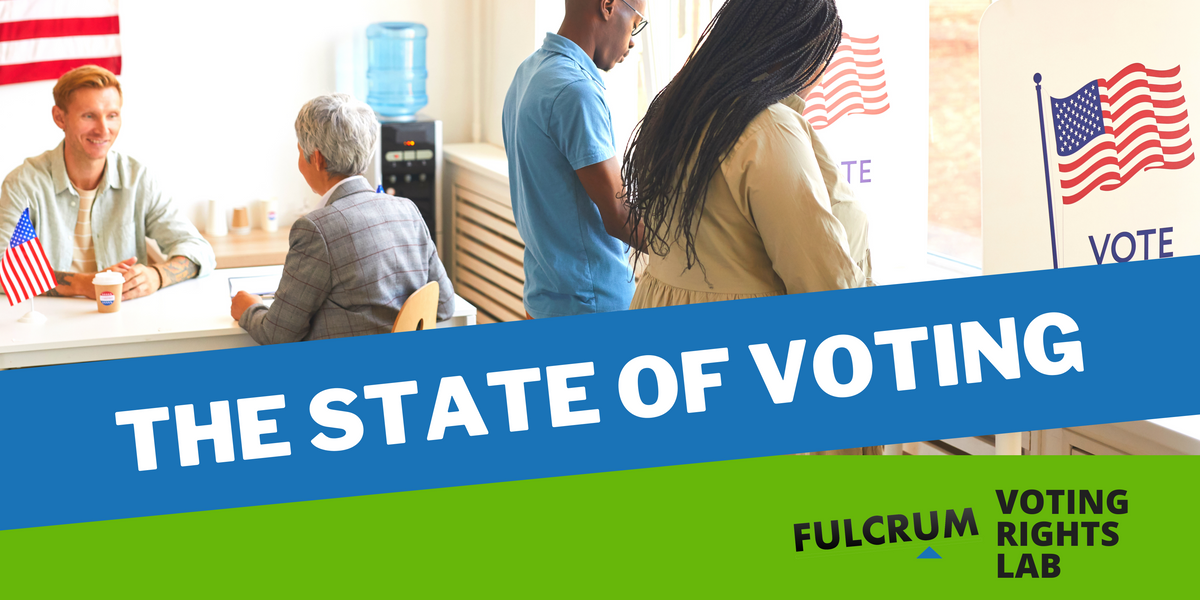 This weekly update summarizing legislative activity affecting voting and elections is powered by the Voting Rights Lab. Sign up for VRL's weekly newsletter here.
The Voting Rights Lab is tracking 2,182 bills so far this session, with 579 bills that tighten the rules governing voter access or election administration and 1,037 bills that expand the rules.
Last week, Missouri's governor signed a bill that makes the state's voter ID law stricter and limits mail voting access, but the same bill also creates in-person early voting in the state for the first time. And a new Massachusetts law expands early voting and mail voting, as well as facilitates voter registration.
Meanwhile, North Carolina's budget bill includes a review of the state's voter registration system by the Electronic Registration Information Center. The governor of Louisiana vetoed a bill that would have blocked the implementation of federal law and federal grants for election administration.
Looking ahead: Delaware's governor may sign a bill that allows no-excuse mail voting, bringing the state in line with the majority of the country.
Here are the details:
---
Missouri governor signs voting bill that creates in-person early voting, while also tightening the state's voter ID law. On Wednesday, Gov. Mike Parson signed H.B. 1878 into law, making substantial changes to Missouri election law that will go into effect for the November election, but not in time for next month's primaries. Missouri voters will have two weeks of in-person early voting leading up to Election Day, and election officials will implement safeguards to enhance cybersecurity and the post-election audit process. However, the law also eliminates many forms of ID that were previously acceptable for voting purposes and creates barriers to third-party voter registration activities. Additionally, the law restricts absentee voting in a number of ways, including by prohibiting the use of drop boxes for absentee ballot return.

Sign up for The Fulcrum newsletter
Massachusetts expands early in-person and mail voting. Gov. Charlie Baker signed a bill that allows voters to vote early in-person or by mail for all elections. Under the new law, the secretary of state will send all registered voters a mail ballot application before each election. Under prior law, in-person early voting and no-excuse mail voting were only available for biennial November general elections. The bill also moves the voter registration deadline from the 20th day before Election Day to the 10th day prior.
North Carolina's budget bill includes funding for the state to join ERIC, but may limit the state's ability to use it. Currently, North Carolina is not a member of ERIC, a database used by 31 states and D.C. to maintain accurate voter lists. H.B. 103 would provide one-time funding for membership with ERIC for one year. The bill would also require the State Board of Elections to seek the legislature's approval prior to making any changes in the policies or procedures related to elections in North Carolina. This requirement would limit the board's ability to use ERIC, because ERIC may require certain system changes for use of the database.
Louisiana governor vetoes a bill that would interfere with federal election policy. Gov. John Bel Edwards vetoed H.B. 359, a bill that would have prohibited election officials from accepting or dispersing federal funds for elections without approval from the joint legislative committee on the budget. The bill also would have prohibited election officials from implementing federal directives or guidance regarding elections unless they were required to do so by state law or received legislative direction to do so.
Delaware is poised to eliminate its excuse requirement for mail voting. The Delaware legislature sent Gov. John Carney a bill that would establish no-excuse absentee voting in the state. Delaware is among a minority of states where voters are required to have a special qualifying reason or excuse in order to vote by mail.