McCarthy faces pressure from new watchdog group in campaign for speaker
https://twitter.com/davidmeyers?lang=en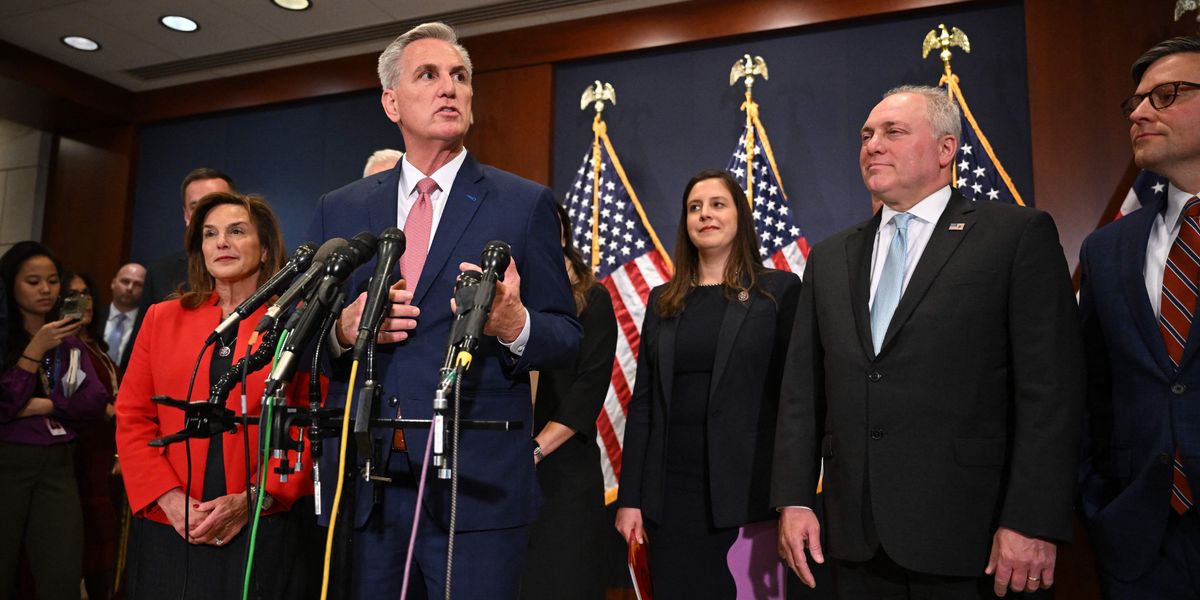 Mandel Ngan/AFP via Getty Images
David Jolly, a former Republican member of Congress who has become a leading figure in efforts to break the two-party hold on American politics, has turned his newest organization's efforts toward Rep. Kevin McCarthy's campaign to be speaker of the House.

Jolly and Maria Cardona, a public affairs veteran and Democratic strategist, recently formed Facts First USA with the goal of preventing lawmakers from using their oversight powers for political gain. This week, the group is focused on McCarthy's negotiations with his fellow Republicans as he seeks to shore up enough votes to be the next speaker.
As first reported by Politico, Facts First President David Brock has sent a memo to the group's allies warning of deals McCarthy may make with "ultra MAGA extremists" in the House in exchange for their votes for speaker.
---
"The corrupt bargain comprises specific promises and concessions being made to right wing caucus members to advance their own narrow special-interest partisan agendas that ill serve the American people," Brock wrote. "The corrupt bargain is an abuse of power by McCarthy and an indication he is so desperate to run the House he is willing to burn it down."
("Corrupt bargain" is a reference to the 1824 presidential election, in which Speaker Henry Clay arranged votes in the House to ensure John Quincy Adams was named president rather than Clay's rival Andrew Jackson.)
Sign up for The Fulcrum newsletter
With Republicans holding a very narrow majority in the new Congress, McCarthy needs to hold together nearly every member of the caucus in order to win the speakership. Facing pressure from multiple factions – including Republicans who won in districts carried by Joe Biden, the hard core Freedom Caucus and devout allies for Donald Trump – McCarthy may need to strike deals to secure enough votes.
Multiple media outlets have reported that McCarthy has taken a more aggressive approach to oversight of the Biden administration, particularly Homeland Security Secretary Alejandro Mayorkas and his management of the southern border, to win the support of Rep. Marjorie Taylor Greene and other vocal Republicans.
"If McCarthy doesn't get to 218, perhaps a unifier does and everyone goes home quietly. But in a multiple ballot scenario, we can expect certain GOP members to begin to look at coalition governing," Jolly said, who identified a possible unity candidate.
"Outgoing Michigan Rep. Fred Upton could get 175 Republicans and 50 Dems to lead the next House should the body devolve into a multiple ballot situation on January 3," he said. "I'm sure there are others, but he is the perfect speaker candidate in this moment."
Jolly is a former Republican member of Congress who left the GOP and became executive director of a new political party known as the Serve America Movement. Rather than focusing on carving out a partisan niche, the SAM Party was created to support candidates who back political reform. Earlier this year, the SAM Party merged with two other organizations to create the Forward Party, which is now led by former Democratic presidential candidate Andrew Yang and Christine Todd Whitman, a former Republican governor of New Jersey.
Jolly continues to support the Forward Party but is not formally involved so he can focus on his work in the media.
With his new organization, Jolly wants to hold his former colleagues' feet to the fire.
"Facts First is intended to be the leading rapid response organization providing information to the public in the face of House Republican investigations," he said. "Republicans don't get to make allegations simply because they read something in a chat room. Facts First will also focus on the hypocrisy of House GOP chairs issuing subpoenas when they personally refused to respond to January 6 subpoenas, and the hypocrisy of ignoring oversight convictions during the Trump years."