There are no simple answers on affirmative action
https://twitter.com/davidlnevins?lang=en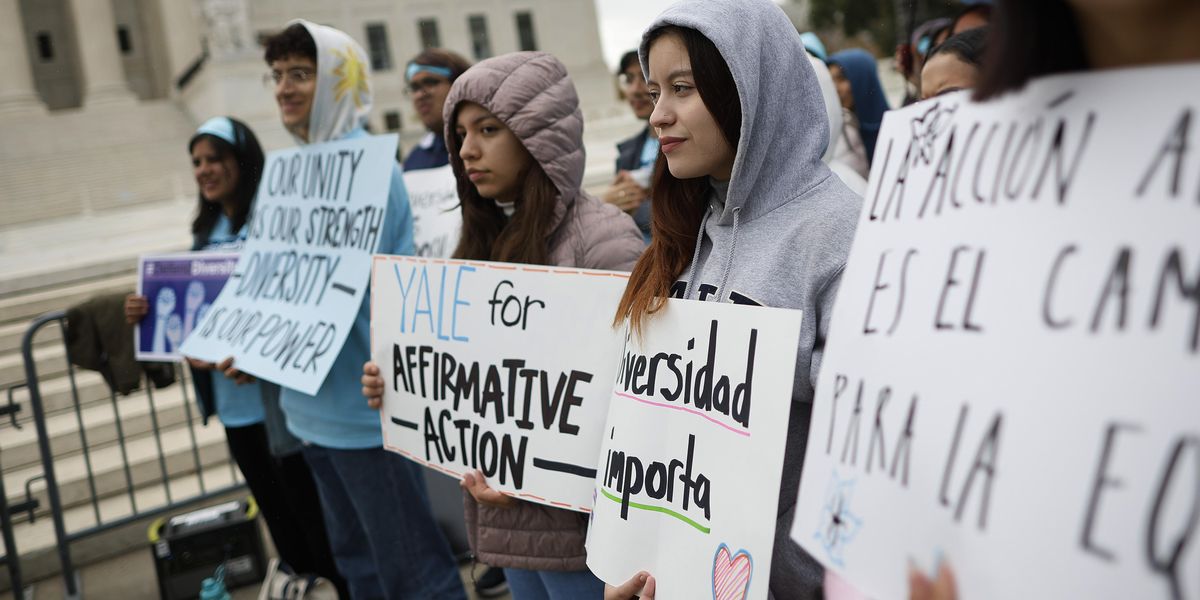 Chip Somodevilla/Getty Images
Oral arguments begin today on a case that will determine whether colleges and universities can employ policies and practices seeking to enroll minority groups with differing standards.
Harvard University is being sued for allegedly discriminating unlawfully against Asian applicants because, as stated by the plaintiffs, the school has an unwritten quota against such applicants. The plaintiffs argue the school determined Asians would disproportionately be represented in the Harvard student body because of their outstanding academic qualifications.
This case cuts to the core of an important issue that separates us as Americans: Should qualifications for enrollment at universities be adapted for minority students? To date, the argument has been that minorities have been discriminated against for generations, and thus minorities have been underrepresented at universities.
---
The core questions seem to be:
Are universities a microcosm of the larger society, and as such, should efforts be made to ensure a diverse student body?
Are universities a merit-based education system where we select the best and brightest, regardless of economic or demographic diversity?
Or is there another way to balance the needs of our changing culture?
As a young white man in college in the late 1960s I fully supported different standards for minority students given the history of discrimination in our country. I believed that the passing of the Civil Rights Act of 1964 was a powerful law. I also believed that eliminating legal discrimination could not undo the harm done by centuries of discrimination against people of color. I didn't recognize any contradiction in my thinking; it never crossed my mind as an ardent supporter of anti-discrimination laws that affirmative action was clearly discriminatory. And if I did, I surely would have thought it was justified.
Sign up for The Fulcrum newsletter
The issue is an emotional one indeed with passions running high on all sides. I believe, we have a moral necessity to understand and correct the stain on the history of our nation that was slavery, yet I am not as certain as to the solution as I was 50 years ago.
Title VI of the Civil Rights Act clearly states:
No person in the United States shall, on the ground of race, color, or national origin, be excluded from participation in, be denied the benefits of, or be subjected to discrimination under any program or activity receiving Federal financial assistance.
The Civil Rights Act intended to legally ensure that race was not a factor in American life, yet political, educational and business leaders realized that if we really wanted equal opportunity for all we need to do more. And thus the debate arose that continues today. The very term "affirmative" means different things to different people. Does it mean merely doing the best we can, without accountability, to bring inclusion and diversity to our schools, businesses and communities? Or does it mean providing preferential treatment to truly level the playing field?
A decade ago I inadvertently addressed the issue of affirmative action at my alma mater when I made a gift to the school. The gift was to support scholarships for minority students through the creation of the Nevins Diversity Scholarship Fund, with the goal of promoting diversity within the student body at the Penn State Smeal College of Business. I was thinking of economic disadvantage and not the disadvantage resulting from centuries of discrimination. Thoughts of affirmative action were not on my mind.
I thought about my grandparents who came to the United States in the early 1900s from Russia with no money or possessions, who blessed my parents with the desire to educate themselves and to attain the American dream. And I thought about my parents, who were able to provide me with the resources to attend Penn State.
I also understood that there were many thousands of parents who desperately wanted to help their children achieve a better life, but financial circumstances made it impossible. And I thought about the necessity of providing the foundation for students from every race, religion and creed to achieve their dreams as I was able to do as a young man.
There is no shortage of talented and qualified students from underrepresented backgrounds. Young people need the resources to attend the many great universities across the country. Recipients of the Nevins Scholarship have the same academic abilities and qualifications that all students have.
The meaning of "diversity" today has certainly changed in the 10 years since the Nevins Diversity Scholarship was announced. Economic, racial/ethnic, ideological and gender diversity are all important. One thing remains the same then as it does now: It will always be important to nurture a college community that is inclusive and reflective of the diversity that is America.
I fully understand that divisive discussions laden with rhetoric from both sides will be in abundance as the Harvard case before the Supreme Court is being adjudicated. Both sides will be triggered by discussions of diversity, inclusion, equity and opportunity. As with so much in our country today, the discussions related to the Supreme Court case on affirmative action will be filled with soundbites, harsh rhetoric and a general lack of critical thinking.
With some deep reflection and with an openness of the complexities of the racial history and racial future of our nation, I am hopeful that we can as a people co-create a sense of social cohesion through the development of dialogue that leads to understanding. A dialogue that delves deeply into the scars caused by racial discrimination while at the same time searching for the best way to offer opportunities to underrepresented groups in our county.
It is almost 60 years since the passage of the Civil Right Act and I am still in a quandary as to what else we must do. I understand that racial diversity simply will not happen on its own, yet understand the complexity of words like goals, targets and quotas that seemingly impede upon the rights of individuals.
It is in our best interest as a nation to see diversity as an operating system, not a quota. How to legislate that until our hearts and minds catch up is our challenge today. The motto of our nation – e pluribus unum: out of many one – must become a reality.
Let us fulfill this dream.