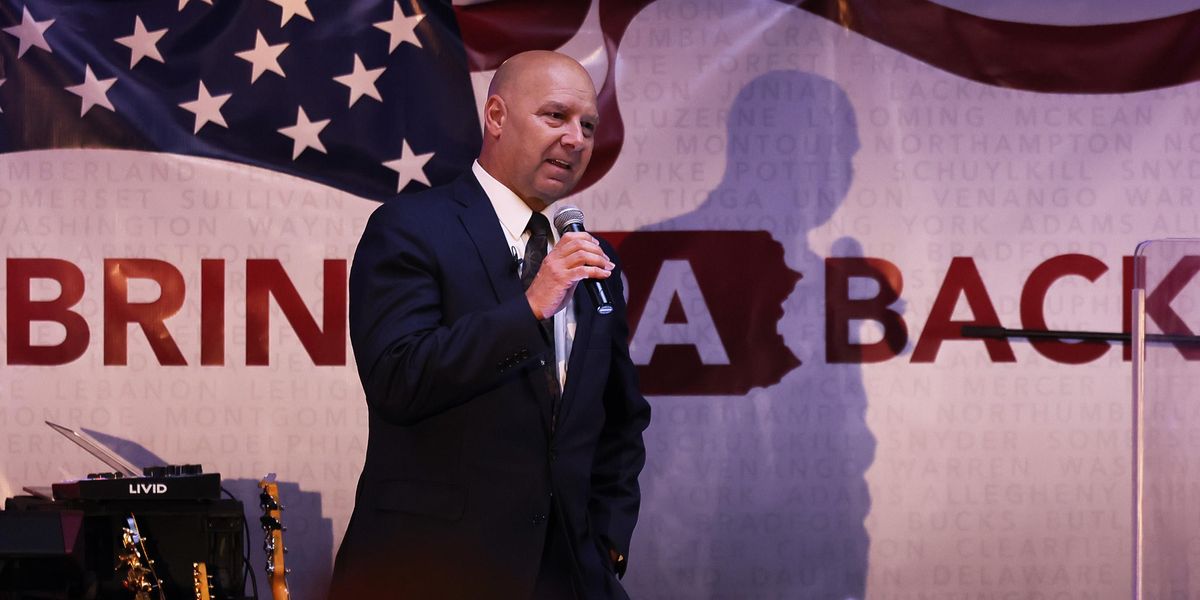 Michael M. Santiago/Getty Images
Goldstone's most recent book is "On Account of Race: The Supreme Court, White Supremacy, and the Ravaging of African American Voting Rights."

There was, sadly, little surprise when Republican primary voters in Pennsylvania chose as their candidate for governor Doug Mastriano, a man who, even in these days of normalized extremism, seemed way out over the ledge. Mastriano, a veteran of three decades in the Army and one domestic insurrection, is fond of wearing ties sporting pithy sayings featuring God, with whom he claims a personal relationship, and was enthusiastically backed for the job by that noted religious leader Donald Trump.
In addition to predictable positions on abortion, gun ownership, gay rights and school curricula, he has promised when elected to deregister every Pennsylvania voter and vowed not to allow another election to be stolen by the 150,000 voters who supplied Joe Biden with his majority.
That Mastriano is a big underdog who even the Republican Governors Association is pretending does not exist has not reassured cynical critics. To them, the very fact that he made it through the primaries is evidence that the country's descent into anti-democracy has become inexorable. While they may ultimately be proven correct, Mastriano's Nightmare on Broad Street candidacy might well be just what the nation needs to shock it out of its torpor.
Sign up for The Fulcrum newsletter
---
Unlike other conservative luminaries, such as Ron DeSantis, Mike Pence and even Ted Cruz, Mastriano (like fellow primary victor J. D. Vance in Ohio) does not attempt to hide extremism behind a veneer of reasonableness, but rather goes full-on conspiracy theory politics, aiming his rhetoric to arch-conservatives just this side of QAnon. (Of course, he has yet to go on record as to whether the Democratic Party is filled with baby-eating pedophiles.)
Because of his lack of pretense, anyone voting for Mastriano will have no doubts that he favors tossing aside the results of any election his chosen candidate does not win, educating children with half-truths, forcing any woman who becomes pregnant to carry the child to term regardless of circumstances, allowing Pennsylvanians of any age and mental state to carry whatever weapon they so choose, and treating any person who does not meet his definition of "normal" as if they have no civil rights. All of this will be done dripping with self-righteousness before a backdrop of American flags and in fervent defense of religious liberty, as if intolerance were the cornerstone of both James Madison's and Jesus Christ's teachings.
Mastriano's opponent will be Pennsylvania Attorney General Josh Shapiro, a Democrat whose moderation has perturbed some on the far left. In addition to bringing suit against the Catholic Church for covering up evidence of sexual abuse and against drug companies and doctors for their role in precipitating the opioid crisis, Shapiro was noteworthy in advocating increased funding for law enforcement, believing that poor neighborhoods need more — not less — policing, which brought him into conflict with the progressive wing of his party. (He also wants more and better training for police officers.)
Shapiro ran unopposed so he did not have to defend his more centrist policies, but he has also been outspoken in defending abortion rights, demanding strong gun control legislation, and vowing to ensure election integrity while guaranteeing that no one eligible to vote is denied the right to do so.
While Mastriano has some legitimate issues to exploit, such as high gasoline prices — something of an irony since Republicans have traditionally opposed the sort of green energy legislation that would have obviated Americans' continued reliance on petroleum products — the crux of his campaign promises to be the same mixture of personal attacks, meaningless generalities, and lack of specifics or solutions for real problems that propelled Trump to the presidency. Shapiro, if he is as smart a politician as he seems to be, will instead stress policy mixed with emphasis on the threat to both democracy and living standards that a far-right extremist will present.
While a spirited general election battle was assured in a state split roughly down the middle regardless of which Republican had won the gubernatorial primary, Mastriano's victory will give Pennsylvanians the starkest possible choice of the path they wish both their state and the nation to follow. And it might be necessary for the choice to be that stark because many Americans seem impervious to the threat to American democracy that Trump and his political progeny have introduced into the political system.
The key voting bloc in Pennsylvania, as it is in most swing states, are moderates, voters who fall just to one side or another of the center line. Although these are often characterized as "suburban moms," this group also includes many professionals who tend to fiscal and national security conservatism while remaining tolerant on most social issues. Many of the more notable members of this persuasion, pundits such as David Frum, Steve Schmidt, Jennifer Rubin and even William Kristol, have either officially or tacitly abandoned today's Republican Party.
The problem is that they have not been followed in sufficient numbers by the rank and file. While moderate conservatives soundly rejected Trump in 2020, they remain hesitant to abandon his fellow Republicans, regardless of how much they have prostituted themselves on such issues as the legitimacy of the 2020 elections, voting rights and an attack on the very building in which many of them work.
With any luck, Doug Mastriano could help change all that. If he is defeated by the same lopsided margin as Georgia Republicans foisted on David Perdue, it will send a signal to other Republicans in swing states that there is a limit to how many lies voters can be told, how much hate they will tolerate, and how much hypocrisy they will swallow. For this, of course, honorable people on both sides of the political spectrum must send the message.
The risk is that they will not, that the country has moved too far toward anti-democracy to be saved by reason, fairness, honesty and, yes, patriotism.