Fair election administration faces threats in key states, per new report
https://twitter.com/davidmeyers?lang=en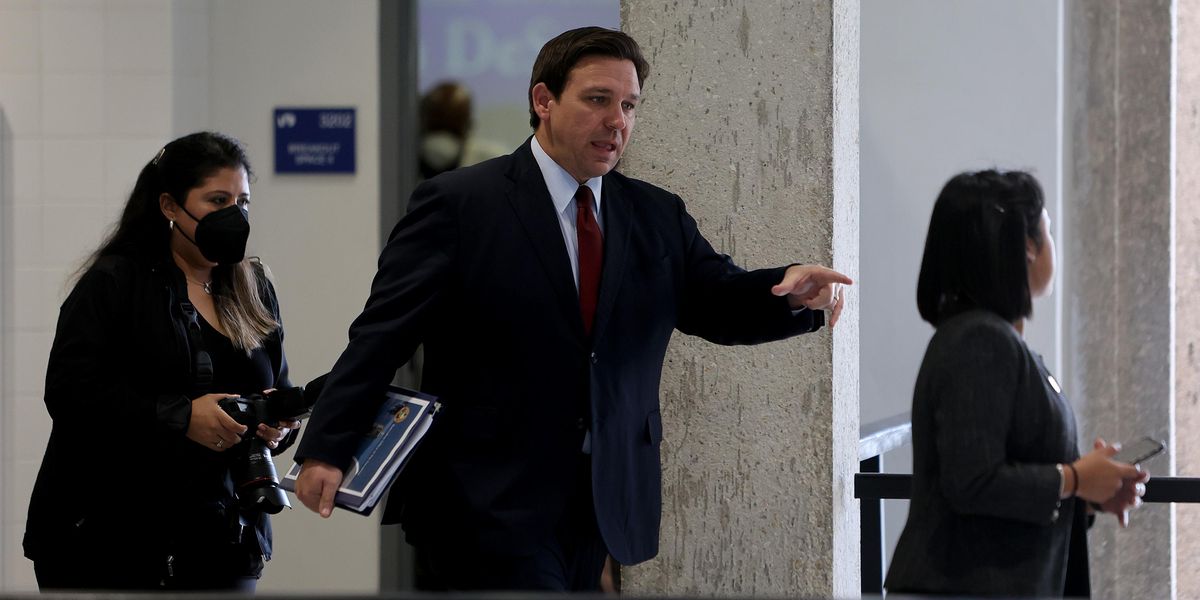 Joe Raedle/Getty Images
While a bipartisan group is working on election reforms in the Senate, state legislatures across the country are beginning work on changes of their own. A new report identifies "election subversion threats" developing in nine battleground states key to the 2024 presidential election.

The electoral system faces new dangers from legislators who want to pass laws allowing "partisans to subvert the will of the votes," according to the nonpartisan Voting Rights Lab.
"These new efforts have taken a variety of forms. Some give partisan actors more power to shape and control election outcomes, or limit the autonomy of local election officials. Some give partisan poll watchers the ability to intimidate and harass voters. Others criminalize election workers for simply doing their jobs," said a VRL spokesperson. "The most concerning bills would enable partisan state legislatures to overturn election results. And, of course, several states are conducting, or considering conducting, highly partisan and unnecessary reviews of election results – some of which only apply to, or specifically target, certain counties."
---
In many states, supporters of former President Donald Trump have called upon their elected officials to "decertify" results that showed Joe Biden winning. While there's no constitutional basis for decertification, states could change the process in which they declare a winner.
Sign up for The Fulcrum newsletter
"Whether it's attempting to overturn the results of an election or threatening local election officials with violence, efforts by partisan politicians to subvert our great American democracy for their own political gain threatens the future of our sacred republic – and they are deeply unpopular on both sides of the aisle," said the VRL spokesperson. "With state legislatures active again, it's critical that Americans who don't support these efforts contact their representatives and make their voices heard."
VRL's primary concern is the states most likely to decide the winner of the next presidential race: Arizona, Florida, Georgia, Michigan, North Carolina, Ohio, Pennsylvania, Texas and Wisconsin.
Here's a breakdown of VRL's most significant concerns in each state.
Arizona
At a rally last month, Trump supporters launched "decertify" chants, led at least once by a member of the state Senate. While there's no method to do so, proposed bills would give the legislature more say in future elections.
One bill would empower the Legislature to accept or reject the results of any primary or general election. Rejection would then lead to a new election.
Another bill would change how Arizona awards presidential electors. Currently all of the state's 11 electors go to the candidate who wins the popular vote in the state; but under the proposed bill, the Legislature would choose two electors while the other nine would be determined by the popular vote in each U.S. House district. In a state as narrowly divided as Arizona, that means legislators could swing a presidential race.
Florida
Gov. Ron DeSantis has proposed, and the Legislature is acting on a bill to create a law enforcement agency focused on election crimes, housed within the Department of State.
DeSantis originally called for an Office of Election Crimes and Security with more than 40 law enforcement and civilian investigators but that concept has been scaled back by a Senate committee. The election crimes office would have the authority to take over local investigations.
A separate version has been working its way through the state House.
Georgia
The Peach State has been the site of complaints about election irregularities, for multiple cycles. Democrat Stacey Abrams called the results into question after losing the 2018 race for governor, and then Donald Trump repeatedly complained about the 2020 race and even asked election officials to "find" enough votes to overturn the result.
VRL is expecting legislators to offer a bill, perhaps modeled on the DeSantis proposal, to create an election investigations unit as well as a bill that questions the state's election equipment.
Of more immediate concern to the report's authors is a law enacted in 2021 that gives the state government newfound authority over local elections:
The General Assembly now appoints the chair of the State Election Board, a position previously held by the elected secretary of state.
That board can now replace local election officials. The board has already begun a review of the election administration in Fulton County, a Democratic stronghold but one with a history of voting concerns.
Michigan
VRL has not identified any specific bills in Michigan yet, but anticipates legislation will be offered to allow for partisan election reviews.
Under current law, it's possible for the election administrators to deadlock on certification votes, as nearly happened in 2020, because election boards at every level of review are evenly divided among Democrats and Republicans.
North Carolina
While the Voting Rights Lab isn't tracking any current legislation in North Carolina, the budget approved in November 2021 includes language granting the Legislature final say in certain lawsuits, including some election disputes.
VRL also is watching for legislation that would take some authority away from the Board of Elections and shift it to partisan investigators.
Ohio
Like Michigan and North Carolina, there is no pending legislation that would affect the review and approval of election results in Ohio. And there is no mechanism to change results in Ohio at this time.
Pennsylvania
Last year, a bill was introduced to shift election certification, and other election powers, away from the secretary of the commonwealth, an appointed position in a state currently led by a Democratic governor, and given to a new election commission.
That bill did not advance in 2021 and carried over to this year's legislative session.
Texas
In 2021, the state Senate passed legislation that would mandate a partisan review of the 2020 presidential election and allow losing candidates or party officials to call for reviews of future elections. While the bill did not make it through the House, it could come up again this year.
Opponents fear this bill could trigger expensive partisan reviews even when little evidence is offered.
VRL also noted that in 2021 the state enacted laws creating "ill-defined" procedures for post-election elections.
Wisconsin
Last fall, the Republican leader of the Wisconsin Assembly blocked a bill to decertify the 2020 election, explaining the Legislature has no such authority. And so far this year, there is no specific legislation under consideration to change that or related laws.
However, VRL anticipates that if Gov. Tony Evers, a Democrat, loses his reelection race this year, legislators will take up a proposal to replace the Wisconsin Elections Commission and transfer its authority to another office, such as the secretary of state.
Critics of the WEC say the body lacks accountability and has ignored laws while administering elections. Its supporters want it to continue a practice of easing the path to the ballot box.
VRL is also monitoring the Legislature for bills that would make it easier for partisans to raise legal complaints against election administrators or to request an election review after certification.