Cross-partisan study labels ongoing election audits an 'existential threat'
https://twitter.com/saramswann?lang=en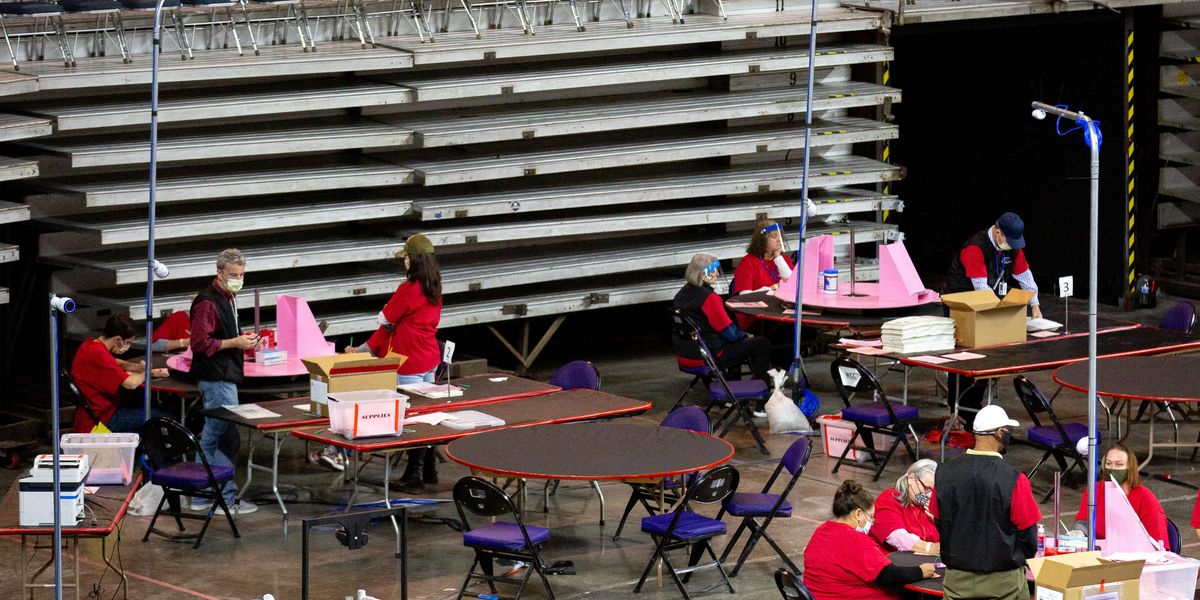 Courtney Pedroza/Getty Images
The continuing efforts to subvert the 2020 election results on behalf of former President Donald Trump, despite no evidence of widespread voter fraud, are damaging to democracy and costly to taxpayers, a new report found.

The so-called audits being organized by pro-Trump conspiracy theorists in several battleground states have "severe deficiencies in basic security, accuracy, reliability and transparency," according to a 30-page report, released Thursday.
Rather than being a partisan attempt to attack the audits, this report is the result of a cross-partisan collaboration between the left-leaning Brennan Center for Justice, center-right R Street Institute and nonpartisan Protect Democracy, an anti-authoritarian watchdog.
---
The ongoing partisan election review in Maricopa, Arizona's most populous county, follows on the heels of a hand-recount of all ballots cast there and multiple investigations of the voting machines — none of which found any signs of fraud.
While the Arizona audit has received national attention, it's not an isolated incident. Similar efforts are also being conducted in Georgia, Michigan, Pennsylvania and Wisconsin.
Researchers at the Brennan Center, Protect Democracy and R Street found that these partisan reviews fail to meet all or some of the following basic standards of objectivity.
Transparency: public audit plans, processes and records.
Objectivity: auditors who are, and appear to be, independent and free of conflicts of interest.
Pre-written, comprehensive procedures: standardized and consistently implemented processes designed to achieve accuracy.
Competence: conducted by election administration experts.
Security: ballots and equipment remain in election official control.
"The five so-called 'audits' are dressed up as fact-finding missions, but they are meant to create evidence that doesn't exist — fake proof of the myth that the 2020 election was somehow wrongly decided and false validation for the restrictions on the vote now sweeping the country," said Gowri Ramachandran, counsel in the Brennan Center's Election Reform Program and one of the authors of the report.
Sign up for The Fulcrum newsletter
These partisan efforts "stand in stark contrast," the report states, to the formal audits that election officials in the five states have already conducted, which confirmed Joe Biden's presidential victory and found no evidence of voter malfeasance.
"Despite these facts, Trump supporters continue to make false claims of fraud in support of these endeavors to transfer federal election materials to inexperienced, political actors for review," the report states.
Matthew Germer, a fellow in the Governance Program at the R Street Institute and one of the authors, said the findings highlight the need for election audits to be conducted by "trustworthy, nonpartisan professionals." The report also "lays out in stark relief just how unreliable and dangerous the partisan 'audits' sweeping the country really are," he said.
These partisan election reviews are also coming at a high cost for taxpayers, literally. The Arizona audit alone has racked up $2.4 million in expenses so far, mostly due to the fact that Maricopa County will need to replace all of its voting machines that have been compromised by this interference.
Wisconsin's review is estimated to cost more than $63,000, Pennsylvania's is estimated at $25,000 and Michigan's is estimated at just over $5,000. The cost of Georgia's review is not yet clear.
"While these so-called audits cost taxpayers money, their real cost is the damage they do to the health of our democracy," said Sara Chimene-Weiss, counsel at Protect Democracy and one of the authors. "These so-called 'audits' are not legitimate reviews, but instead are taxpayer-funded disinformation campaigns aimed at weakening Americans' faith in democracy."
The bottom line, per the report, is that these partisan efforts pose "an existential threat to our democracy."
"If every election continues to be litigated and relitigated without end, even where there is no evidence of fraud and multiple audits have confirmed the results, there is a serious threat voters will lose faith in our democratic process and will refuse to accept results they do not like," the report concludes.