Debate gives Bloomberg airtime to detail (and defend) his democracy reform ideas
https://twitter.com/saramswann?lang=en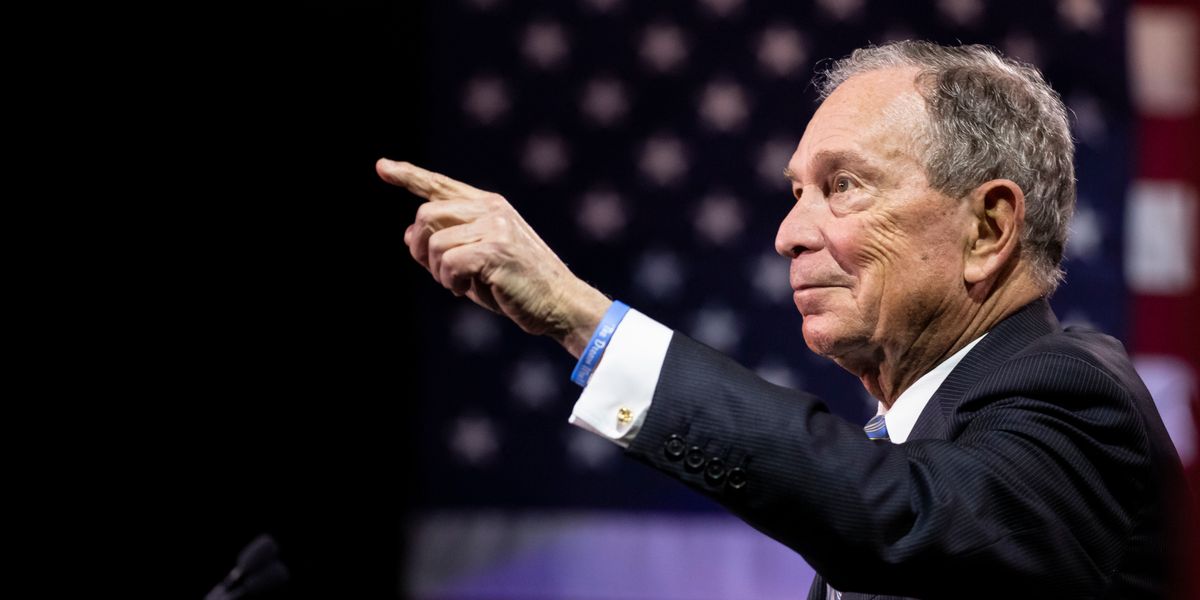 Brett Carlsen/Getty Images
Mike Bloomberg's debate debut offers him an opportunity to explain where he stands on most of the main agenda items in the democracy reform movement, a topic on which he's revealed little so far.

And if he doesn't volunteer his views, starting with his attitude as a self-funding billionaire candidate toward regulating the campaign giving and spending by others, his presidential rivals will have every incentive to press him hard Wednesday night.
Of the 17 most prominent proposals for improving the way democracy works — not only on campaign finance but also on access to the ballot box, election security, political ethics and revamping our governing systems — Bloomberg has staked out a clear position on just 10.
---
That's fewer than any of the five others who qualified for the nationally televised two-hour forum, starting at 9 p.m. Eastern in Las Vegas. One of Bloomberg's main, albeit struggling, rivals for the more centrist lane in the Democratic primaries, former Vice President Joe Biden, has only revealed his stance on 11 of the issues.

The nationally televised forum comes as Bloomberg has surged into the top tier in national polling, almost entirely thanks to his more than $300 million spent selling himself on TV and online. The debate marks the first time he'll be confronted by many of his opponents in person, and they are sure to attack him over his record as mayor of New York and the muscular use of his enormous fortune to promote a varnished version of his views.
Sign up for The Fulcrum newsletter
While the range of areas for potential confrontation is vast, there's reason to believe the plight of the dysfunctional democracy will be discussed as it's seldom been in the eight previous debates.
Sen. Bernie Sanders of Vermont has become the front-runner in part by castigating the behavior of billionaires at every turn, and Bloomberg will be an obvious foil for a fresh barrage of angry talk about the corrupting influence of big money on both campaigning and governance.
The three remaining candidates on stage — former Mayor Pete Buttigieg of South Bend, Ind., Sen. Amy Klobuchar of Minnesota and Sen. Elizabeth Warren of Massachusetts — have all formally pledged that their opening legislative priority as president would be a bill revamping the political system and boosting government ethics. So any one of them could press Bloomberg on whether he would do the same.
Despite heavy criticism for tapping the $60 billion fortune he's amassed as a media mogul for the entirety of his campaign — he's not soliciting or accepting any donations — Bloomberg has been silent on what if anything he'd do to reduce the influence of money in politics.
All the other debaters, for example, support somehow "overturning" the Supreme Court's 2010 ruling in Citizens United v. FEC, which has allowed for virtually unlimited political spending. They also support robust programs of public financing for federal campaigns and requiring more transparency from the "dark money" groups who currently don't have to disclose their donors. But Bloomberg has not weighed in on any of these issues.
Since he is only spending his own money, Bloomberg boasts that his would be an administration completely insulated from the influence of special interests. And so, unlike the others on stage, he has made no promises about rebuffing the donations from lobbyists that normally pour into presidential coffers.
Bloomberg also has not embraced transparency the way many of the others have. On top of releasing their own federal tax returns, they favor requiring all presidential candidates to do so. Bloomberg has said he would make his IRS filings public only if he wins the Democratic nomination.
Presidential candidates also have to file personal financial disclosure reports with the Federal Election Commission that include in broad ranges their assets, income and debts. But the FEC has granted Bloomberg, who only entered the race in November, two deadline extensions, so his report won't be available until March 20. While such an extension is not uncommon, it means voters won't see details about Bloomberg's finances until more than halfway through the Democratic primaries.
Like all the others in the debate, Bloomberg wants to ease access to the ballot box two ways. He would revive the Voting Rights Act's system for making states with histories of electoral discrimination get federal permission before changing any voting rules. And he would nationalize the requirement, which is steadily spreading in the states, that eligible people are automatically registered to vote whenever they do business with another government agency, such as a motor vehicle bureau.
Bloomberg and the other candidates (except Biden) favor early voting and same-day voter registration.
He would restore voting rights to felons as soon as they have served their sentences — putting him in the same company as all the others except Sanders, who would allow people to vote while imprisoned.
To ensure election integrity and security, Bloomberg would mandate a voting paper trail and post-election audits in every state. He would also compel states to establish independent redistricting commissions to draw the congressional district boundaries after the census each decade. These stances are in line with the other Democrats.
As of Friday, Bloomberg's campaign website included a plan for political reform, which was noted as a "top priority." It mainly touted his 12-year record as mayor, ending in 2013, of increasing public campaign subsidies for local candidates and strengthening ethics laws. The brief was removed from his roster of more than 30 policy pages over the weekend. His campaign did not respond to a request for comment.
Bloomberg does set himself apart from his rivals on two issues, though. He is opposed to abolishing the Electoral College in favor of the popular vote. And he has no interest in changing the Supreme Court's makeup by adding justices to the bench or implementing term limits. Biden is the only other Democrat in agreement with Bloomberg on these issues, although some of the others say they are open to such proposals without making a firm endorsement.
The debate is being hosted by NBC, MSNBC and the Nevada Independent. Bloomberg's spot on stage is largely thanks to a rule change by the Democratic National Committee. Previously, candidates qualified by showing strength of support through donors and polls. But at the end of January, the DNC eliminated the unique donor threshold, opening the stage to Bloomberg as soon as he proved the viability of his candidacy in a series of national surveys.
Several Democrats claim the DNC made this change just to benefit Bloomberg. FEC data shows that just two days before entering the race, he gave $320,000 in three installments (the maximum amount allowed) to the national parry — his first donation to the committee in more than two decades. No one else on the debate stage has given to the DNC this election.