Gen Z's ultimate Civic Season bucket list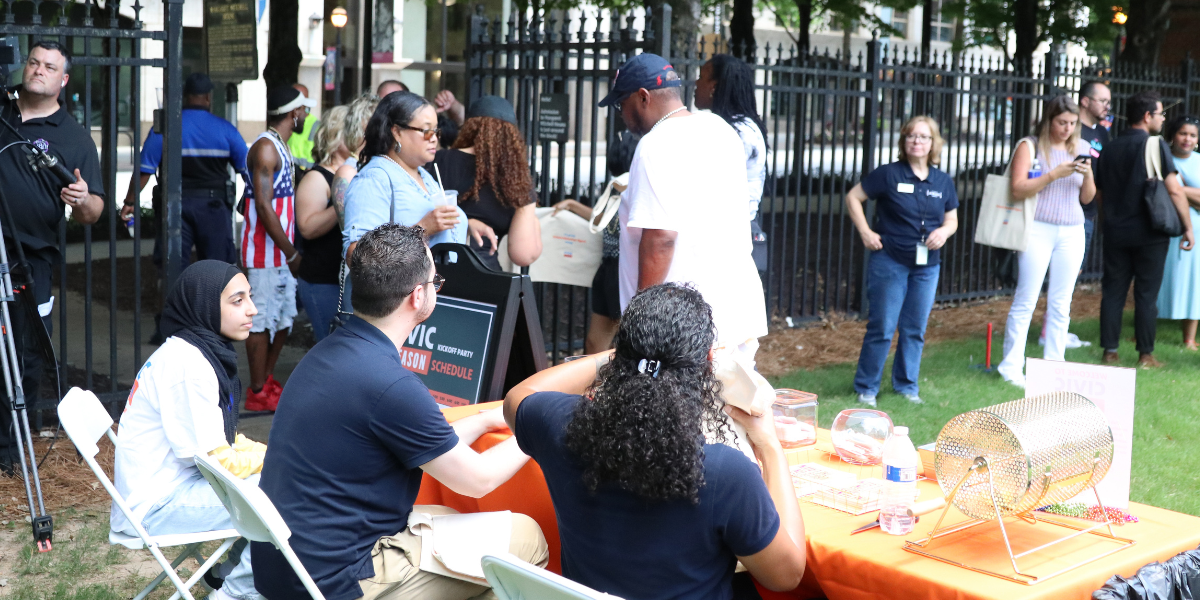 Katz, a recent graduate of Emory University, is an intern at Made by Us, a coalition of historians working to shape the nation's future.
---
There's a lot for Americans to think about this summer, as we enter a new, post-pandemic chapter: the challenges we still face, how we can reconcile with our complex past, the ways in which we might move forward as a nation and what it means to be American.

A new summer tradition has emerged to help us all navigate these questions, together: the Civic Season, running June 14 to July 5. The Civic Season connects people nationwide with over 450 opportunities to engage with history, flex their civic muscles and shape this tradition going forward. Whether you have 10 minutes or two hours, are interested in Juneteenth or citizenship or just making your voice heard, the Civic Season has something for you.
So where's the best place to start? Consider me your Civic Season guide. As a recent college graduate and a self-proclaimed history buff, I've picked my top 10 programs happening across the country that can help you understand the past and shape the future. As you complete each one, be sure to check off your Civic Season bingo card. Share your experience on social media using the hashtag #CivicSeason and become a part of this new movement that will grow for years to come!
Sign up for The Fulcrum newsletter
With events from 10 Black history museums, including the Charles H. Wright Museum of African American History, the National Underground Railway Freedom Center and the National Civil Rights Museum, the celebration of Juneteenth features dancing, acting, museum tours and spoken word.
A collaboration between the University of Southern California Pacific Asia Museum, the Chinese American Museum and the Japanese American National Museum, "Stronger Together" features a panel of important activists and authors discussing the importance of intersectionality in the fight against racism.
Do you think you know enough history to pass the U.S. Citizenship Test? The New-York Historical Society has compiled questions from the actual U.S. Citizenship Test to see what everyday Americans know. Whether you're a history expert or are looking to expand your knowledge, this quiz can show you what it takes to become an American citizen.
4. Edward M. Kennedy Institute for the United States Senate: "A Seat at the Table"
Rep. Shirley Chislom was the first Black woman in Congress and the first woman to seek a major party's nomination for president. She once said, "If they don't give you a seat at the table, bring a folding chair." This exhibit from the Edward M. Kennedy Institute captures Chisholm's life as a political trailblazer and as an inspiration to Americans everywhere. To commemorate Chisholm bringing her own seat to the table, 20artists created chairs inspired by leaders, both past and present.
If you had to pick 10 historic moments that every American should know, what would they be? The Aspen Institute is gathering different ideas from Americans everywhere to see what terms, events and references should be familiar to all of us.
The status of Confederate monuments has been a hot button issue for the past several years. The Atlanta History Center has compiled a guide for those wanting to learn more about the monuments and their context.
Who decides what "rights" we have in America — and who can claim them? From land sovereignty for Native American tribes to speaking out under the First Amendment, the "Records of Rights" online exhibition from the National Archives Foundation walks us through how these rights have been defined and redefined throughout history.
The Sing Sing Prison Museum, scheduled to open in 2025, will display a history of criminal justice so visitors will better understand social issues like incarceration, punishment and reformation. Join historians and activists for a series of racial justice talks about criminal justice, wrongful conviction and women in prison.
Near Seattle? Visit the Museum of History and Industry, where historian Delbert Richardson will be displaying "The Unspoken Truths" in honor of Juneteenth. Using innovative storytelling and artifacts, Richardson explores four eras of Black history through an Afrocentric lens.
Think you can spot an unreliable source? Download the Informable app and test your level of news literacy. The News Literacy Project has tons of resources available so you can make sure you're a responsible and informed consumer of news.