U.S. Chamber foundation seeks business support for civic ed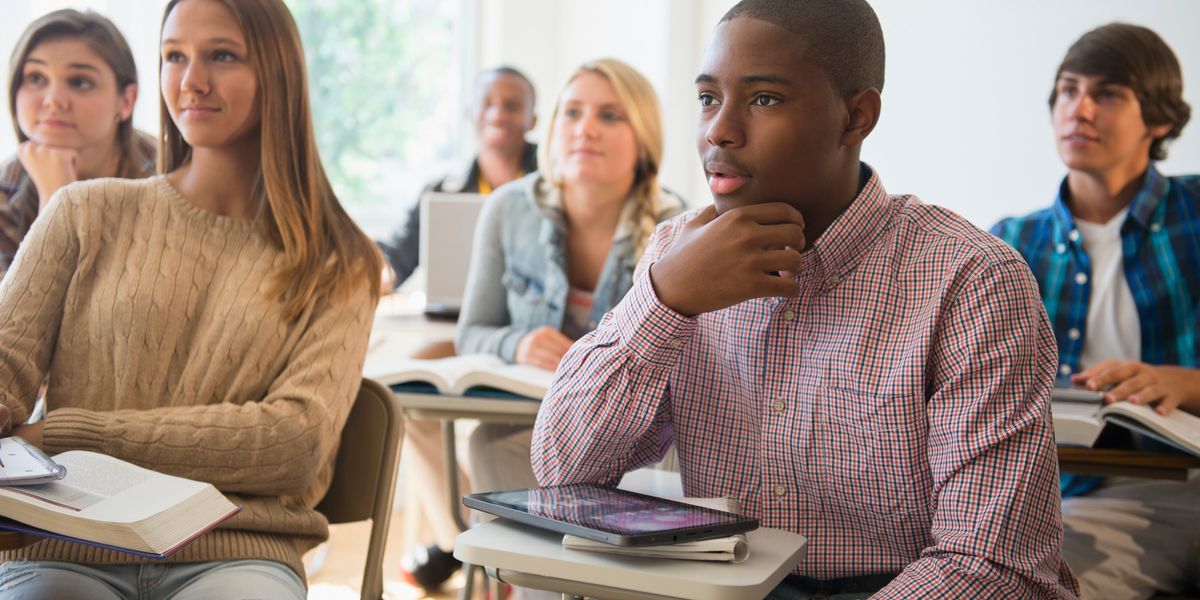 Jamie Grill/Getty Images
The U.S. Chamber of Commerce Foundation has a message for corporations: The country is in trouble, so get off your butt.
The foundation made its pitch to the business community in a newly published white paper chronicling the sorry state of civics education, the role that corporations can play in healing a divided country and why it should all matter to businesses.
The health of civics education is "quite bleak," foundation President Carolyn Cawley said in an introduction to the paper, which she called "the first step in our efforts to make the business case for civics."
With the support and buy-in of the private sector, the foundation believes, the country stands a better chance at improving civic education and engagement, which in turn could heal the in-fighting, distrust and misinformation undermining the health of the country and well-being of corporate America.
---
The report includes comments from presidents and CEOs of Allstate, United Airlines, BET, and Blue Cross and BlueShield of Minnesota, as well as academics and public policy experts, on the decline in civics education and its impact on polarization, community engagement and even basic knowledge of the U.S. political system.
"Many people do not know how our government works, which leads to confusion on political outcomes and, ultimately, distrust in the system," Allstate CEO Tom Wilson said in the report.
Sign up for The Fulcrum newsletter
The foundation, which is affiliated with but independent of the politically active U.S. Chamber of Commerce, last year began investigating corporate involvement in civics education programs, said Mike Carney, vice president of the organization.
The biggest takeaway: "The business community was largely absent from any of these programs when it comes to providing financial support or rhetorical support," Carney said.
The findings led the foundation to launch a public relations campaign aimed at convincing corporations that supporting civics education was not only their civic responsibility but in their own best interest.
"Companies — whether they're small, mid-sized or large — have all benefited from our political and our economic system," Carney said. "So, on some level, it's a patriotic obligation to help. And I know that might sound naive, but that is a big selling point for this."
Civic educational programs that reduce polarization, increase tolerance of diverging viewpoints and promote community volunteerism is good not only for the country but also for a sustainable economy, he said.
"We see this as an opportunity to help businesses do good in society, but if you're a business owner, this is not just limited to altruism — although that's an important part," he said. "If you're thinking about the long-term sustainability of your enterprise, you want people to respect the rule of law, you want people to be able to come to work and disagree without being disagreeable, and you want people to come with the emotional intelligence that these 21st century jobs require."
The foundation's interest in building corporate support for repairing a broken democracy comes at a critical time for its cousin — capitalism.
A Gallup survey last year found that fewer than half of young Americans had a positive view of capitalism, down from 68 percent in 2010 to 45 percent in 2018 among those aged 18 to 29.
Another Gallup survey in April found that nearly 60 percent of Americans aged 18-34 believed some form of socialism would be "a good thing for the country."
And 70 percent of millennials (ages 23-38) said they were somewhat or extremely likely to vote for a socialist candidate for president, according to a YouGov survey last month.
The white paper notes a correlation in civics education and waning support for both democracy and capitalism.
"Trust in major social institutions — as personified by the decline in the public's trust in government and other large organizations, including companies — has also suffered from a lack of civics knowledge and civility," according to the report, which attributes the comments to United Airlines CEO Oscar Munoz.
Wilson, Allstate's CEO, said simply, "Capitalism is under attack," and attributes the loss of well-paying jobs as a contributing factor.
Working collaboratively with governments to create more high-paying jobs "will protect business's license to operate, create more economic prosperity, and increase support for democracy and capitalism," he said.