Democracy has no off-years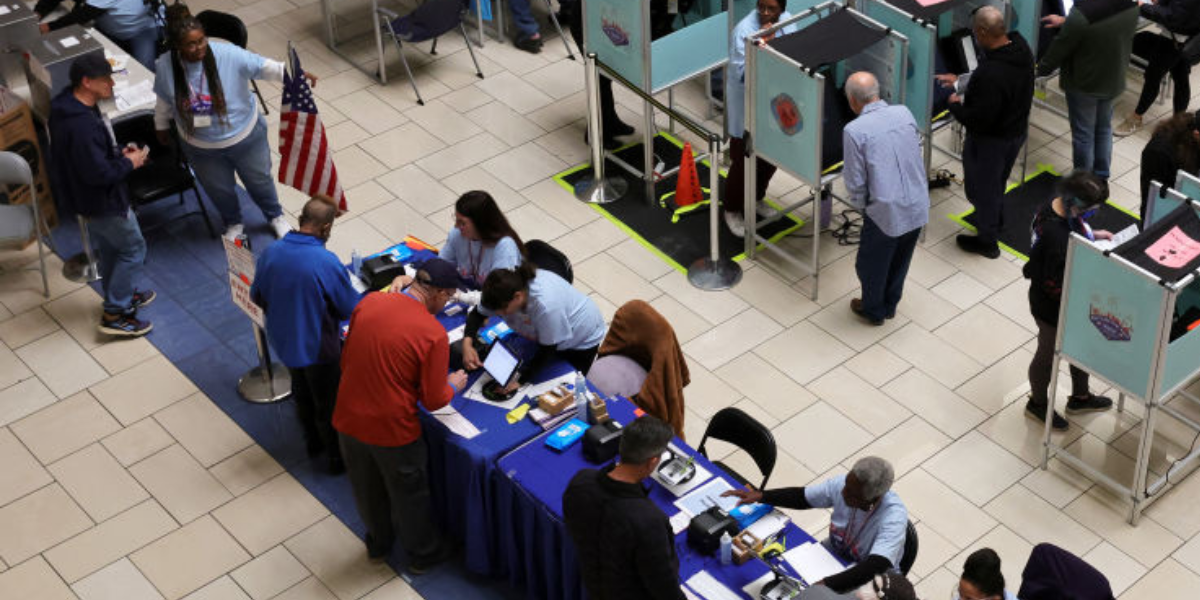 Photo by Ethan Miller/Getty Images
Spillane serves as Senior Advisor to Power the Polls and Director of the Civic Responsibility Project.
As our country celebrates Women's History Month and looks ahead to local elections this fall, it's important for us to celebrate the everyday heroines in communities across the country who are the essential workers of our democracy: poll workers.
---
In recent years, new challenges have tested these workers—from the COVID-19 pandemic to concerns around the threat of violence—but poll workers have continued to show up and ensure that everyone in their communities has an opportunity to make their voice heard in our democracy.
I know how critical their work is through my role at Power the Polls, a nonpartisan initiative that was founded early in the COVID-19 pandemic to recruit more poll workers. Ahead of the 2022 midterm elections, Power the Polls recruited over 275,000 potential poll workers and coordinated with Secretaries of State and local elections officials from both sides of the aisle to fill anticipated gaps in local municipalities. Over half of the people who raised their hands to work the polls were women. Although the next election on many people's minds isn't until 2024, critical local elections are taking place this year, and we can't slow down efforts to invest in and strengthen our democratic infrastructure, including recruiting more poll workers.
Sign up for The Fulcrum newsletter
In June of 2020, we launched Power the Polls to respond to the widespread concerns over a potential poll worker shortage due to the COVID-19 pandemic. We set out to recruit a new generation of younger, more diverse poll workers to ensure that every polling site was adequately staffed and to build a future where poll workers reflect the communities they serve.
Ahead of the 2022 midterm elections, many feared a potential poll worker shortage for a different reason: threats to poll workers, like this one in Georgia, after the 2020 election. Yet people—especially women—stepped up. In fact, polling places across the U.S. are overwhelmingly overseen by women. Despite initial concerns, the 2022 election ran smoothly, thanks in part to the hard work and dedication of poll workers.
Not only have these new poll workers pushed through challenges in recent years, but they also overwhelmingly found their experience to be rewarding and have expressed excitement about working again in the future. A new survey of people who signed up through Power the Polls shows that 88 percent said they'd be interested in working in future elections. Additionally, 95 percent of survey respondents reported satisfaction in their work.
The 2020 and 2022 elections have shown us how critical poll workers are to keeping our democracy running—and we need to make sure we continue to recruit a new generation of poll workers for elections to come, including women, young people, people of color, and others who have historically been underrepresented among poll workers.
Poll workers are the essential workers of our democracy. Every year, we rely on the time and energy of poll workers in our local communities to staff elections. While we've made progress in recruiting a new wave of younger poll workers, the average age of poll workers remains over 60. In some states, poll workers can serve as young as 16, and we've seen teens sign up through Power the Polls to serve their communities before they can even cast their own ballots, setting them up for a lifetime of civic engagement.
While important strides have been made through our recruitment, we all must do more in future election cycles to ensure that poll workers better reflect the communities they serve, including across age, race, and gender. Between now and 2024, Power the Polls will continue this work. We will support election officials managing local elections, and we will continue to promote civic engagement, voting, and serving as a poll worker as lifelong commitments—not just something for big election years.
Women's History Month is an exciting time to uplift the contributions of women—and a reminder that we can, and should, be celebrating women's contributions throughout the rest of the year as well. Similarly, promoting civic engagement isn't just for big election years. There may be years with fewer elections, yes, but our commitment to supporting election administrators, recruiting poll workers, and building a thriving democracy must be ongoing and steadfast.