Congressman calls for repeat ethics investigation into FEC chairwoman
https://twitter.com/saramswann?lang=en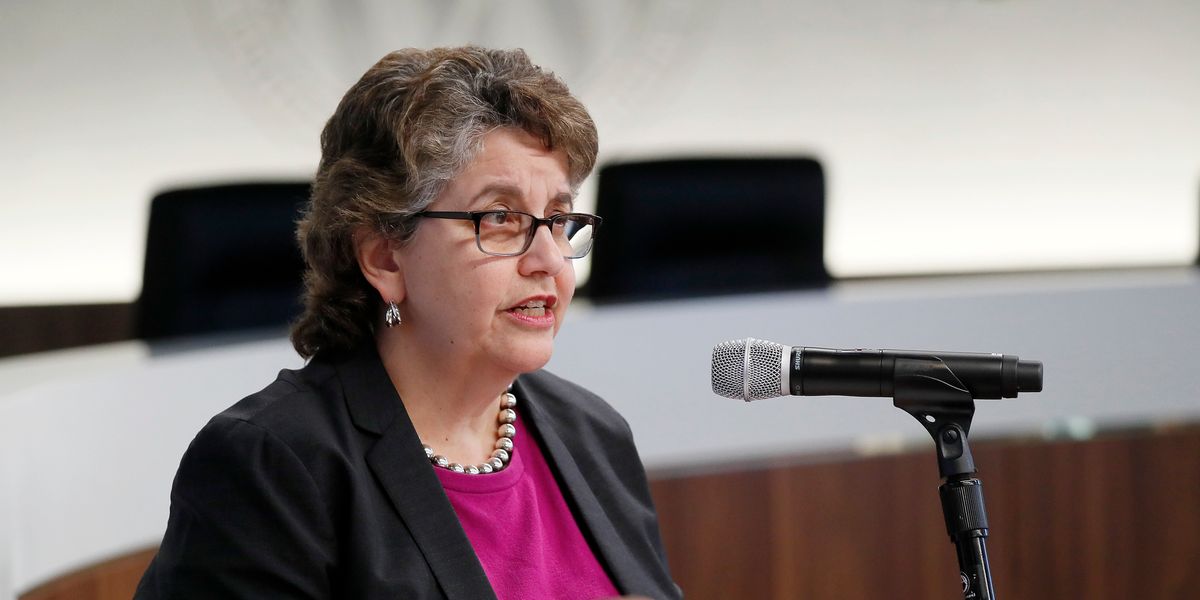 Paul Morigi/Getty Images
This article has been updated following an interview with Weintraub.
Federal Election Commission Chairwoman Ellen Weintraub has been accused of ethical violations that had been previously leveled — and dismissed — two years ago.
In a series of tweets on Thursday, Weintraub responded to a letter sent that same day by Rep. Rodney Davis, ranking member of the House Administration Committee, requesting an investigation into Weintraub for potential violations of federal ethics regulations.
"It's a retread on a complaint made two years ago by a Koch Brother-funded group," Weintraub told The Fulcrum on Friday afternoon. The inspector general's office looked into it and didn't find any evidence. It's the same stuff all over again."
Davis, a Republican from Illinois, outlined three reasons he believes FEC Inspector General Christopher Skinner should investigate Weintraub:
Using government time and official FEC resources to publish her opinions on political matters.
Discussing issues outside the purview of the FEC in national media appearances.
Refusing to recuse herself from matters involving President Trump, despite a perceived bias against him and "apparent conflict of interest."
---
"I believe that this pattern of behavior is unbecoming of the FEC Chair and may have possibly violated ethics regulations that we all as federal employees must abide by," Davis wrote.
Weintraub dismissed Davis complaint, noting his letter did not cite any laws that were being broken.
"I'm a public official and I make public statements. It's my job to speak out on issues about the integrity of our elections. To suggest otherwise is nuts," she said.
Sign up for The Fulcrum newsletter
Two years ago, Weintraub, then a commissioner but not yet chairwoman, was investigated for similar reasons after the conservative group Cause of Action Institute filed a complaint with the FEC's Office of Inspector General. The 2017 investigation found no evidence that Weintraub had violated ethical standards.
On Twitter, Weintraub responded to this latest investigation request by recycling her statement from the first incident: "It is absolutely within my official duties as a federal election official to comment publicly on any aspect of the integrity of federal elections in the United States. I will not be silenced."
Davis acknowledges in his letter that some of the issues he points to were previously assessed in the 2017 investigation, but he believes "they warrant reexamination."
During the last investigation, for instance, a permanent inspector general was not in place at the FEC. (Skinner was named to the position in July.) Davis also noted that the previous inspector general report did not include interviews with all of the commissioners at the time. In Davis' view, the report "lacked a clear legal basis" as well.
And since the last investigation, Weintraub has "continued her pattern of blatant partisan behavior under the guise of her official duties as FEC Chair," Davis wrote.
"And oh my gosh, I go on CNN sometimes. Some of this stuff is just silly," Weintraub said.
An FEC spokesman said the commission does not have information on how the inspector general will move forward and declined to comment further on the situation. The inspector general's office did not immediately respond to a request for comment on whether an investigation into Weintraub will be opened.