Political fundraising app wants to make donations a social experience
https://twitter.com/saramswann?lang=en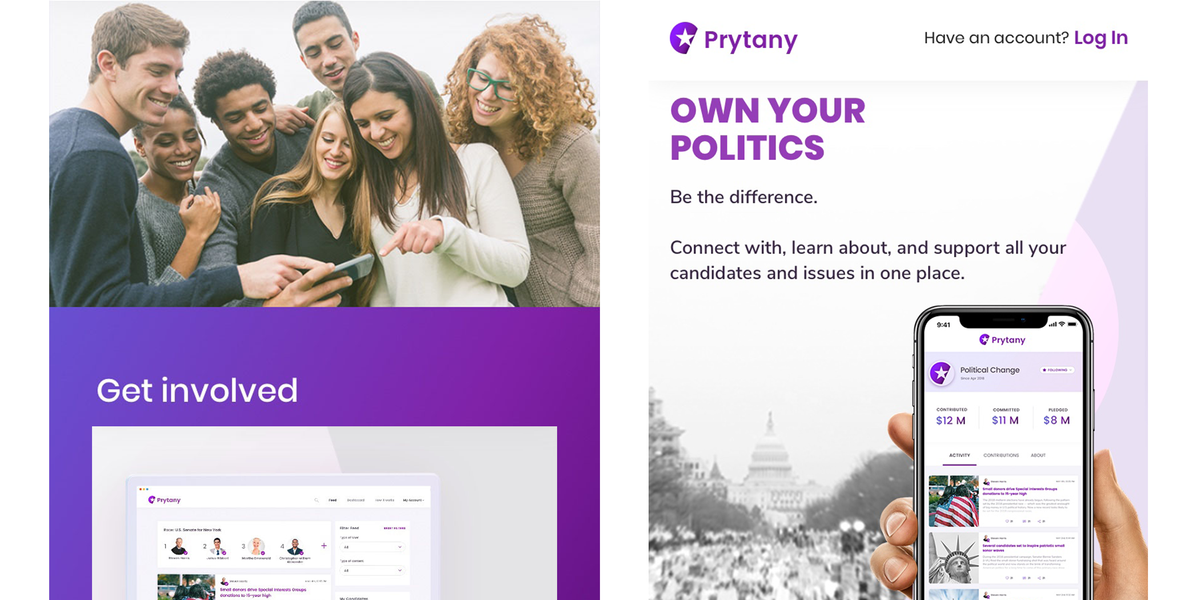 Creators of a new nonpartisan political fundraising app want to change the way candidates raise money and voters engage in elections.

Royal Kastens, John Polis and Chris Tavlarides– three friends of varying political ideologies – launched Prytany on Wednesday, just before the first Democratic presidential primary debates. Not only will the app allow people to donate to campaigns, but it will also serve as a social media platform, connecting users to issues they care about.
The trio was inspired by their own experiences donating to campaigns, and the frustrations they faced doing so. In the past, they found the donation process to be tedious because there wasn't a central place to give money to candidates across party lines.
Named after the ancient Greek system of democracy, Prytany aims to change that. Its founders want the platform to be the Amazon of political donating and voter engagement.
---
"People actually do vote across party lines. People that are red believe in blue issues. And people that are blue believe in red issues. That's just a fact. We don't believe the whole country is so polarized," Polis said.
If someone agrees with a candidate, regardless of party, Prytanty allows the user to demonstrate support with just a couple clicks, Polis explained.
Sign up for The Fulcrum newsletter
The app started out simple, as a donation processor. But as it was built, Prytany quickly evolved into its own social media network in which users could connect with candidates who support their top issues.
Through the app, users can see candidate profiles, which show what issues they support as well as recent news about them. This creates a feed of candidates and information that users can follow and use to inform their donations. If an issue is particularly important to a user, that person can also create a campaign around the topic to garner support from others who use the app. Public campaigns allow anyone to join and donate, while private campaigns are by invitation only.
The Federal Election Commission gave its stamp of approval on Prytany back in April, allowing the app's creators to move forward with the launch. Included in the FEC's approval is the app's donor verification feature. Prytany uses FEC information to automatically link registered candidates to the app's database. Then, each candidate is manually screened through phone calls by the Prytany staff to ensure they are who they say they are.
Prytany isn't the only fundraising tool to launch recently. The Republican Party introduced WinRed, its long-awaited response to the Democrats' ActBlue, at the end of June. WinRed hopes to become the hub for conservative small-dollar donations that the GOP has lacked for years. Through WinRed, donors can give to multiple candidates at once, so campaigns, big and small, can benefit from this pooled support.
Much of WinRed's platform has been modeled off ActBlue, which was started by the Democratic Party in 2004. Over the past 15 years, ActBlue has been the leading example for small individual fundraising, securing billions for Democratic campaigns and causes.
While ActBlue and WinRed are openly partisan, Prytany isn't beholden to any political party. Besides ideological independence, what sets Prytany apart from other fundraising platforms is its efficiency, Kastens said.
Unlike Prytany, ActBlue and WinRed are political action committees, so fundraising money has to go through an extra step before the candidate receives it, Kastens said. Prytany is also the only one of the three to have a smartphone app.
"Whereas, in our system, we have removed ourselves. When a contribution is given, it goes just between a contributor and the candidate receiving. We are not a part of the equation, we never touch the money," Kastens said.
This difference in functionality also allows Prytany to keep the transaction fees lower than those of ActBlue or WinRed. Each contribution made through Prytany has a 3 percent transaction fee — compared to ActBlue's 3.95 percent and WinRed's 3.8 percent plus 30 cents. The money collected through these fees goes toward the upkeep of the fundraising platforms.
To put that in perspective, a $50 donation will actually cost $51.30 on Prytany, $51.98 on ActBlue and $52.20 on WinRed. A maxed-out contribution of $2,800 would run the donor $2,884 on Prytany, $2,910.60 on ActBlue and $2,906.80 on WinRed.
At its core, Prytany hopes to close the gap between voters' ideals and candidates' campaigns, Kastens said.

"That's the idea behind it: to maximize that connectivity, to allow (voters) to communicate about issues that matter to them — and to have it all in one spot," Kastens said.