What the Democrats' tax returns say about their support for public financing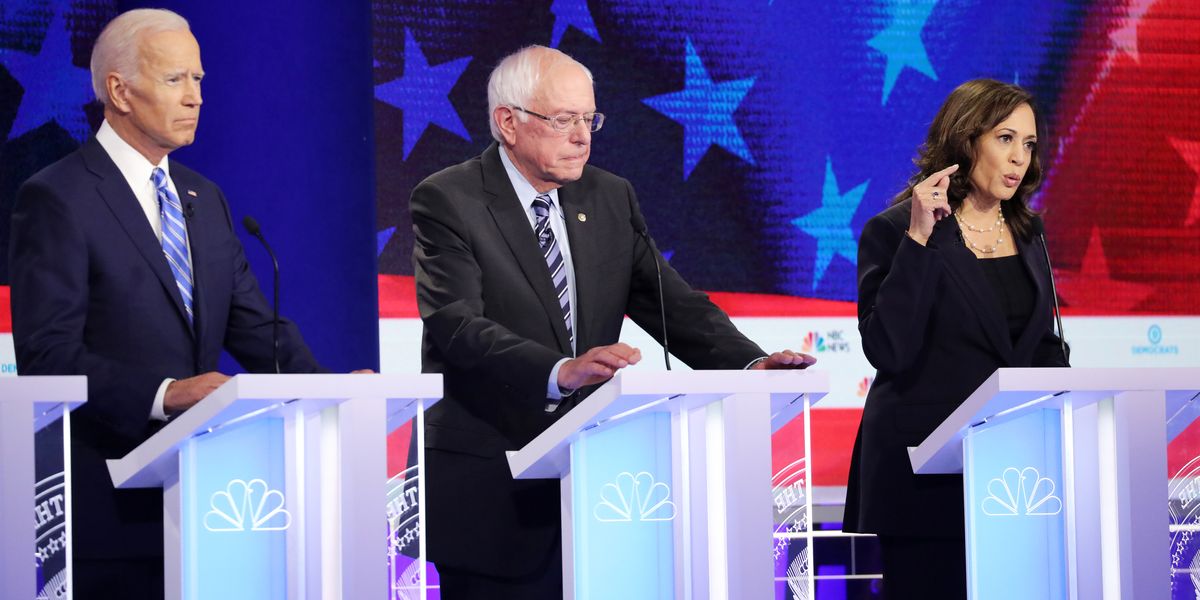 Drew Angerer/Getty Images News
Public financing of federal campaigns has become a talking point for Democratic presidential candidates, most of whom have decried the corrupting influence of outside money in politics.

Tax returns released by several of the highest-profile candidates, however, reveal a disconnect between their speeches and their actions.
Cory Booker, Kamala Harris and Beto O'Rourke have co-sponsored legislation in Congress to create or significantly expand public financing of congressional and presidential elections. But on the annual income tax returns they've made public, none has checked the box for participating in the only current federal public finance system — the largely moribund Presidential Election Campaign Fund.
And Bernie Sanders, the most prominent crusader for public financing, leaves the box unchecked in most years.
Those decisions have created a small but symbolic gap between words and deeds that political opponents love to pounce on. These candidates could also be exposing themselves to criticism they are being hypocritical, or at least insincere, on one of the most ambitious democracy reform ideas being deliberated in the 2020 presidential campaign.
In addition, none of the Democrats has asked to take money from the fund. To qualify for public money, presidential candidates must agree not to accept private contributions and cap their spending in each state. This puts modern-day candidates at a disadvantage in an era of skyrocketing campaign costs.
Sign up for The Fulcrum newsletter
---
Created in its current form with the post-Watergate campaign finance reforms of 1974, the fund is filled by people willing to designate $3 each year, without adding to their tax bill.
Booker chose not to participate any year between 2009 and 2018, his fifth year as a senator from New Jersey. O'Rourke left the box unchecked on returns from 2008 to 2017, when he was the congressman for El Paso. Harris, a California senator, left the box empty on each filing for the past 15 years except in 2004, when she checked "no."
And Sanders, the Vermont senator who championed public financing when he ran for president last time, left the box unchecked six out of the past 10 years.
While only 4 percent of tax filers gave to the fund last year, according to the Federal Election Commission, the relative few who did so include other Democratic candidates who also support public campaign finance.
Elizabeth Warren of Massachusetts checked the box every year since 2008 and her Senate colleague Amy Klobuchar of Minnesota participated the past 13 consecutive years. Mayor Steve Buttigieg of South Bend, Ind., checked it nine times in the past decade.
Joe Biden, who accepted $2 million from the program for a presidential bid in 2008 and is currently leading Democrats in the polls, checked the box on tax returns from 1998 to 2015. (He hasn't released returns for the three years since.)
Even Donald Trump, who spent $66 million of his own money in winning the presidency and opposes a new system of federal subsidies for candidates, checked the box on one tax return that's been partly leaked, for 2005.
Thirteen other Democratic presidential candidates — none of whom are polling well — haven't released any returns.
It's unclear why Booker, Harris, O'Rourke and Sanders left the box unchecked on most or all of their publicly released returns. None of their campaigns (or the senators' press offices) responded to requests for comment.
Highlighting a broken system
Longtime advocates of public campaign finance aren't concerned some of the candidates have not contributed to the fund. A variety of factors may have led to those decisions. Topping the list: The program is irrelevant.
The last major-party presidential candidate to seek funding through the program was Republican John McCain in 2008.
"I've been advocating for public financing systems for two decades, and I don't even check the box anymore," acknowledged Paul S. Ryan, vice president of policy and litigation at Common Cause.
Ryan said he wouldn't draw conclusions about any candidates' support for public financing based on the check-off system because the program is "completely broken."
In 2008, Barack Obama chose to forgo public funds in the general election in favor of collecting money from individuals, a strategy that helped him out-raise McCain by a 2-1 margin en route to the presidency. He also became the first president since Richard Nixon to run for president in the general election without public funding. (George W. Bush declined public funds in the 2000 Republican primary but accepted public funds in the general election.)
Ryan said the decisions by some of the 2020 candidates to leave the box blank might not have been conscious: Their tax preparers might have done it without asking.
Fred Wertheimer, founder and president of Democracy 21 and advocate of public finance systems since the 1970s, said not checking off the box says little about a candidate's support for current legislation in Congress seeking to improve public financing of elections. He called the presidential election fund "inoperable."
"For us, that is not a basis for raising concerns about where candidates stand on campaign finance reform," Wertheimer said.
Unlike the presidential campaign fund, legislation cosponsored by all seven senators seeking the White House would allow for individual donations while providing Senate and presidential candidates with $6 for every $1 raised in small donations. The legislation is similar to the public financing provisions in the catchall political process overhaul bill known as HR 1 passed by the new House Democratic majority this spring. Republican majority leaders say neither bill is ever going to get a vote in the Senate.
"The way to judge any candidate for federal office is whether they support, or are willing to work for, a small-donor, public matching funds system for all federal candidates," Wertheimer said. "From my perspective, I would prefer people check it off, but I don't think it's a fair way to judge where they stand on the current finance system or on creating a new one."