I was healed of a Rush Limbaugh addiction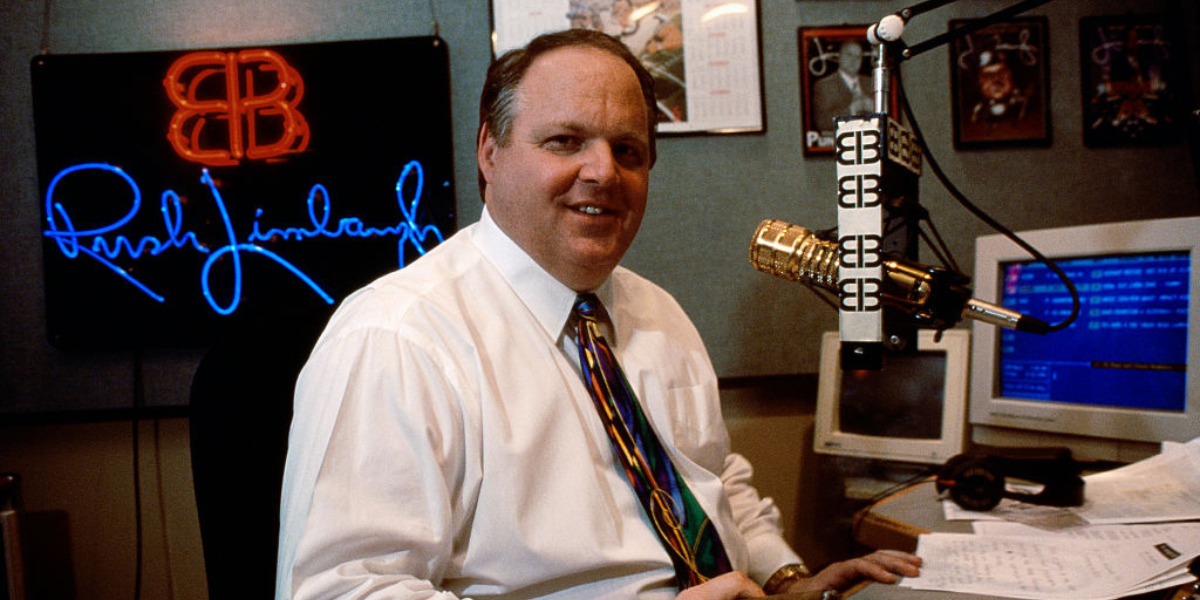 Photo by Mark Peterson/Corbis via Getty Images
Swearengin is an author, emotional & spiritual well-being coach, podcaster and content creator through his social media presence as Unconventional Pastor Paul. He talks religion and politics at times joined by his wife Ashley, a former elected official and community leader. Find him at Pastor-Paul.com.
I'm a recovering rightwing media addict. Whew, feels good to get that off my chest.
---
That fact makes me deeply interested in the recently revealed evidence of Fox News leaders knowing there was no truth to Trump's 2020 election fraud lies, yet they continued to platform guests and stories that fueled this misinformation. While distressing that a "news" organization blatantly lied, it may be even more worrisome that Fox News leadership were certain they would lose viewership if they told the truth. Fox demonstrated their understanding that the "rage porn" news/entertainment phenomenon has addicted their audience to big lies.
I know this is true, because I had to be healed from a Rush Limbaugh addiction.
Limbaugh's brilliance enabled him to basically invent an entirely new genre of media and he made millions. But, I believe he did so at great cost to our culture. When mental health seems to be a nationwide struggle, how much does such culture war media add to negative impacts?
Sign up for The Fulcrum newsletter
Years ago, I found myself extremely agitated while driving.
"What's wrong with me?" I asked my empty car out loud. A segment from Limbaugh's show came to mind and I realized I was angry at some perceived "enemy" Limbaugh had pointed me towards. The drug of rightwing media angst was having its effect and it made me uncomfortable. I decided to try an experimental "Rush fast." The results were stunning.
I'm only half joking when I say five days without rightwing, conservative media made the sky turn blue again. I quickly found that the constant anger thrown at me by Rush, Hannity and others had a profound impact. In my later work as an evangelical pastor, I'd find angry, anxious people who regularly took in heavy doses of rightwing media. Every time they followed my encouragement to give that media up for a week, that person found a significant improvement in their emotional and spiritual health.
But, I know it's not easy for people to push away from rightwing media.
Media entertainment must drive people to emote. Emotion brings connection, and connection brings the follower back again and again. Hosts like Limbaugh, ESPN's Stephen A. Smith and Howard Stern don't care if you hate them, or hate the subject of their topic. As long as the emotions of anger or fear are stoked, they know they've locked in their followers. For a generation, Rightwing media has perfected the creation of emotional anger. They know their job is to get the audience angry and keep them angry – even at the cost of truth.
A 2014 University of Nebraska study found that conservative leaning people tended to carry a "negativity bias" in their lives. In other words, those of a conservative political bent were "physiologically more attuned to negative (threatening, disgusting) stimuli in their environments." The scientists had backed up what my experiment had revealed to me – heavy doses of conservative media is addicting as it creates false fears and enemies to prey on our primal need to survive.
I often say "The Religious Right is Religiously Wrong." Isn't it interesting that much of the rightwing media audience are Christians despite their Biblical encouragement to meditate on "…whatever is true, whatever is honorable, whatever is just, whatever is pure, whatever is lovely…" (Phil. 4:8.) Does intake of copious amounts of rage porn, masked as news, line up with this spiritual instruction?" Partisanship requires enemies; the Bible says divine spiritual alignment will make "even our enemies to be at peace with us."
Some might say Left-leaning media has the same impact and I'm not going to argue that point here. I'm just very aware how many Christians adherents follow these conservative outlets and I've seen first-hand its destructive nature. It's a far cry from the spiritual edict to desire truth. I hope one day again Christians can believe their bible when it says "truth will set you free."