Summit for Democracy needs improvements before reconvening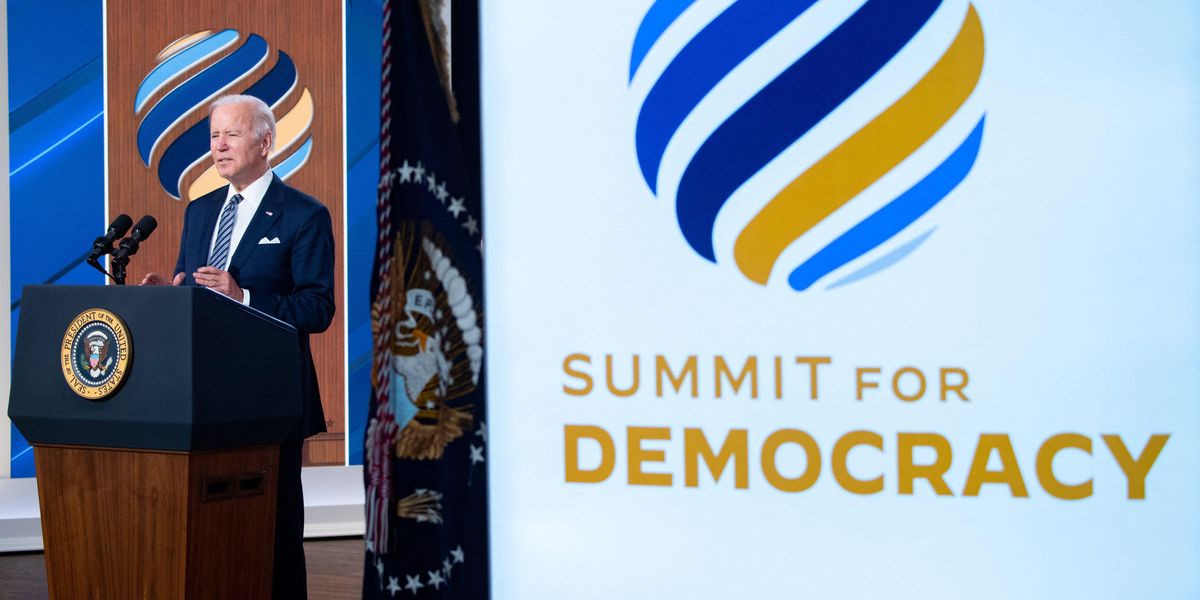 Saul Loeb/AFP via Getty Images
Kevin Frazier is a student at the Harvard Kennedy School and the University of California, Berkeley School of Law. Ravel, a former chair of the Federal Election Commission, is a member of the International Comitê Scientifico working on solutions to strengthen electoral justice.
Two days of deliberation at the Summit for Democracy met expectations, demonstrating that America is in no position to be hosting gatherings on how to make democracy more resilient and representative. Right now, the United States is a case study in democratic ailments that can metastasize into near-terminal diseases. Democracies, from Germany under Hitler to Brazil under Bolsonaro to the U.S., can backslide. What is desperately needed instead is a meticulous study of how to treat the root causes of democratic decay.
Thankfully, there's still plenty of time to plan for a more meaningful second gathering in late 2022, the next step of the summit's goal to kickstart countries in the fight against authoritarianism, corruption and human rights abuses.
---
It's important to take stock of what went wrong with the first gathering. A different host would have been more appropriate. Mexico, for instance, could have welcomed countries in to study how its constitutional reforms have advanced "Parity in Everything," which has resulted in increased representation for women and communities of color. The United States, on the other hand, has a history of institutions that discriminate against and suppress the voices of women and minorities, with no consequential efforts to make meaningful change.
Sign up for The Fulcrum newsletter
It's time to surrender our claimed position as a democratic leader to those countries doing more substantive work on the issues at the heart of the summit. While no nation has cured itself of authoritarianism, corruption and human rights abuses, the U.S. should work with other countries to enable them to host the next gathering.
There was room for improvement on the agenda, too. A Private Sector Forum, meant to create a "constructive dialogue around the symbiotic relationship between business and government," did little to prepare either sector to make the most of the "Year of Action" before the gathering. The forum allowed participants to run through their talking points and then run off to whatever came next on their calendar. Most of the events similarly prioritized "conversation" over "committed action." The next gathering's agenda ought to learn from the dialogue-heavy first iteration as well as from productive international gatherings, such as climate negotiations. Talk is cheap. When the stakes are this high, there must be carrots and sticks to compel nations to take steps forward on future-proofing their democracies.
A different guest list would have also made the first gathering more efficacious. At 111 countries, including many nations with deeper democratic ailments than those plaguing the U.S. and even less resolve to address them. "Which countries were invited," according to The Economist, "reflect[ed] American politics more than democratic values." And the guestlist was too large to expect significant action. A smaller second gathering should be tailored to allow participating countries to provide specific plans for improving their democracies and to coordinate to solve international issues.
Additionally, the U.S. must commit to a "Year of Action" that justifies a leading role at the democracy reform table. A troubling trend in our country has grown worse: Autocratic behaviors have proliferated, and democratic values are waning. Sixty percent of white working class Americans agreed that "because things have gotten so far off track in this country, we need a leader who is willing to break some rules if that's what it takes to set things right." Michael Hais, Doug Ross, and Morley Winograd offer several means to contain the spread of this belief. Chief among their recommendations is reducing gerrymandering, eliminating voter suppression, reforming the filibuster in the Senate and increasing transparency of campaign financing.
On corruption, the U.S. must look at the plank in its own eye: In 2020, the country earned its worst corruption rating in a decade on Transparency International's Corruption Perceptions Index. Transitional International has already established three ways for the U.S. (and other countries) to improve its anti-corruption work: purge dirty money from domestic and international governance; deter and sanction cross-border corruption; and, support anti-corruption fighters. The Biden administration's recently released Strategy on Countering Corruption is a good first step, but much more needs to be done.
On human rights abuses, Human Rights Watch's numerous reforms would give something meaningful to add to the agenda next year. The United States must tackle its egregious and world-leading criminal incarceration rate. The First Step Act, which resulted in thousands of people being released from prison, was just that — a first step. Second and third steps to ameliorate our criminal justice system must be taken in the coming year.
Before assuming a leadership position in democratic resiliency, the U.S. must show progress by turning the proposed Year of Action into a truly productive period of democratic reforms.