A clarion call to support Ronald Reagan's Russia evil empire doctrine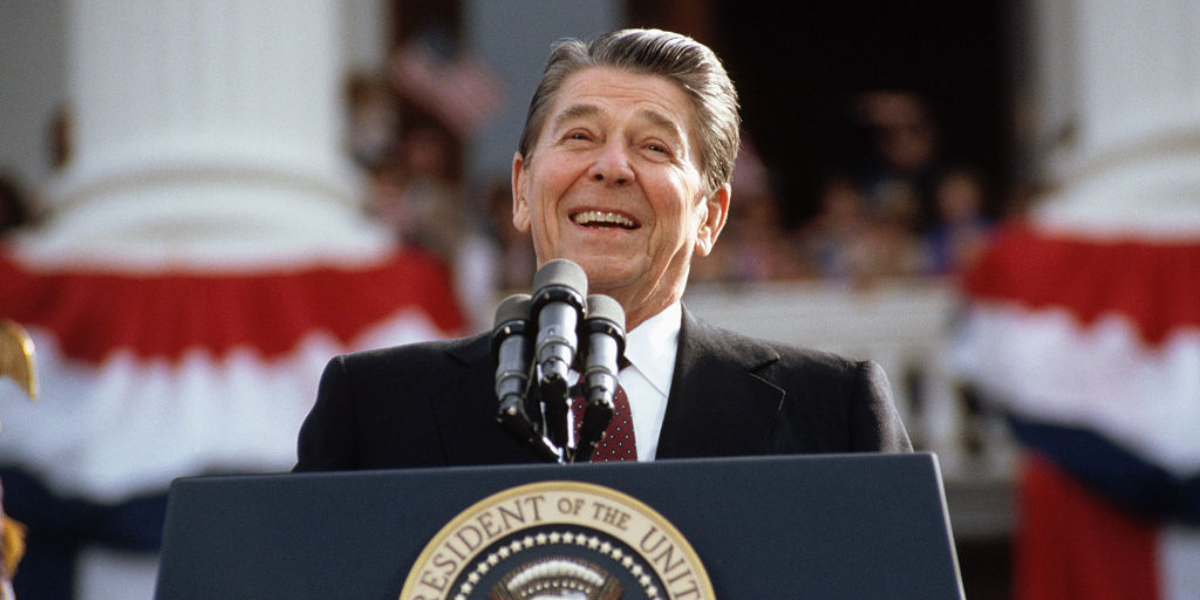 Photo by © Wally McNamee/CORBIS/Corbis via Getty Images
Steve Corbin is Professor Emeritus of Marketing at the University of Northern Iowa.
Very few media outlets published information about the February 19, 2023 pro-Putin rally or the multitude of Republicans and other influential politicians being pro-Putin and anti-support for Ukraine.
---
Many within the GOP have witnessed their party evolve from promoting isolationism in the 1930's to moving progressively forward with Dwight Eisenhower's D-Day victory (1944) and Ronald Reagan's 1983 warning of Russia's evil empire.
Reagan's historic diplomacy – applauded by all patriotic Americans -- ended the Cold War. Reagan – a moralist -- would support America aiding Ukraine and denouncing Vladimir Putin's unfounded aggression.
All of the living former U.S. presidents, with the exception of Donald Trump, have publicly condemned Putin's invasion of Ukraine. Trump's 2017-2021 presidency permitted our international diplomacy to take a back seat, reverting many Republicans' thinking back to its 1930's authoritarian stance.
An alarm should be sounded knowing many of today's Republicans have made an about-face rejection of the Reagan doctrine that yielded constructive results for US interests and global democracy.
Rupert Murdoch founded Fox News and the six members of his conservative right-wing Wall Street Journal editorial board solemnly stated in its March 16 op-ed, "If Ukraine manages a victory even as Republicans call for retreat, the GOP will have surrendered one of its core selling points as the party voters trust on national security. It would then be all the harder to marshal support and resources for a stronger U.S. military deterrent against China. ... China and Russia and Iran are combining forces to threaten the U.S. in a way not seen since the 1980's."
Sign up for The Fulcrum newsletter
Many Republicans who are pro-Putin are currently holding or seeking political office. Others are broadcasting their support of Russian aggression. They include: Steve Bannon, Tucker Carlson (Fox News), Gov. Ron DeSantis (FL), Michael Flynn, Nick Fuentas (Am. First PAC), Rep. Matt Gaetz (FL), Rep. Marjorie Taylor Greene (GA), Rep. Paul Gosar (AZ), Laura Ingraham (Fox News), Charlie Kirk (Turning Point USA), Rep. Kevin McCarthy (CA), Rep. Mary Miller (IL), Peter Navarro, Candace Owens (Daily Wire), Rep. Scott Perry (CA), Erik Prince (Blackwater), Rep. Wendy Rogers (AZ), Rep. Matt Rosendale (MT), Roger Stone, Donald Trump, Jr., Donald J. Trump and Sen. J.D. Vance (OH).
Attending a Feb. 19 pro-Putin rally at Washington, DC's Lincoln Memorial were Emerita Rep. Tulsi Gabbard (Independent,), Emeritus Rep. Dennis Kucinich (Democrat), Emeritus Rep. Ron Paul (Libertarian) and Jill Stein (Green Party).
The pro-Putin and pro-Russian frenzy gets crazier. And, there's not been much media attention to this development either.
Several groups – independent from one another -- reveal "the Kremlin has deployed disinformation themes and tactics to weaken US support for Kyiv with help from conservative media stars and some Republicans in Congress" (The Guardian, March 16).
Think tanks that track disinformation propaganda note "social media platforms like Parler, Rumble, Gab and Odysee have increasingly been used to spread Russian falsehoods." The Guardian article reveals GOP House Freedom Caucus members Marjorie Taylor Greene, Scott Perry and Paul Gosar are advancing pro-Russian messages while Tucker Carlson (Fox News) and podcaster Steve Bannon "have promoted some of the most baseless claims that help bolster the Kremlin's aggression."
It's possible the next president of the United States will be pro-Putin despite 91% of Americans having an unfavorable opinion of Putin (Gallup, March 13) and despite the International Criminal Court issuing an arrest warrant to Putin for war crimes and kidnapping over 6,000 Ukrainian children.
Upholding Reagan's peace through strength message against Russia, China, Iran and North Korea must be upheld by all patriotic Americans. As
TheWall Street Journal
sternly warns, if not "the country and world are in more trouble than we have imagined."