At Unrig online, talk of voting at home to save lives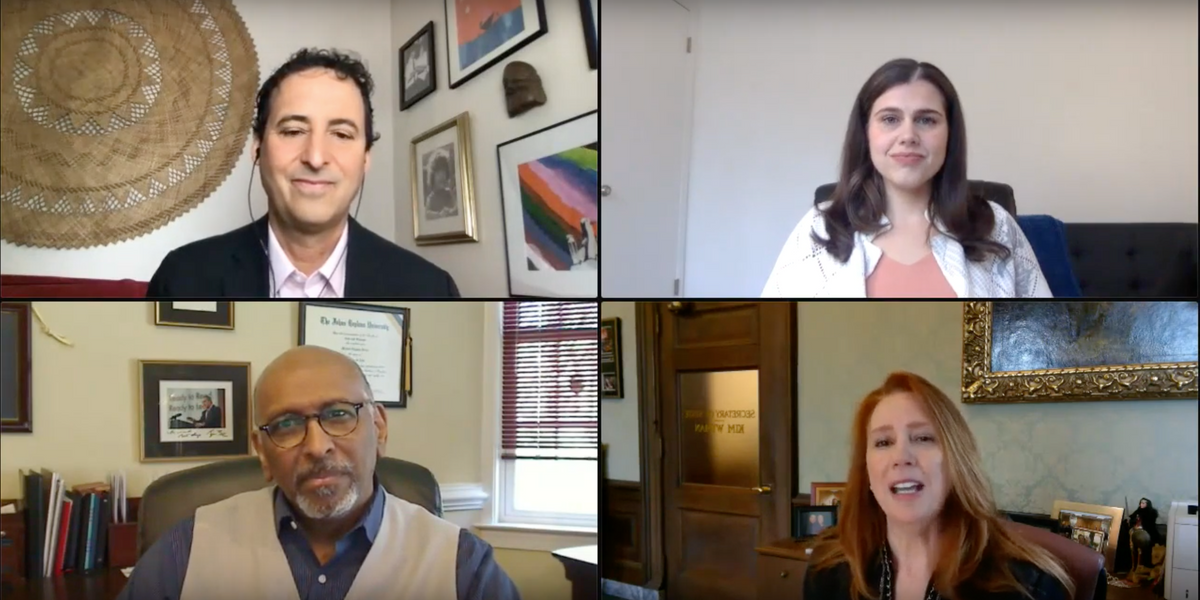 YouTube
Griffiths is a contributor to Independent Voter News.
The coronavirus pandemic has put a strain on American life and the democratic process. Voters want a meaningful say in the 2020 elections, but they don't want to risk their health to exercise their constitutionally protected right to vote.
In response, the vote-at-home movement has gained significant traction as reformers and election officials consider the best methods and practices to keep voters safe while protecting their civil rights.
What vote-at-home brings to the broad conversation on improving the democratic process was the topic of the first of a six-part, virtual Unrig Summit series, hosted this week by RepresentUs, to keep voters connected to the movements to transform the American political process.
---
"In the face of this pandemic, there is an urgent need for all states to adopt vote-at-home systems to ensure the safety of voters and poll workers. We have to ensure we have full and fair elections this year and beyond," the group's founder, Josh Silver, said as Thursday's discussion began.
The U.S. political process was already struggling before the Covid-19 crisis, he noted, and a root cause is the "wonky" election law nook that rigs the system for those with the most power.
Sign up for The Fulcrum newsletter
More than 600 people tuned in online to hear from former Republican national chairman and Maryland Lt. Gov. Michael Steele, Democratic Secretary of State Jena Griswold of Colorado and GOP Secretary of State Kim Wyman of Washington.
"It is important at this point in time that we have unfettered and uninhibited access to the ballot box," said Steele, now chairman of the US Vote Foundation, which provides state-specific voter services and information.
All all 50 states offer some absentee voting. However, the burden of getting such a ballot can be extremely tough depending on the state. There are, however, 33 states with "no excuse" absentee voting and five with all-mail voting systems. Colorado and Washington are on that list and have the highest turnout rates of all the states.
"It is important that whether someone is from a small town like me, with more elk than people, or a big city, rich or poor, young or old, that they get a voice in our democracy," said Griswold. "Bottom line is, if you make elections accessible, people will vote."
Some participants had questions about the security of vote-at-home. No elections system is 100 percent secure and it is important for states to build the necessary controls to prevent fraud, Wyman said. For instance, her state has a system to compare signatures and flag duplicate or when someone uses another person's name to vote.
She said most of the problems — provisional ballots wrongly added to the count, mainly — happen at a polling place as a result of errors by minimally trained, overworked poll workers. So improving their training is the answer.
Griswold also noted her state uses certified paper ballots and the best available auditing system, two controls she said can't be hacked and give voters greater confidence in election security.
Ensuring every voter may vote from home by November is "completely feasible," she said, because most states have an infrastructure that can be bolstered — if there's help from the federal government.
The $2 trillion economic rescue package signed a week ago allocated $400 million in elections assistance, nowhere near the $2 billion the Brennan Center for Justice said would be needed and the $4 billion some lawmakers wanted.
Silver closed out the roundtable discussion with a call to action, saying it is on everyone watching the roundtable discussion to be "part of the solution in some ways," and called on people already involved to up their game.
RepresentUs has partnered with other organizations to push for more states to adopt systems modeled closely after the five states that now offer all-mail voting. The organization also offers resources for voters interested in getting involved in the movement, including a "take action" page with information they need to get started.
"One thing is certain," said Silver. "We must overhaul our elections and campaign finance laws in order to get better representation in government, stop this vicious cycle of partisan extremism and gridlock, and reverse the corruption and authoritarianism that are infecting this great democratic experiment of ours."
Unrig Roundtable: Why Vote at Home Matters Nowwww.youtube.com
Visit IVN.us for more coverage from Independent Voter News.