Voting easements made in Virginia and New York, but stopped in Indiana
https://twitter.com/saramswann?lang=en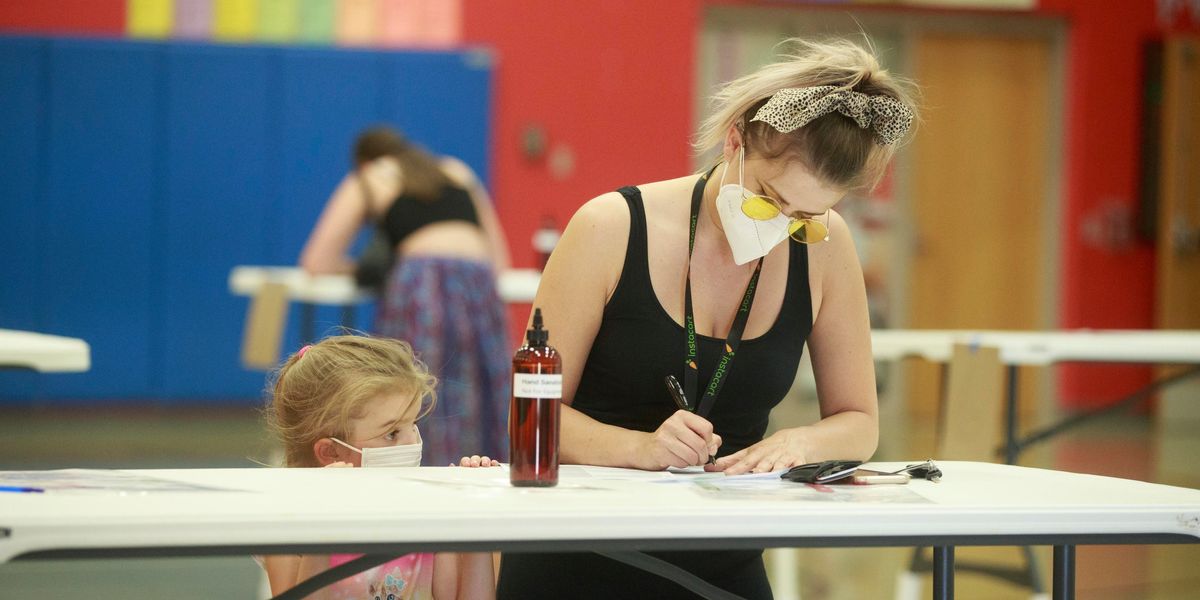 Jeremy Hogan/Getty Images
Six states still require voters to provide an excuse not related to the Covid-19 pandemic in order to get a mail-in ballot this year. A judge decided to keep Indiana on that list Friday while a pair of states took action to make voting easier in 2020.

Virginia has waived the witness signature requirement and New York has made improvements to its absentee ballot verification system. In Missouri, meanwhile, a new legal battle over ballot access is just beginning.
Here are the details:
---
Indiana
A federal judge said Friday he wouldn't force Indiana officials to expand absentee voting eligibility for the general election. The state currently has 11 valid excuses for voting by mail, but fear of the coronavirus is not one of them.
Indiana Vote By Mail Inc. and a group of voters filed a lawsuit claiming the state's restrictive vote-by-mail policy violated voters' constitutional rights. U.S. District Judge James Patrick Hanlon, however, was not convinced by their argument.
All voters were allowed to cast ballots by mail in the June primary, but the bipartisan Indiana Election Commission has failed to come to a consensus on whether to authorize the similar rules for the fall.
Virginia
Virginia Attorney General Mark Herring announced Friday that voters will not be required to have their absentee ballots signed by a witness for the November election.
Sign up for The Fulcrum newsletter
After the state made the same easement for the June primary, a group of GOP voters sued, arguing the Covid-19 pandemic is not a valid excuse to loosen vote-by-mail restrictions.
But U.S. District Judge Norman Moon approved Herring's order, saying "every indication before the Court is that the June primary was conducted without the witness signature requirement and without any corresponding increase in voter confusion or election fraud."
New York
New Yorkers voting by mail in the general election will now be notified about and given the opportunity to correct any issues with their absentee ballots, such as a missing signature.
Democratic Gov. Andrew Cuomo said last week he would sign legislation to allow ballot "curing," but the exact provisions have not been finalized due to last-minute negotiations between Cuomo and lawmakers.
New York's absentee ballot verification system has consistently had one of the highest rejection rates in the country — 84,000 primary ballots were rejected in New York City this year. Anticipating a surge in mail voting this fall, state lawmakers wanted to prevent widespread voter disenfranchisement due to voters not being able to correct clerical errors.
The governor also recently signed legislation to add fear of coronavirus infection as a valid excuse to vote absentee this fall.
Missouri
American Women, a national women's advocacy organization, joined with three Missouri residents to sue the secretary of state over five election laws they claim restrict access to the ballot box.
The lawsuit, filed in Cole County Circuit Court last week, seeks to make the following changes to Missouri's election laws:
Eliminate the notary requirement for absentee ballots.
Provide voters a way to return their absentee ballots without mailing them.
Ensure absentee ballots that are postmarked by Election Day, but arrive later due to mail service delays, are still counted.
Allow third parties to assist in collecting and submitting mail ballots.
Establish fair signature matching protocols and give voters the opportunity to fix errors with their absentee ballot.
Missouri has slightly expanded its vote-by-mail eligibility to those who are considered most at-risk of Covid-19 infection. Earlier this year, the state added a photo ID requirement for voters; anyone who cannot show a photo ID may cast a provisional ballot.