Voting registration advocates grapple with new election laws
https://twitter.com/saramswann?lang=en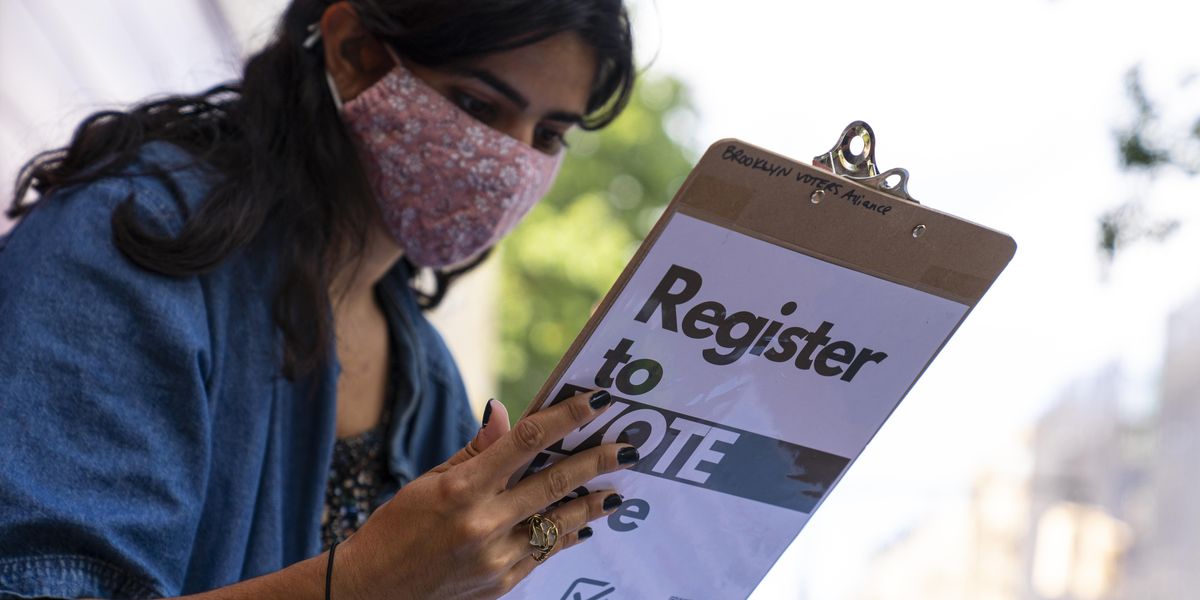 Robert Nickelsberg/Getty Images
Even though 2021 is an odd year, it certainly hasn't been an off year for voter registration efforts.

Last year's presidential election saw record-high turnout, despite the ongoing Covid-19 pandemic, and voting rights advocates say they have seen that enthusiasm for civic engagement carry through 2021. For National Voter Registration Day on Tuesday, it's all hands on deck to keep the momentum going.
However, the biggest challenge for voting rights advocates has been helping voters, both new and returning, navigate the large number of election laws that have been enacted across the country this year. While some of the laws ease access to the ballot box, others impose new limits or tighter rules around voting.
---
National Voter Registration Day was established as a nonpartisan civic holiday in 2012. Since then nearly 4.5 million people have registered to vote on the holiday. For voting rights advocates, it's the second most important day of the year, behind Election Day.

A focus on young people
Because many newly registered voters are young people, a significant share of campaigns are concentrated on college campuses. The Alliance for Youth Organizing and the Students Learn Students Vote Coalition collaborate each year during the civic holidays on a Campus Takeover program. The two groups work with nearly 2,000 campuses in all 50 states to mobilize students around elections and create a culture of civic engagement.
Sign up for The Fulcrum newsletter
This year, Campus Takeover distributed more than $55,000 in mini grants to 140 organizations and campuses to help bolster civic engagement activities at colleges. The grants can be used to host creative and fun events, like voter registration drives with free food and live music, said Eddy Zerbe, special projects director for the SLSV Coalition.
"We're already seeing so much interest with the program, and that's giving us concrete proof that the wave of enthusiasm we saw in 2020 is still going strong in 2021," Zerbe said.
Last year's National Voter Registration Day broke Vote.org's record for new registrations in one day with more than 730,000 people signing up, said CEO Andrea Hailey. This year, the organization is prepared for another influx of visitors to the site.
Vote.org and its partners are using social media to promote voter registration. The group is also collaborating with the NAACP and its chapters across the country to provide digital voter registration and information tools. And in preparation for Virginia's statewide elections this fall, Vote.org will be hosting civic engagement events at all the historically Black colleges and universities in the state.
"We are encouraging people to register themselves, but then also to reach out to family and friends and kind of be the vote captain of their own lives, their own community and their own families," Hailey said.
National Voter Registration Day activities are not only robust at the national level, but locally as well. Forward Montana is hosting events in Billings, Bozeman, Missoula and the Flathead Valley. The events are mostly focused in areas where young people congregate, including college campuses, coffee shops and breweries. Pari Kemmick, the Billings field manager for Forward Montana, said the group sees more voter registration successes in person because they are "meeting people where they are."
Although more attention is usually paid to national elections, Kemmick always emphasizes the importance of local elections when engaging with voters.
"People get really hyped up around national elections because we've always been told about the president and Congress and all these decisions they make," Kemmick said. "But our communities and actually how we're affected on a day-to-day basis is determined by who our mayor is and our city councilors are."
Another civic engagement group, Mississippi Votes, will be traveling to almost every college and university in the state to register young people and educate them about the voting process.
"Voter registration is the first step in taking ownership of the outcomes of our democracy," said Arekia Bennett, executive director of Mississippi Votes. "By registering to vote we make a commitment to ourselves and our communities that we will use our voice to influence change from right where we are."
Overcoming barriers to the ballot box
Last year, practically all "get out the vote" efforts went virtual because of the pandemic, which made it especially difficult to register voters in the seven states without online registration systems.
Organizers in Mississippi, Montana and Texas — three states without comprehensive online registration systems — said not being able to engage with voters in person did hinder their outreach efforts. But they found new and innovative ways of reaching voters.
Forward Montana created its own online portal last year, said Kemmick. The site allowed people to fill out a registration form and have it mailed to them with a prepaid envelope so they could sign the form and return it to their elections office.
While more registration events will be held in person this year, the gatherings will still be scaled back to ensure the safety of those in attendance.
On top of the pandemic, voting rights advocates are also grappling with the wave of new voting laws enacted by state legislatures this year. In Texas, where GOP lawmakers approved a major overhaul of the election system, educating voters about the new rules is a major priority.
"Education for us is always a really critical part of what we do because we work with young, first-time voters," said Charlie Bonner, communications director for MOVE Texas. "We know that young people don't have an apathy problem, they have an access problem, an information problem. Too often young people in the state don't understand the wonky rules that have been created around our election system, so that education part is really critical to our 'get out the vote' efforts."
In Kansas, a recently enacted law prevents anyone from knowingly representing oneself as an election official. Violating that rule is a felony offense. As a result, civic engagement groups have completely stopped their voter registration activities in the state out of fear that their people may be mistaken for election officials, said Sarah Audelo, executive director of the Alliance for Youth Organizing.
"In our view, welcoming people into our democracy, making sure they're registered to vote, that should be the role of government. But when government fails, young people like the folks at the Alliance for Youth Organizing Network, they step in and they do that work," Audelo said. "So to have such a terrible law on the books, while government has failed to register people to vote, and then to penalize those who aim to get them registered, it just makes you think, 'What on Earth is going on?'"
Despite these challenges, voting rights advocates are seeing an increased appetite for civic engagement, especially among young people. Voters under 30 turned out in record numbers for the 2020 election, and advocates are hopeful the trend will continue for the 2022 midterm elections.
"People understand that they are trying to be silenced by our leaders here in Texas, and instead of letting themselves be silenced, they're getting involved in the fight," said Bonner of MOVE Texas. "It's critical that we remind people that they have the power still, even when these intentional barriers are put up. When we work together, we can overcome those barriers."