Voters head to the polls in five states, with GOP nominating battles dominating headlines
https://twitter.com/davidmeyers?lang=en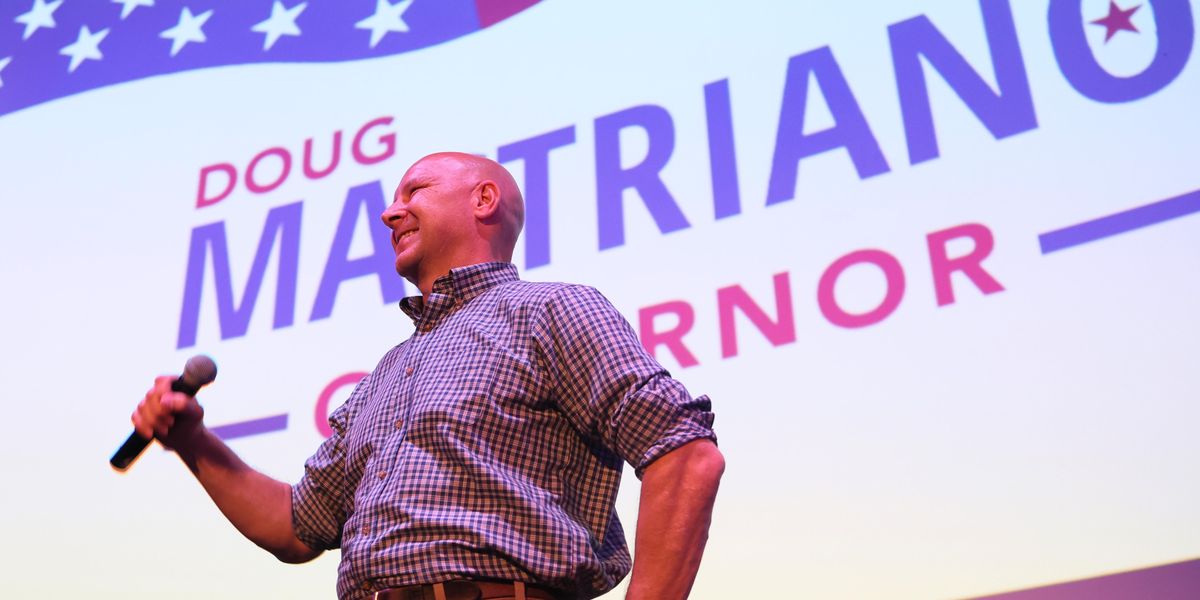 Michael M. Santiago/Getty Images
Primary voters in five states – Idaho, Kentucky, North Carolina, Oregon and Pennsylvania – will choose their nominees for federal, state and local elections on Tuesday.

Most of the coverage is focused on contests for gubernatorial nominations in four of those states, as well as the Senate primary in Pennsylvania and North Carolina Rep. Madison Cawthorn's reelection campaign. Election prognosticators will be paying close attention to the candidates endorsed by former President Donald Trump to measure his continued influence in the Republican Party.
Since 2019, following the outbreak of the Covid-19 pandemic and amid partisan fighting over administration of the 2020 presidential election, many states have been making changes to their election systems. In some cases, legislatures made it easier to vote whereas others tightened the rules. So with key races on the ballot, let's review the changes made in the states that conclude primary voting this week.
---
Idaho
Republicans have firm control over politics in Idaho, so the primaries are where the real action takes place. And because the Gem State conducts closed primaries, only registered Republican voters will be able to select the nominees who are all but assured of winning election in November.
The top race is the contest for the Republican gubernatorial election, where Lt. Gov. Janice McGeachin has the support of former President Donald Trump as she challenges the incumbent, Brad Little.
Sign up for The Fulcrum newsletter
Idaho has updated its rules regarding absentee ballots in recent years. The state does not require an excuse to use such a ballot, and in 2020, amid the pandemic, lawmakers passed a bill allowing for an emergency absentee application after the deadline has passed. Idaho has also tightened the rules for signature verification and ballot "curing."
Election officials are now allowed to begin processing mailed ballots a week before Election Day.
This year, the state has enacted three bills related to voter registration status, according to the Voting Rights Lab. One bill clarified some of the data to be used for cleaning the voter rolls and another requires the secretary of state to provide an annual update to the Legislature on voter list maintenance. The third bill requires officials to investigate an absentee voter's registration status if a ballot is returned as undeliverable.
Read about additional changes in Idaho.
Kentucky
Home to divided government and rare compromises on election legislation, Kentucky does not have many high-profile races hanging in the balance on Tuesday.
Republican Sen. Rand Paul is expected to easily win the nomination to continue his service and will likely cruise by whomever the Democrats select. Two state legislators, Rep. Attica Scott and Sen. Morgan McGarvey, are fighting for the Democratic nod for the states' 3rd district seat in the U.S. House, being vacated by Rep. John Yarmuth. It's the only seat in the delegation held by a Democrat.
Voters in Louisville and Lexington will also select the nominees for mayor on Tuesday.
In 2021, Democratic Gov. Andy Beshear and the Republican-led General Assembly agreed to a sweeping bill that made it easier for people to cast ballots by:
Voting early.
Voting at a central county center, regardless of assigned precinct.
Depositing ballots in secure drop boxes.
Fixing ballots where signatures may be in question.
That bill also tightened some rules regarding distribution of absentee ballots and so-called ballot harvesting.
The state had previously expanded voting options in 2019 by allowing voters who did not meet the requirements for using an absentee ballot to vote early in person if they will be out of town on Election Day. In 2020, the state enacted a new photo identification requirement that also allows voters who cannot produce a photo ID to use a provisional ballot.
Three additional bills have been enacted this year.
The first bans the use of private funds and some in-kind contributions for election administration.
The second bill clarifies some of the rules of absentee voting, defines as a felony any effort to connect certain election equipment to the internet and lays out election audit requirements.
The third sets new rules around decision making by the state board of elections and election security procedures.
North Carolina
One-time frontrunner Pat McCrory, a former governor, has dropped well behind Rep. Ted Budd, who has been backed by Trump in the race for the GOP nomination for Senate. (Republican Richard Burr is retiring.)
Budd is expecting to face former North Carolina Chief Justice Cheri Beasley, who has the backing of the Democratic establishment.
A pair of Republican nominating contests for U.S. House seats may be headed for runoffs on July 26. (North Carolina law requires a candidate to get more than 30 percent of the vote in order to avoid a runoff.)
One of those races involves Rep. Madison Cawthorn, who has been entangled in a series of controversies during his first term (just recently he has called Ukrainian President Volodomyr Zelensky a "thug" and claimed fellow Republicans had invited him to orgies). He is facing about a half-dozen challengers in the 11th district.
Early voting ended on Saturday. Anyone may vote in the primary as long as they are registered with a party or select a particular party's ballot line.
There have been few changes to the battleground state's election law in recent years, with Democratic Gov. Roy Cooper and the Republican-led Legislature working at odds.
Through a ballot initiative, voters approved a strict photo ID requirement that has been challenged in court by groups claiming it discriminates against Black people. The law remains on hold.
In fact, the courts have been the main source of changes to election policy in recent years:
A federal court ruled in 2020 that state officials cannot proceed with a signature matching requirement until they afford "due process" to voters whose ballots are rejected. Such a policy now exists.
That same year, a state court determined that officials may not prevent people with felony convictions, who have completed their sentences, from registering to vote just because they haven't paid outstanding fines or fees.
Read about additional changes in North Carolina.
Oregon
With Democratic Gov. Kate Brown facing term limits, the field to replace her is massive. On the Republican side, 19 candidates are vying for the nomination and because none of them have taken a commanding lead, the race remains wide open. The Democratic ballot features two main contenders, state House Speaker Tina Kotek and Treasurer Tobias Reed.
Voters will also choose candidates for a couple open House seats and determine whether Democratic Rep. Kurt Schrader survives an intraparty challenge. There are also some key municipal races in Portland.
Oregon conducts an all-mail, closed primary. Voters registered with a party may drop off their ballots as late as 8 pm Tuesday. Thanks to a bill passed in 2021, ballots sent through the mail can be counted if postmarked by Election Day and received up to seven days late.
Another change allows election workers to begin counting mail ballots when they are received; previously they had to wait until a week before Election Day.
The state also updated the list of election crimes to include knowingly communicating false statements to intentionally mislead voters about election procedures.
In 2022, the state enacted a pair of new election laws.
One expands access to, and uses for, the online voter registration system. The other provides some protections to election workers.
Read more about recent changes to Oregon's election laws, including changes to the rules regarding removal from the voter rolls.
Pennsylvania
The Keystone State is home to some of the most hard-fought Republican primaries of the 2022 cycle.
State Sen. Doug Mastriano, who has won Trump's support, leads a nine-candidate field vying for the gubernatorial nomination. The winner is expected to face state Attorney General Josh Shapiro in November.
Trump also made an endorsement in the Senate primary, backing Mehmet Oz (popularly known as "Dr. Oz") after his first chosen candidate, Sean Parnell, dropped out of the race. But unlike Mastriano, Oz has not taken a significant lead in the polls. Hedge fund executive David McCormick and author Kathy Barnette remain in a virtual tie with Oz.
Lt. Gov. John Fetterman, the leading candidate for the Democratic nomination for Senate, announced Sunday he has had a stroke but is recovering.
There are also competitive primaries for a handful of U.S. House seats.
Early in-person voting ended May 10. Pennsylvania conducts closed primaries.
With a Democratic governor and Republican Legislature, the state has not enacted election reforms since 2019. That year, Pennsylvania approved no-excuse voting by mail, as well as a permanent list for people who want to vote by mail.
That year, Pennsylvania ended straight-ticket voting, the process by which a voter may vote for all candidates of one party across every race in a general election.