Your Take: Judicial boundaries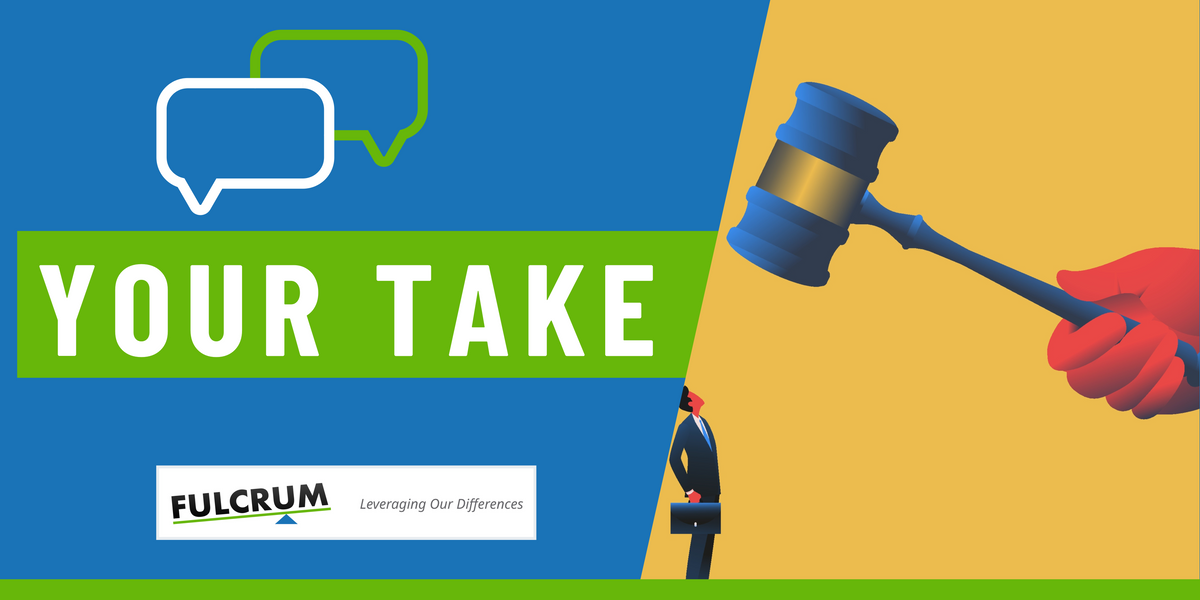 The Bridge Alliance/ Getty Images
Earlier this week we asked the following questions of our Bridge Alliance, Coffee Party and Fulcrum communities regarding the High Court's wielding of power in its recent Students For Fair Admission Inc. v. Harvard decision:
How should the parameters of judicial review be viewed?
How do we make democratic progress in this era of often-imbalanced checks and balances?
In the United States, governmental decision-making processes are never individualistic; purely based on the variety of perspectives, no single decision will receive a one-hundred percent approval rating. But, in the review of these decisions, particularly those of SCOTUS, the process by which a particular decision is made holds the most weight for true legitimacy in the eyes of We The People. As these decisions are likely to have the most consequential of outcomes, the weight of each case is felt from every angle on the political spectrum.
---
The Supreme Court is deeply responsible for much of the social and political shape of our country today, maintaining a vital role in both our political and legal systems. While some may balk at the idea of SCOTUS possessing a political burden, it nonetheless exists for each Justice from appointment to retirement. No decision made by the High Court exists in a vacuum bereft of political actors seeking to impose their political agendas upon it. In this, the dense responsibility of a Justice is revealed: like a referee vested with the responsibility of a call in the closing moments of the infamous "Tuck Rule" game. Before January 19th, 2002, there was no such thing as a "Tuck Rule" to govern fumble vs. forward pass in American football. On that fateful day, snow pounding the temperature down into the 20s, a referee's call in the closing moments completely altered how we viewed quarterback fumbles. In the moment, a call was made that had never existed previously to establish a new wrinkle in the sport. The call overtly influencing the final score, the Patriots were on their way to winning the first Super Bowl of their ensuing dynasty. The hapless Raiders returned to mediocrity. What was the right call? Just as we did during that fateful 2002 Super Bowl, we await further results in the case of Students For Fair Admission Inc. v. Harvard.
Sign up for The Fulcrum newsletter
Here is a sampling of your thoughts. Responses have been edited for length and clarity:
If they take away race consideration, they also need to quit admitting students as "legacies" purely based on the admission of a previous family member or parent. Legacies are 6 times more likely to be admitted than those with the same or better qualifications who aren't, which is also a reason some are of the opinion that race-considerate admissions should not exist. - Dave S.
It is wholly clear that the Court's decision is valid and correct and that the Court has properly exercised its role as arbiter of the Constitution. The dissenting opinions and the critical observations are incorrect jurisprudentially. They take the understandable but Constitutionally-invalid view that the affirmative action plans are desirable if they result in more university admissions for minority races. The Court's decision affirms its role in judicial review. - Glen Davis
The system works as the judicial branch is a part of an intended checks and balances structure. For example, the lifetime appointment of judges is balanced with non-lifetime legislators. The courts only have the power to review cases brought to them. - Scott Tousley
The Courts, particularly SCOTUS, are supposed to be deciding cases measured against the Constitution, statutes, and precedent. Over the past couple of decades, they have often made a number of important decisions that essentially caused them to legislate from the bench. Recently, SCOTUS has come to its senses, realizing that it isn't Congress, and overruled some poorly reasoned precedents. This was painful, but long overdue. - Tom Mast
I am less concerned about the exact placement of the line than I am about consistency with which it is applied. There appears to be a disconnect, with some justices applying the judicial review line differently from case to case to achieve their desired political outcome. Case in point: Justice Alito cited Ramos vs. Louisiana supporting his Dobbs decision overturning Roe vs. Wade. In this example SCOTUS had overturned long held precedent. But Justice Alito dissented in Ramos, holding that long held precedent should be respected. So, he disagreed with overturning precedent, until he didn't. To this point, I disagree with the political activism here. - Kathy
Term limits seem like the most reasonable option, as once seated, the Supremes are answerable to no one. - Robert Weiner
Both conservative and progressive courts are guilty of poorly selective judicial activism. The judiciary should rule when required, decline to rule when not required, and only address the issue presented and only to the extent needed to resolve the conflict. In all cases, courts should follow, and not create, the law. - Paul Huffman
Americans generally trusted the court based on the idea that it acted with a degree of independence, and that its members were chosen for their ability to interpret an aging constitution to beneficially address the needs and interests of an evolving society as well as political culture. This idea - and therefore the trust it supported - is broken. But the Court is needed to keep the Constitution in movement along with America. This lost of trust is a problem because it justifiably prompts the need/desire to clarify these parameters even though the parameters need to be vague enough to enable this movement (it is never known what direction America's evolution will take). The answer isn't to clarify these parameters but to ensure that those on the Supreme Court represent the fundamental spirit of the American political culture and deeply consider how their decisions direct the potential of America into the future. - Anne Long
The Court's power is based on its legitimacy—the perception that its rulings deserve to be respected. The Court is most likely to engender backlash to its Constitutional rulings, be they liberal or conservative, when the justices appear to find ways to interpret the Constitution that conveniently comport with their own value preferences. Decisions based on "originalism"—the quixotic quest for an unambiguous understanding of what the Constitution meant at the time of its adoption—is a current example of such "result-oriented" reasoning. Searching for a single, generally understood, original meaning of the Constitution seldom provides an unambiguous, objective basis for decisions, either because such an understanding didn't exist, or because the historical record is insufficient to reveal it. Also Originalism neither guarantees good decisions nor prevents Justices from reaching decisions informed by their own predispositions. The Constitution is not merely law, but a source of foundational concepts for governing a democratic society. The basic values enshrined in the Constitution matter more than its precise words. - Steve Woolpert