A step back: Could the pandemic help save democracy, not trash it?
https://twitter.com/ElizaRules?ref_src=twsrc%5Egoogle%7Ctwcamp%5Eserp%7Ctwgr%5Eauthor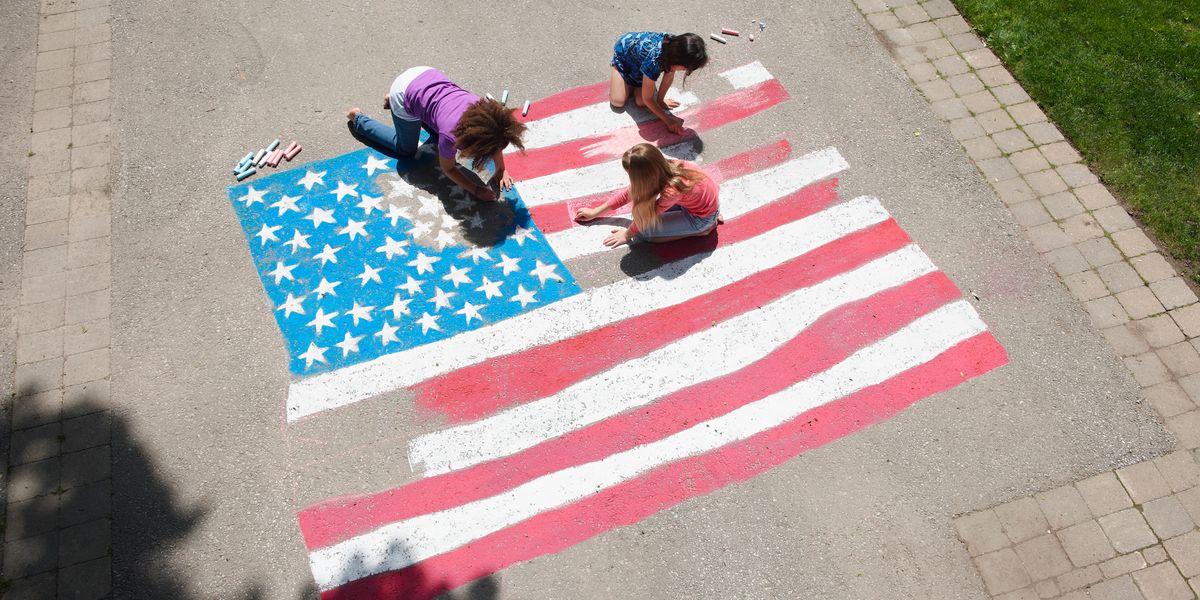 LWA/Dann Tardif/Getty Images
On the surface, the coronavirus pandemic seems to have driven already-divided Americans even further apart.

Police brutality has triggered violent protests in dozens of cities. In a split that's been dubbed the "lockdown left" versus the "reopen right," Democrats are bickering with Republicans over whether public health or the economy should come first. In the House, GOP lawmakers have sued Democrats for permitting proxy voting during the pandemic. And President Trump is stoking all these divisions as the defining strategy of his reelection campaign.
"The unity that was created during and after world wars for America lasted years, the unity after 9/11 lasted months — and the unity during this Covid crisis might be days," says former Rep. Tim Roemer, an Indiana Democrat who helped spearhead a recent bipartisan letter signed by 110 former lawmakers, top government officials and governors urging Congress to respond with more strength, unity and cooperation.
But the rancor and bad blood roiling government officials are not the whole story.
Americans are also reporting heightened public unity and trust as communities draw together in the crisis. A survey last month by More in Common found 90 percent saying "we're all in it together," compared to only 63 percent in 2018. The number who described the country as unified jumped eightfold in the same period.
Sign up for The Fulcrum newsletter
---
The Trump administration's chaotic response to the crisis has created a leadership vacuum that all sorts of smaller players have stepped in to fill — state and local leaders, nonprofits, foundations, CEOs, small businesses, neighbors helping neighbors. The pandemic has intensified inequities and political divisions around the globe, say scholars at the Carnegie Endowment for International Peace. But it's also created the kind of disruption, or major shock, that can lead to new political alignments, as happened in Japan following the 2011 nuclear disaster at Fukushima.
But the public health emergency in the United States has added energy and urgency to several "centers of gravity" in the movement to revive democracy and civil society, argues Kristin Hansen, executive director of the Civic Health Project, which promotes reducing polarization.
These include organizers working to bridge ideological divides at the individual and community level — what Hansen calls the "social aspect" of civic health — and activists seeking structural democracy reforms, from bolstered voting rights to more regulated campaign financing. The latter have coalesced around a broadly bipartisan movement to save the election, principally by greatly expanded mail-in voting.
A rallying cry for the "bridging divides" camp is to counter the prevailing social media and cable news narrative that Americans are hopelessly divided, with a more positive message about the caring and connections that are bringing communities together. Two powerhouse groups in the "bridging divides" movement — the Aspen Institute's Weave: The Social Fabric Project, and the Listen First Project — recently teamed up to form a Weaving Community initiative to build unity amid the pandemic.
"I think a lot of the power and importance of this campaign is that we are serving up a counter narrative to the dominant narrative that America is likely to experience over the next six months as we head into a critical election," says Hansen.
The Weaving Community initiative has drawn a long list of influential partners and sponsors, and describes its goal as ensuring that "the pandemic drives us together, rather than apart."
The "structural reform" camp of the democracy movement continues to wage legal and policy battles on multiple fronts, but the mandate to protect mail-in balloting during the pandemic has taken center stage. Its latest alliance is a new cross-partisan coalition, dubbed VoteSafe, led by one prominent former governor from each party, Republican Tom Ridge of Pennsylvania and Democrat Jennifer Granholm of Michigan. VoteSafe is promoting both access to absentee ballots and public health at polling places, and has partnered with such leading groups as RepresentUs and the League of Women Voters.
The divisions pitting Americans against one another rage on, of course. Governors under pressure to open non-essential businesses with little federal guidance have faced ugly protests by armed extremists. Congress passed three economic relief bills in the early stages but lost little time bogging down yet again. The pandemic could spell years of economic and political instability, both at home and abroad.
Yet even on Capitol Hill, some see rays of hope. The recent letter to Congress that Roemer helped organize spotlighted the work of the Select Committee on the Modernization of Congress, which has worked across party lines to recommend dozens of institutional reforms to modernize and strengthen the House. These include measures to make the House more transparent, efficient and accessible, and in the long run more capable of working across partisan differences.
"You can't fix things on the economy or on our health pandemic without a functioning legislative branch, and a branch that can solve problems," says Roemer, who was ambassador to India after leaving Congress.
For now, average Americans appear to be doing a better job coming together than federal officials. But at all levels, the pandemic is simultaneously pushing Americans apart and drawing them together. For advocates of restoring a functioning democracy and bolstering civic health, the question is whether these disruptive forces will lead to more chaos and division, or create an opening for greater unity and change.
Carney is a contributing writer.