Biden backs some, but hardly all, of democracy reform agenda in time for debate
https://twitter.com/saramswann?lang=en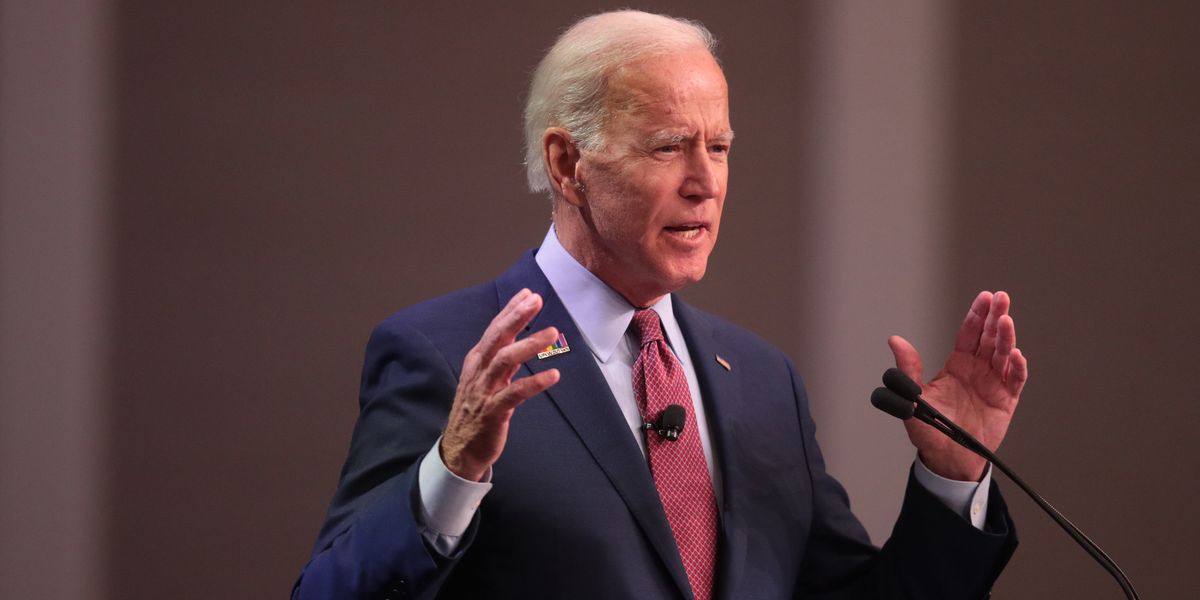 Scott Olson/Getty Images
Just in time for the first presidential debate of the fall, Joe Biden has laid out a plan for improving government ethics and campaign finance regulation that adds more substance to a democracy reform agenda he hasn't been very vocal about.
But the former vice president's package still does not come close to the expansiveness or specificity of the "good government" proposals of Elizabeth Warren, who currently stands near Biden as the front-runners for the Democratic nomination, or the other top-tier presidential candidates.
Whether these issues get any air time when a dozen of the candidates meet Tuesday night is an open question, however. To the dismay of democracy reform advocates, and in defiance of polling that shows fixing the system's brokenness is among the voters' top desires, the issue received only minimal attention in the three debates so far.
One reason may be that the debate moderators have chosen to emphasize the differences among the candidates on the most prominent issues likely to define President Trump's 2020 re-election campaign, and the dozen Democrats on stage in Ohio stand in broad agreement on most of the top proposals for improving democracy.
---
That becomes more clear now that Biden has put additional flesh on the bones of his ideas about slowing the flow of money in politics and mandating higher standards for those in public life. He has still said nothing concrete, however, about most of the major proposals for easing access to the voting booth, expanding voting rights and reducing politicians' control over how their own districts are drawn.

Sign up for The Fulcrum newsletter
Instead, the Biden plan puts heavy emphasis on ways to chastise Trump for helming the "most corrupt administration in modern history." His plan has three main priorities: enhancing government ethics, washing big-money influences out of politics and raising accountability standards for lobbyists.
Biden wants to upend campaign fundraising in federal elections by requiring presidential and congressional candidates to only use public funds, thus blocking outside money influences, and establishing a voluntary small-dollar matching funds system.
He also wants to heighten transparency around "dark money" groups and online political ads by adding donor disclosure requirements.
In the same vein of greater disclosure, Biden said all candidates for federal office should be required to release at minimum the last 10 years of their tax returns. Biden has released his tax returns for 21 years, including all the time he was vice president and much of his time before that as a senator from Delaware.
To boost government ethics, Biden promises to bar any future president or White House from interfering in federal investigations and prosecutions. He also would create a Commission on Federal Ethics to "more effectively enforce federal ethics law" and go beyond the watchdog responsibilities of the Federal Election Commission, the Office of Government Ethics and the Office of Special Counsel.
His plan calls for lifting the veil of mystery around K Street as well. Biden proposes mandating monthly disclosure of meetings between elected officials and lobbyists. He pledges to also tighten loopholes around lobbyist registration and reporting.
For Tuesday's debate, three hours at Ohio's Otterbein University starting at 8 pm EST, Biden and 10 other veterans of at least one of the other 2020 debates will be joined on stage by a single newcomer: Billionaire philanthropist Tom Steyer will get his first primetime shot at pitching his structural reform agenda to Democratic voters and a national audience watching on CNN.
Steyer, a well-heeled donor for liberal candidates and causes, entered the race in July and quickly became one of the more outspoken advocates for government reform. His campaign website says those plans include tackling a political system "corrupted by corporate influence, a lack of political transparency, and partisan efforts to suppress voter participation for their own benefit."
Steyer supports HR 1 — the catch-all campaign finance, elections and government ethics reform package passed by the House — as well as more nuanced ideas, such as establishing a national referendum process that would allow voters to weigh in directly on "no more than two key issues annually." He also supports reforms to the FEC as well as congressional term limits.
"One crucial issue that should be discussed now more than ever is the need to protect and reform our democracy," Catherine Turcer, executive director of Common Cause Ohio, wrote in a Columbus Dispatch opinion piece Tuesday urging the candidates to reshape their debate emphasis. "Corporate interests and influence of wealthy donors have left 58 percent of Americans dissatisfied with our democracy, according to a Pew Research study from earlier this year. Moreover, our dysfunctional system has led to the corruption controversies that have consumed the Trump administration."
The table below shows where the dozen candidates in Tuesday's debate stand on 17 of the most prominent proposals for improving the way democracy works in the areas of campaign finance, access to the ballot box, voting rights, election security, political ethics and revamping our governing systems.
For a more detailed explanation of the candidates' positions on democracy reform, see The Fulcrum's comprehensive story from July. Since the story was published, Steyer joined the race and five Democrats have dropped out: New York Mayor Bill de Blasio, Sen. Kirsten Gillibrand of New York, former Colorado Gov. John Hickenlooper, Washington Gov. Jay Inslee and Rep. Eric Swalwell of California.
Five whose democracy reform positions were detailed in July are still campaigning but did not have enough fundraising or polling strength to merit an invitation to Ohio: Colorado Sen. Michael Bennet, Montana Gov. Steve Bullock, former Maryland Rep. John Delaney, Ohio Rep. Tim Ryan and author Marianne Williamson.