Parties unite on Juneteenth vote, but can bipartisanship last?
https://twitter.com/saramswann?lang=en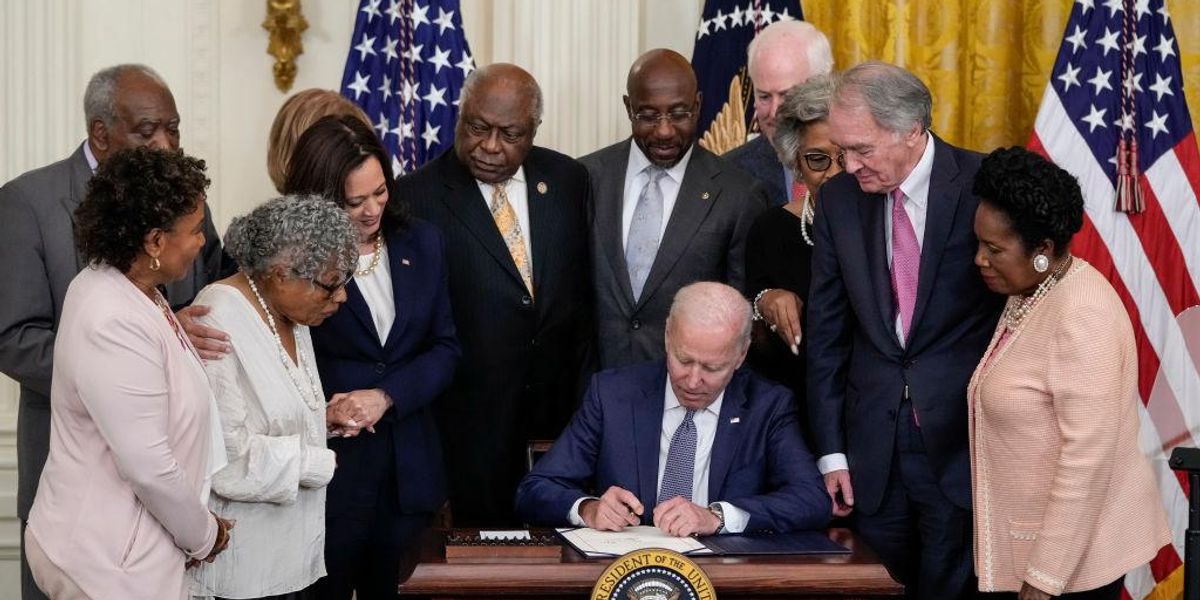 Drew Angerer/Getty Images
Even as our political discourse remains mired in partisan sniping and the parties fail to collaborate on major policy initiatives, Republican and Democratic officials came together in near unanimity this week to make Juneteenth the newest federal holiday.

The measure moved swiftly through Congress, facing zero opposition in the Senate and only minimal resistance in the House. President Biden signed the bill into law on Thursday, just two days before Juneteenth (a portmanteau of June 19).
While the end of chattel slavery in the United States will now be officially commemorated, civil rights advocates emphasize there is still a lot of work that needs to be done, particularly on voting rights. Advocates say the wave of restrictive voting laws being enacted in GOP-led states is especially harmful to voters of color.
---
Biden noted that he was pleased with the overwhelming bipartisan support the bill garnered from Congress. "I hope this is the beginning of a change in the way we deal with one another," he said.
But the president also underscored that this progress will be for naught so long as "the sacred right to vote remains under attack."
"We see this assault from restrictive laws, threats of intimidation, voter purges and more. An assault that offends our very democracy. We can't rest until the promise of equality is fulfilled for every one of us in every corner of this nation," Biden said.
Sign up for The Fulcrum newsletter
Juneteenth is the 11th federal holiday, and the first added since Martin Luther King Jr. Day was approved in 1983. Also known as Freedom Day, it recognizes the events of June 19, 1865, when Union soldiers brought the news to Galveston, Texas, that the Civil War was over and enslaved Black people were now free — more than two years after the Emancipation Proclamation was signed. It would be another six months before the 13th Amendment was ratified, abolishing slavery except as punishment for a crime.
Activists have fought for decades to make Juneteenth an official holiday. One of the most prominent leaders of this campaign is Opal Lee, a 94-year-old activist known to many as the "grandmother of Juneteenth." In 2016, Lee started leading walks to raise awareness about Juneteenth and gain support for making it an official holiday. She was in attendance, along with members of the Congressional Black Caucus, when Biden signed the bill Thursday.
"While we rightfully celebrate this momentous moment today, the Congressional Black Caucus recognizes that the work to build a brighter tomorrow for Black Americans is far from over," said Rep. Joyce Beatty of Ohio, who leads the Congressional Black Caucus.
During the bill signing ceremony Vice President Kamala Harris — who is the first woman, Asian American and Black person to hold the office — spoke of the importance of remembering history and using it to build a better future.
"We are gathered here in a house built by enslaved people. We are footsteps away from where President Abraham Lincoln signed the Emancipation Proclamation. And we are here to witness President Joe Biden establish Juneteenth as a national holiday," Harris said. "We have come far and we have far to go, but today is a day of celebration."
Starting this Juneteenth, a coalition of civil and voting rights advocacy groups, led by Black Voters Matter, is embarking on a Freedom Ride for Voting Rights. The bus tour will start in Jacksonville, Miss., and travel through several Southern states before ending in Washington, D.C., on June 26. The goal is to raise awareness about restrictive voting measures and rally support for federal legislation like the For the People Act and the John Lewis Voting Rights Advancement Act.
"With state legislatures actively working to undermine our rights and strip us of our most basic freedoms, the parallels to Juneteenth are uncanny," said Cliff Albright and LaTosha Brown, co-founders of Black Voters Matter. "We are launching this Freedom Ride for Voting Rights on Juneteenth alongside local and national partners to show voters, communities, and elected officials of how far we've come and remind them what Black power can do."