Voting during coronavirus eased in three more states. Ohio's still a fight.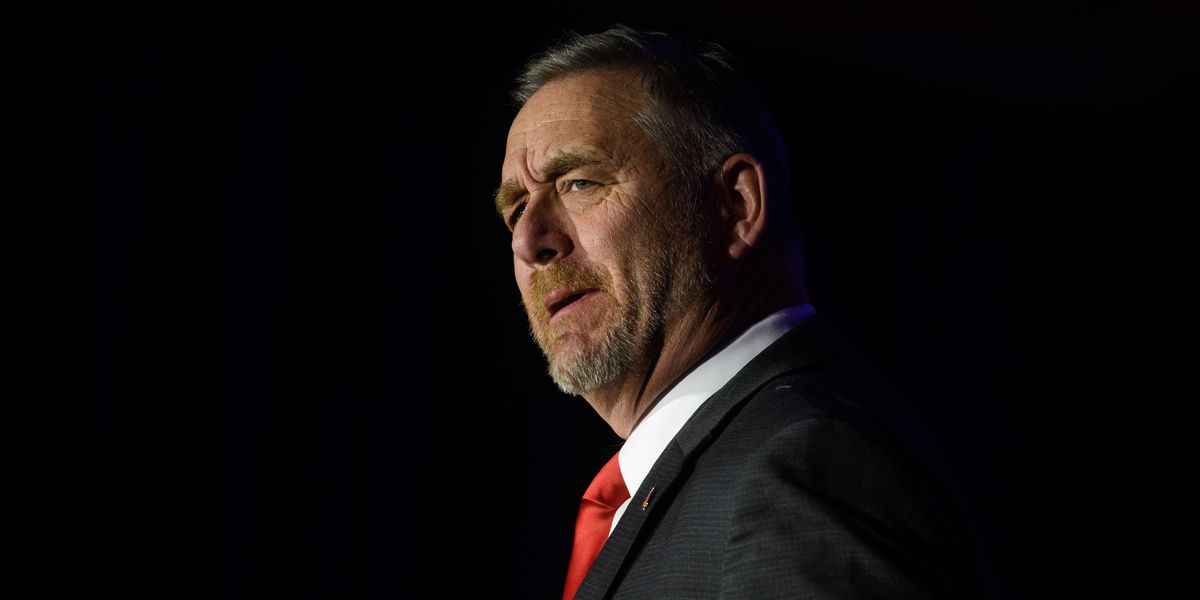 Justin Merriman/Getty Images
The fast-spreading national overhaul of this year's electoral process has started to slow down — because most places that could delay their primaries or ease remote voting at the peak of the coronavirus outbreak have done so.

West Virginia has become the 15th state to postpone its Democratic presidential primary and Idaho joined more than a dozen other states in deciding almost all primary voting will be done with absentee ballots. Maryland decided to allow some in-person voting in what was to have been a totally vote-at-home primary, while the pitched battle over Ohio's primary accelerated.
These are the latest developments:
---
Ohio
The state asked a federal judge Thursday to throw out a lawsuit, filed by voting rights groups only hours earlier, challenging the latest rules and newest date for the primaries as unhealthy and discriminatory.
"It is truly unavoidable that Ohio is now on its third schedule for completing the primary election," the office of GOP Attorney General Dave Yost wrote. The plan "ends the chaos and offers Ohio voters and boards a certain path forward for completing Ohio's 2020 primary. But, a new source of confusion has cropped up: this lawsuit."
The original primary was called off hours before polls were to open March 17, with Gov. Mike DeWine citing the pandemic's reach into Ohio as a health emergency and promising people could go to the polls on June 2 instead. His fellow Republicans in charge of the General assembly decided on something very different: an April 28 primary almost entirely by mail, with postcards going to about 8 million registered voters with instructions for obtaining an absentee ballot.
Sign up for The Fulcrum newsletter
The lawsuit says the plan violates federal law and the Constitution in several ways, including by not reopening the registration period to permit new voters to participate in the extended contest. (Congressional and legislative seats are on the ballot in addition to 136 Democratic presidential delegates. They also say the timetable is too compressed and complicated to be fair to the electorate.
Maryland
The state Board of Elections reversed itself Thursday and recommended there be at least one voting center open in each of the state's 24 counties (with four in Baltimore) for the June 2 primary.
After saying a week ago that all voting should be done with absentee ballots that get dropped off or returned by mail, the board changed its mind at the behest of progressive groups, who say the in-person option is essential to preserving the rights of homeless, itinerant, disabled and non-English-speaking voters.
State officials say they won't have enough protective gear and sanitizing supplies for poll workers by June.
The altered plan needs the approval of Republican Gov. Larry Hogan, who endorsed the all-remote options when he ordered a five-week postponement of the primary. On the ballot are the Democratic presidential contest and judicial and local offices across the state. (A special congressional election in Baltimore, for the seat vacated by he death of Democrat Elijah Cummings, is being conducted entirely by mail and concludes April 28.)
West Virginia
The day of the election — when Democrats will declare their preferred national standard-bearer and both parties' voters will choose nominees for Congress, governor and the Legislature — was moved back four weeks, to June 9, under an emergency executive order signed by GOP Gov. Jim Justice late Wednesday.
West Virginia was the last state to report a novel coronavirus case. There are now more than 200 confirmed cases, and epidemiologists say the peak will be right about when the primary was originally scheduled, and about two weeks behind the rest of the country.
"I was absolutely hopeful and very supportive of trying to do our election on May 12," Justice said. "As we continue to get closer and closer, it's ever so apparent that that's just absolutely the wrong thing to do."
Election officials had already announced that all 1.2 million registered voters would be sent an application for an absentee ballot and that the pandemic would count as one of the available excuses.
Idaho
The state's top officials are taking to the airwaves to publicize their decision to switch May 19 primaries to entirely remote voting. Voters will have another two weeks, until June 2, to drop of their ballots or make sure their mailed-in forms arrive.
"Given the growing number of coronavirus cases in Idaho, it simply was not safe for voters, election workers or the larger community to hold in-person voting," Secretary of State Lawrence Denny said in explaining the decision he and Gov Brad Little, a fellow Republican, made this week.
Counties were urged to double their print runs for the absentee ballots, which voters must still request online or at their local courthouse. But they may both register and request a ballot as late as election day. The state's presidential primary happened in March on schedule. The May contests are for congressional, legislative and judicial nominations