House committee issues new recommendation for civility, collaboration
https://twitter.com/davidmeyers?lang=en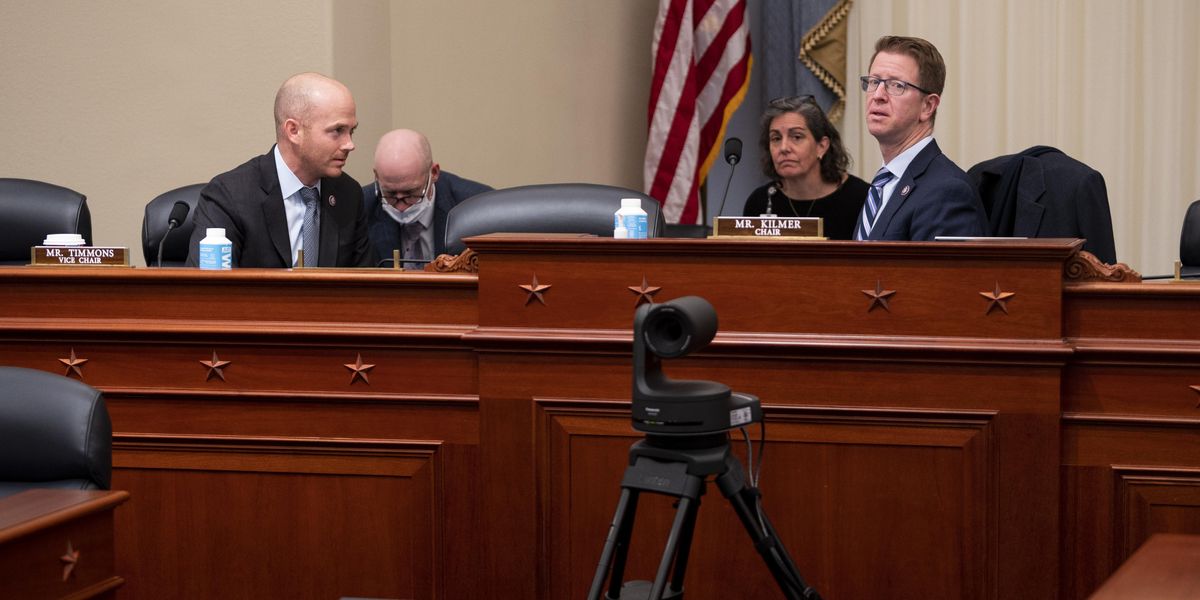 Bill Clark/CQ-Roll Call, Inc via Getty Images
Congress is spending the holiday season working through a series of bills that are critical to a functioning government and President Biden's agenda, efforts that have been marked by partisan positioning. But the group of lawmakers tasked with improving operations in the House has a new set of recommendations that could inject some civility and collaboration into the legislative process.

The Select Committee on the Modernization of Congress convened Wednesday morning and approved its seventh round of proposals, focusing in part on "building a more collaborative Congress where civil discourse is the norm rather than the exception," said the committee's Democratic chairman, Rep. Derek Kilmer of Washington.
This set also includes proposals for strengthening congressional support agencies and a concept to encourage evidence-based policymaking.
---
Among 25 recommendations approved Wednesday by the modernization committee, 14 are designed to create a more collaborative environment. They cover a range of engagements, from orientation for new lawmakers to committee activity to shared resources.

"The very purpose of Congress is to bring together representatives of the people throughout this nation — with a myriad of interests, cultures, and outlooks — to solve common problems," the Congressional Management Foundation said in a statement after the vote. "Without civil relationships, productive collaboration among Members and staff, and the highest-possible quality support from Legislative Branch agencies, Congress cannot develop public policy that truly meets the needs and aspirations of the People."
Sign up for The Fulcrum newsletter
According to Susan Curran, the committee's communications director, the civility and cooperation recommendations do not require further legislative action and could be implemented at any time. That goes for some of the proposals related to congressional support agencies.
"The chair and vice chair are very focused on ensuring these recs are put into action and we have been working with these various partners as we drafted the recs to ensure they were implementable," Curran said, referring to offices and agencies that provide administrative and research support for Congress.
Fourteen recommendations focus on greater civility and cooperation. They include:
Promoting civility, collaboration, and leadership skills at orientation events for new members of Congress and through a proposed Congressional Leadership Academy and Congressional Staff Academy.
Hosting bipartisan committee events and expanding the Library of Congress' events to build better relationships among members.
Providing ongoing support for members and staff who want to build better relationships across the aisle.
Developing tools that would make collaboration easier.
Creating bipartisan websites for committees.
Designating bipartisan co-working space for congressional staff.
Establishing a task force through which the House and Senate could develop joint rules that expedite passage of widely supported, bipartisan legislation.
All of those recommendations were passed unanimously, with the exception of the proposals urging institutional support for collaboration, co-working space and the task force. One proposal, to allow two lawmakers to be designated as first sponsors of a bill as long as they represent different parties, did not receive two-thirds support required for committee approval.
Ten additional recommendations, all approved unanimously, would improve the ability of three congressional agencies — Congressional Budget Office, Government Accountability Office and Congressional Research Service — to support lawmakers.
And a final recommendation, to create a bipartisan and bicameral Commission on Evidence-Based Policymaking, also received unanimous support.
"This committee is not attempting to dictate how members should represent their constituents; these recommendations are about trying to refocus Congress's attention away from the bickering and on to solving America's biggest challenges," said the committee's vice chairman, Republican Rep. Williams Timmons of South Carolina. "If implemented, members will spend more time conducting oversight and ensuring government works efficiently, that our support agencies like the Congressional Budget Office help us better understand and tackle the nation's debt, and that as a nation our laws will be based on facts and not opinions."
In June, the committee began hearing from experts on these issues, including academics, representatives of nonprofits, fellow lawmakers and other federal officials.
This round of proposals builds on 117 that the committee had already approved since its creation in January 2019.
According to a report issued by the committee, more than 60 percent of the 97 recommendations adopted by the 116th Congress (2019-20) have been implemented or are in progress. Another 20 recommendations were issued earlier this year. All of this year's recommendations are available on the committee's website.