Huge stakes, few problems as Georgians cast final votes of a tumultuous year
https://twitter.com/saramswann?lang=en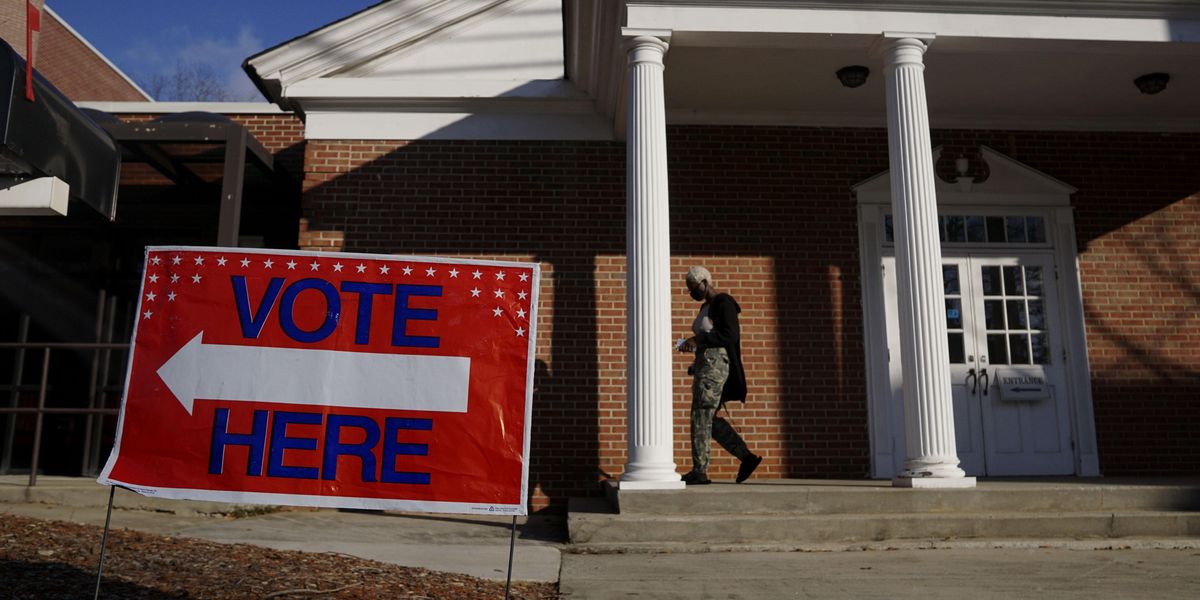 Sandy Huffaker/Getty Images
Capping an extraordinarily complex and contentious season for democracy in a fitting way, hundreds of thousands of Georgians headed to the polls Tuesday for an unusual overtime contest with exceptional consequences.

It took five days after the 2020 campaign year ended for the final election of 2020 to finish. And the stakes of the twinned Senate runoffs could hardly be higher: whether Republicans will still control half of the Capitol, or whether Joe Biden will have a Democratic Congress at his back for his first two years as president.
The fact that the races are in Georgia, which has long been ground zero in battles over voter suppression and rickety election administration, has only heightened the tension. But as of midday, civil rights groups and others looking for big problems were not finding them.
---
On the contrary, it seemed as though many of the criticisms about the state's processes had faded or been resolved in time for their biggest test.

"The scope and scale of the problems voters are facing are not overwhelming," said Kristen Clarke, executive director of the Lawyers Committee for Civil Rights Under Law. Her organization ran an election protection hotline all year — one that was swamped with calls from confused or complaining voters after the state's first 2020 election day, the primaries in June.
Sign up for The Fulcrum newsletter
A main reason, she said, was that so many voters had continued to take advantage of the state's pandemic-promoted decision to encourage voting ahead of time, either in person or using mail ballots that Georgia has made easier than ever to obtain and complete.
As of Monday, more than 3 million had already voted — including 123,000 who didn't vote in the general election. Somewhere between 700,000 and 900,000 were expected at local polling places before polls shut at 7 p.m.
Such turnout — while below the 5 million votes cast in the presidential race, a turnout rate of 68 percent — would nonetheless shatter records for runoffs in Georgia, which in modern times have not topped about three-fifths of the November number.
Black voters made up 31 percent of the ballots cast early, either in person or by mail, in line with their share of the population and their share of the November vote. Voters younger than 30 account for 12 percent of the early votes, also in line with the fall. Turnout by both Black and younger voters were key to President-elect Joe Biden's razor-thin, 12,000-vote win in the state, the first by a Democratic presidential nominee in 28 years.
Motivating turnout for what has appeared to be a pair of tossup races of national importance has helped make the Georgia contest by far the most expensive congressional election in American history: More than $833 million has been spent on the two contests overall — an astonishing 6 percent of all the money poured into all the elections for president and Congress over the past two years.
Wins by both Democrats, documentary film company owner Jon Ossoff and Baptist minister Raphael Warnock, would give their party 50 seats in the Senate, a working majority once Kamala Harris becomes vice president and has the tie-breaking vote.
Victories by either GOP incumbent, David Perdue (who's opposed by Ossoff) and Kelly Loeffler (challenged by Warnock), would mean a GOP Senate but a Democratic House, almost assuring partisan gridlock that hobbles Biden's efforts to advance what could be the most progressive governing agenda in generations.
The biggest problem reported Tuesday morning was in Columbia County, outside Augusta, where problems with the digital poll books meant election workers had to resort to the slower methods of checking people in using paper backups.
Gabriel Sterling, the state's voting system manager, tweeted that back-up emergency ballots were being used and new equipment was being delivered to polling stations by police.
Election workers have experienced sporadic issues with a new generation of electronic equipment in use since last year, so much so that this fall a federal judge had ordered the paper backups as a precaution.
Of the 2,000 calls to its hotline, the Lawyers Committee reported, by far the most were complaints that requested absentee ballots had not arrived and so voters felt compelled to risk Covid-19 exposure to vote in person.
Looming much larger than any voter complaints, it seemed certain, would be the vituperative condemnations of the Georgia election system from President Trump. Since losing the state's 16 electoral votes — after the ballots were counted three times — he has launched an extraordinary jihad against the fellow Republicans in charge, Gov. Brian Kemp and Secretary of State Brad Raffensperger.
At a rally in northwest Georgia on Monday night, he repeatedly declared that the November elections were plagued by fraud that fellow Republicans — from the Georgia officials to his own previous attorney general — flatly declared did not occur.
At the same time, he encouraged his supporters to show up in force. "You've got to swarm it tomorrow," Trump told thousands of cheering supporters, downplaying the threat of fraud.
Since the early vote appears to have solidly favored the Democrats, Republicans are counting on a big turnout Tuesday from their base.
At just 33, Ossoff would become the youngest senator in the nation. Warnock would be the first Black Democrat elected to the Senate from the Deep South.
"Georgia, the whole nation is looking to you. The power is literally in your hands," Biden declared at his own rally in Atlanta on Monday. "One state can chart the course, not just for the next four years, but for the next generation."