New Florida push for ranked-choice voting faces obstacles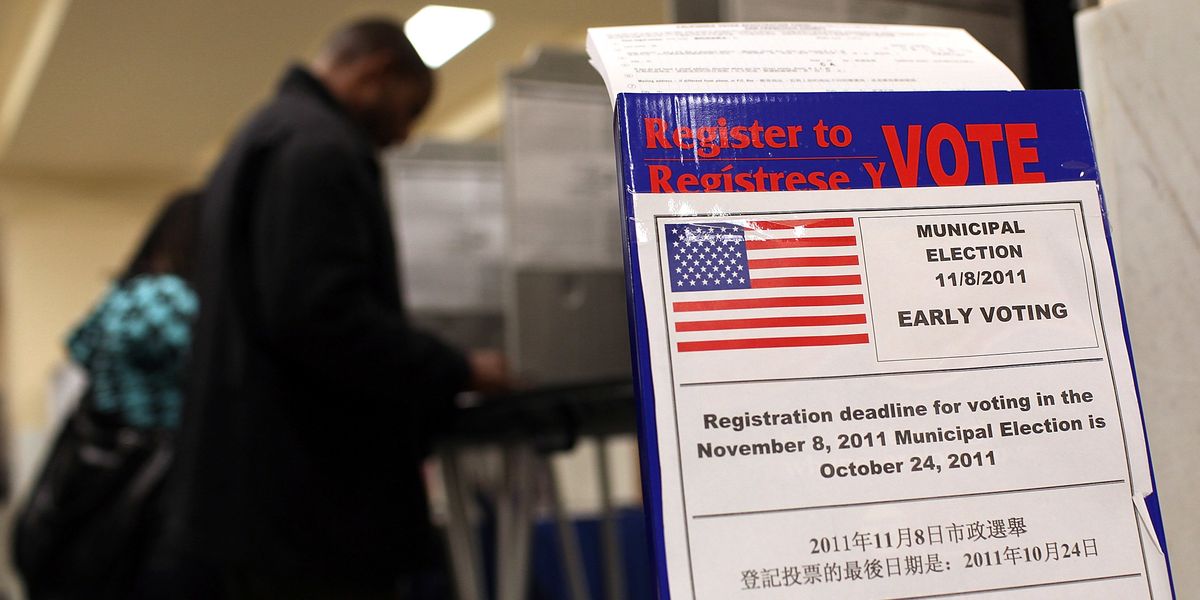 Justin Sullivan/Getty Images
Add Jacksonville, the fourth biggest city in Florida, to the list of communities where activists are attempting to implement ranked-choice voting to encourage more participation and less rancor in politics.
And within days, a new statewide organization promoting the increasingly popular alternative to the traditional vote-for-one candidate system is expected to be announced.
But both efforts are likely to face legal obstacles that could hobble the latest democracy reform drive in the nation's most populous politically purple state.
---
Perry Waag, who has been active in centrist and independent political reform groups, is one of the leaders of Ranked-Choice Voting Jacksonville.
He said the group is taking a two-prong approach: Encouraging members of the Jacksonville City Council to pass an ordinance implementing ranked-choice voting, while at the same time gathering signatures to get the issue on the city's 2020 ballot — all in the hope of having the new system in place for the 2023 municipal elections.
Waag is taking a pragmatic approach, acknowledging that neither effort may pay off immediately. He finds progress every time he discusses ranked-choice voting with someone. "The mightiest waterfall starts with a single drop," he said.
Waag noted that this year's municipal elections in Jacksonville attracted only 24 percent of the registered voters for the March first round and only 14 percent for the second round runoff in May.
Sign up for The Fulcrum newsletter
The first step in the petition process is to gather about 3,000 signatures, which will then qualify the proposal to be reviewed by the city's general counsel. If it passes muster there, supporters will have to gather a total of about 30,000 signatures by next May in order to qualify for the November 2020 ballot.
Waag said the statewide group, Rank My Vote Florida, is just getting off the ground and will include activists from Sarasota, where voters approved ranked-choice voting in 2007 but still have not used the system.
The obstacle for Sarasota — and likely to be a hurdle for efforts in Jacksonville and statewide — is the Florida Department of State, which oversees elections statewide.
Secretary of State Laurel Lee, a Republican, believes that Florida law and the state's constitution prohibit ranked-choice voting. The constitution says that "general elections shall be determined by a plurality of votes cast," which she interprets as meaning the individual who receives the most votes wins.
Under the ranked-choice voting system, people place the candidates in an order of preference and, if no one has a majority of top-choice ballots, the candidates with few No. 1 ballots are eliminated and their votes redistributed based on their No. 2 rankings until someone has a majority.
Opponents say this sort of automated runoff system is confusing at best and subject to fraud at worst. Advocates counter that RCV, as its dubbed, better reflects the true level of support for various candidates, discourages negative campaigning and encourages cooperation.
In places like Jacksonville, it also would save money because runoff elections would no longer be needed. That would have saved Jacksonville more than a $1 million in this year's municipal elections, Waag said.
He concedes that it may take some time and effort to convince voters to change. "We are so engrained with the way things are," he said.
But Waag believes that with ranked-choice voting "you'll get more solution-oriented people, more issue-oriented people" elected to office.
Nationwide, more than a dozen communities — including San Francisco and Minneapolis — are using ranked-choice voting while Maine is the only state to have passed it.
Just this week, the Massachusetts attorney general found that a petition to bring ranked-choice voting to the state passed legal muster. Advocates must still gather signatures to place it on the 2020 ballot.
A similar effort for a ballot initiative for ranked-choice voting in Alaska was shot down by Lt. Gov. Kevin Meyer, a Republican, but advocates may take the issue to court.
And in Maine, proponents of ranked-choice voting are watching to see whether Democratic Gov. Janet Mills signs legislation passed in the waning hours of a special legislative session to use ranked-choice voting in the March 2020 presidential primary. The bill takes effect at midnight Friday unless she vetoes it.