Gen Z voters could swing key races in November
https://twitter.com/davidmeyers?lang=en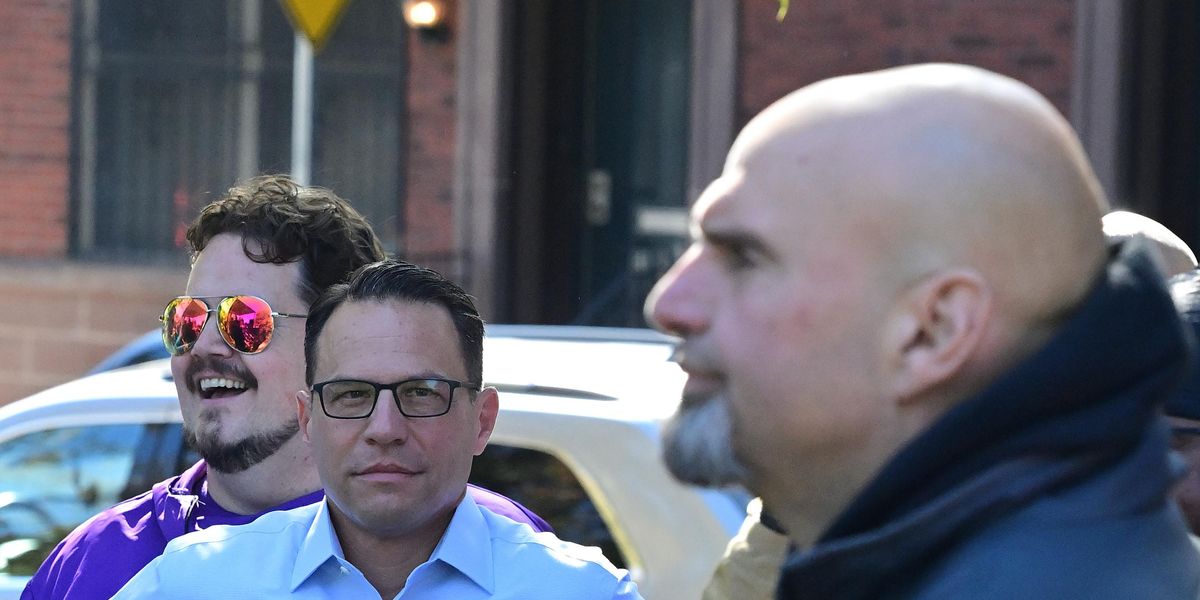 Mark Makela/Getty Images
The youngest voters in swing states are highly motivated to cast ballots this fall, according to a recent poll, and they could prove to be difference-makers in a number of key races.

The Gen Z Swing State Survey, conducted by Generation Labs for the left-leaning Voters of Tomorrow, found that 67 percent of people ages 18-24 in Arizona, Florida, Georgia, Nevada, North Carolina, Ohio, Pennsylvania and Wisconsin said they are "absolutely" or "likely" to vote in November's midterm elections.
In the previous midterm election, 32 percent of 18- to 24-year-olds voted. In 2020, when more voters than ever cast ballots, 51 percent of that cohort participated.
---
"Young people are under attack from the far-right on so many different fronts — from abortion restrictions to book bans to gun violence –– and realize that this election could determine what rights we have going forward," said Jack Lobel, deputy communications director for Voters of Tomorrow.
Each of the surveyed states features competitive House, Senate and gubernatorial races. Democrats in Generation Z are more likely to vote than Republicans (78 percent, compared to 63 percent).
This year, the members of Generation Z in those states say they are primarily concerned abortion rights, with 37 percent saying that issue will influence how they vote. Both jobs/economy and health care were identified by 35 percent (respondents could name three issues.)
Sign up for The Fulcrum newsletter
Concerns about democracy fell near the bottom of the list: democracy reform/voting rights (11 percent), the Jan. 6, 2021 riot (6 percent), reforming/eliminating the Senate filibuster (5 percent).
"The far-right has given us so many reasons to show up this November. Our mission to protect access to abortion care is just one of them," Lobel said.
A recent survey by The New York Times found that, among all registered votes nationwide, the economy is considered the most important problem facing the United States (26 percent), followed by inflation/cost of living at 18 percent and abortion running a distant third at 5 percent. Even among those 18-29, abortion remained in third (at 10 percent).
Earlier this year, the Center for Information & Research on Civic Learning and Engagement identified the House, Senate and governor's races where youth voters can have the most impact.
The Senate races in each of the seven states included in the survey made CIRCLE's list of 10, including the top five (Georgia, Arizona, Nevada, Pennsylvania and Wisconsin).
In terms of gubernatorial races, four of the states made CIRCLE's 10, including Wisconsin (no. 2) and Arizona (no. 2).
"Young people in Wisconsin, which is in the top-5 of both of our rankings, make up 16% of the state's population, have a 68% voter registration rate, and have demographic characteristics correlated with high voter turnout," wrote the researchers for CIRCLE, which is part of Tufts University's Tisch College.
Lobel identified a handful of candidates who have done a particularly good job of reaching out to young voters, including Democrats Josh Shapiro and John Fetterman, who are running for governor and senator, respectively, in Pennsylvania.
"Young people make up 16% of the state's population, 69% of youth are registered to vote, and young people had above-average voter turnout in the past two federal elections," CIRCLE wrote.
Voters of Tomorrow has a particular affinity for a particular Democrat seeking a House seat in Florida.
"It also goes without saying that Maxwell Frost, who will soon become the first Gen Z member of Congress and whom we were proud to endorse early on in his candidacy, is one candidate who appeals to us, not just because he is one of us, but because he will fight for our future," Lobel said.