Voting rights bill gets GOP support, but not enough to overcome a filibuster
https://twitter.com/saramswann?lang=en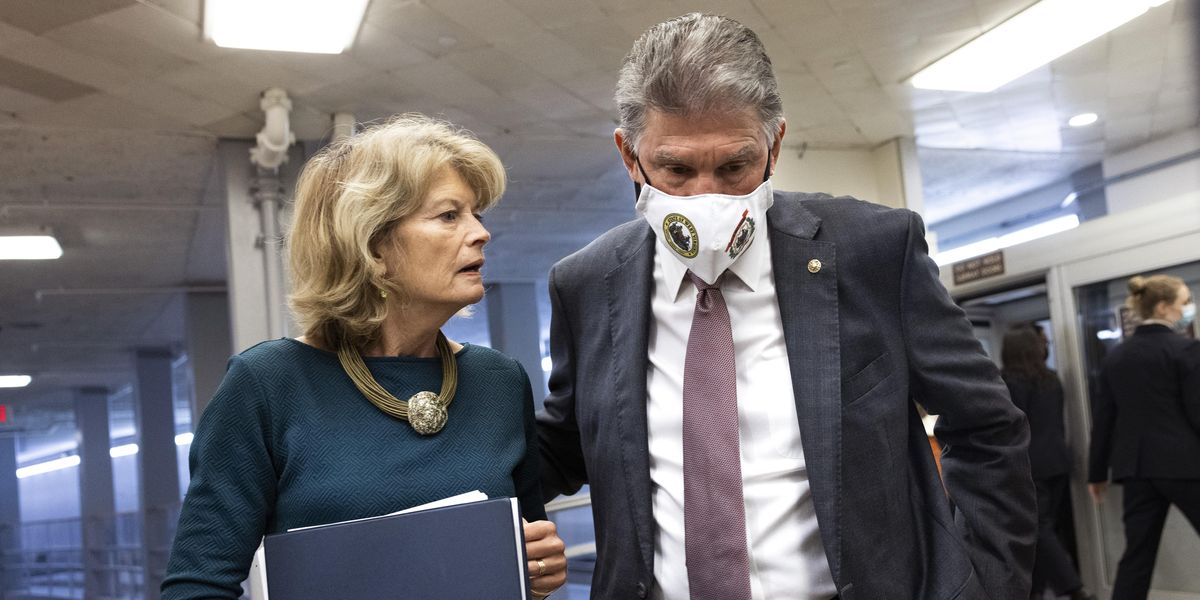 Kevin Dietsch/Getty Images
Senate Democrats are planning another push to advance voting rights legislation, and while this time at least one Republican is on board, the bill appears to be going nowhere.

GOP Sen. Lisa Murkowski of Alaska has signed on to a revised version of the John Lewis Voting Rights Advancement Act, along with Sen. Joe Manchin of West Virginia, until now the sole Democratic holdout on the bill. Murkowski and Manchin announced Tuesday that they had reached a deal with Democratic Sens. Dick Durbin, chairman of the Judiciary Committee, and Patrick Leahy, lead sponsor of the bill.
However, the VRAA will still likely fall nine Republican votes short of overcoming a filibuster when the legislation is brought to the floor Wednesday afternoon for a procedural vote.
---
While most Republicans remain staunchly opposed to the latest version of the voting rights bill, historically the issue has been largely bipartisan. The original Voting Rights Act of 1965 was approved by a 77-19 vote in the Senate, with 30 Republicans in favor. Subsequent amendments to the Voting Rights Act were also approved in a bipartisan manner.
The most recent reauthorization of the Voting Rights Act in 2006 was passed unanimously in the Senate, and 10 of the Republicans who voted in favor are still serving: Richard Burr, Susan Collins, John Cornyn, Lindsey Graham, Chuck Grassley, Jim Inhofe, Mitch McConnell, Lisa Murkowski, Richard Shelby and John Thune.
Sign up for The Fulcrum newsletter
"To my Republican friends in the Senate: a vote in support of the John R. Lewis Voting Rights Advancement Act should not be a difficult decision," said former GOP Rep Carlos Curbelo, now a board member of the crosspartisan good-government group Issue One. "By restoring a key provision of the Voting Rights Act that prevents discriminatory voting policies, our elected leaders can proudly proclaim that voting should be accessible to all Americans — no matter your political ideology, gender, skin color or ZIP code."
But this time around, Murkowski is the only Republican who has been willing to work with Democrats on the voting rights legislation.
"Voting rights are fundamental to our democracy and how we protect them defines us as a nation. I have supported this particular legislation in previous Congresses and continued to work with my colleagues on it, because it provides a framework through which legitimate voting rights issues can be tackled," Murkowski said.
If the VRAA were to become law, it would restore voting protections struck down by the Supreme Court. In 2013, the court's decision in Shelby County v. Holder eliminated the preclearance requirement, which mandated certain states with histories of racial discrimination receive advanced approval from the Justice Department before enacting new voting laws. The court's decision this summer in Brnovich v. Democratic National Committee made it harder to challenge potentially discriminatory laws in court.
The amendment brought by Murkowski and Manchin builds on the original version of the VRAA, modifying which factors courts can take into account for cases of potential voting rights violations. These changes are being proposed in an attempt to garner more GOP support for the bill.
The Murkowski-Manchin amendment also incorporates provisions from the Native American Voting Rights Act to address the unique barriers faced by Native American voters on tribal lands.
"Sen. Murkowski's support for the bill and for Native voting rights shows that she has been listening to Alaska Native voters and realizes the absolute importance of making long overdue progress to establish and protect voting rights for this land's first peoples," said Jacqueline De León, staff attorney for the Native American Rights Fund.
If Republicans block consideration of the VRAA as expected, they might tee up serious consideration of filibuster reform. Voting rights advocates have been turning up the heat on Democrats to modify or nix the procedural tool, as it has increasingly been used to block their legislative priorities.
Last month, the Freedom to Vote Act was blocked in the Senate by a GOP filibuster. A couple days later, President Biden said during a CNN town hall that he would be open to changing the filibuster rules in order to pass the Democrats' long-stalled electoral reform legislation.
"The filibuster in its current form is poisoning our democracy. It's way too easy for one person to block legislation that the majority of the country supports," said Josh Silver, CEO and co-founder of RepresentUs. "There are many ways we could fix the filibuster to restore the Senate, and it's time for the president and senators to choose saving democracy over an arcane rule."
The Freedom to Vote Act was a compromise bill that built on the For the People Act, which was also blocked by a filibuster earlier this year.