Statue of Liberty
https://twitter.com/davidlnevins?lang=en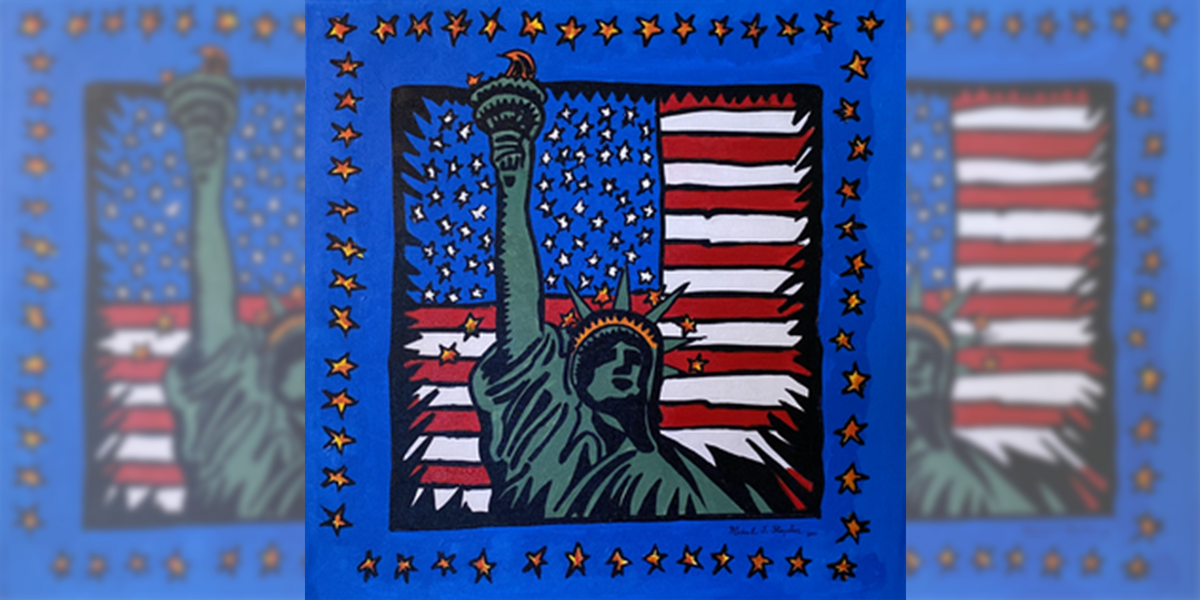 I was recently talking to an 86-year-old friend of mine, Michael Stapler, about The Fulcrum and our new Pop Culture section.
The Fulcrum believes there is a deep connection between democracy and American culture, and this new coverage area is designed to deepen the understanding of our differences and similarities, and discover our shared interests and common destinies.
---
Whether it is music of all types, poetry, dance, literature, painting and drawing, comedy, or drama, we will appeal to the human spirit — a spirit that expresses the joys, sorrows and harmonies of the heart and soul.
Michael, whose hobby is painting, took my words seriously and I was taken aback when he presented me with a beautiful painting he did that was inspired by our conversation about the connection between art and democracy.
His painting, "LIBERTY - Celebrating Freedom in America," is his expression of what celebrating freedom in America means to him.
His painting was accompanied by these words expressing how art is connected to democracy, and perhaps they were his inspiration for the painting:
Art represents one of the key components of Democracy, the freedom of expression.
Art examines and expresses culture, human rights, and diversity.
Art can view ways of life that differ from one's own.
Art is a universal language.
Art often promotes citizen participation.
Art engages one's emotions.
The Statue of Liberty represents freedom, democracy and justice.
Many artists are drawn to the Statue of Liberty. Iconic pop artist Peter Max has been enamored with the statue, completing his first portrait of it 45 years ago. He has done many more over the years.
Sign up for The Fulcrum newsletter
Standing at 305 feet tall, the Statue of Liberty for many is a symbol of freedom, optimism and friendship among nations. A gift from France in 1886, her base has these words inscribed:
Give me your tired, your poor,
Your huddled masses yearning to breathe free,
The wretched refuse of your teeming shore.
Each one of us as we look upon Michael's painting and read these words will feel different emotions and have different perceptions as to what the Statue of Liberty means to them. And that is America: a diversity of thought, a melting pot of ideas.
As you look at this painting and read the words inscribed on Lady Liberty, what emotions do you feel? Email us at pop-culture@fulcrum.us to share your thoughts.