Russia's invasion of Ukraine is the latest sign of rising authoritarianism
https://twitter.com/davidmeyers?lang=en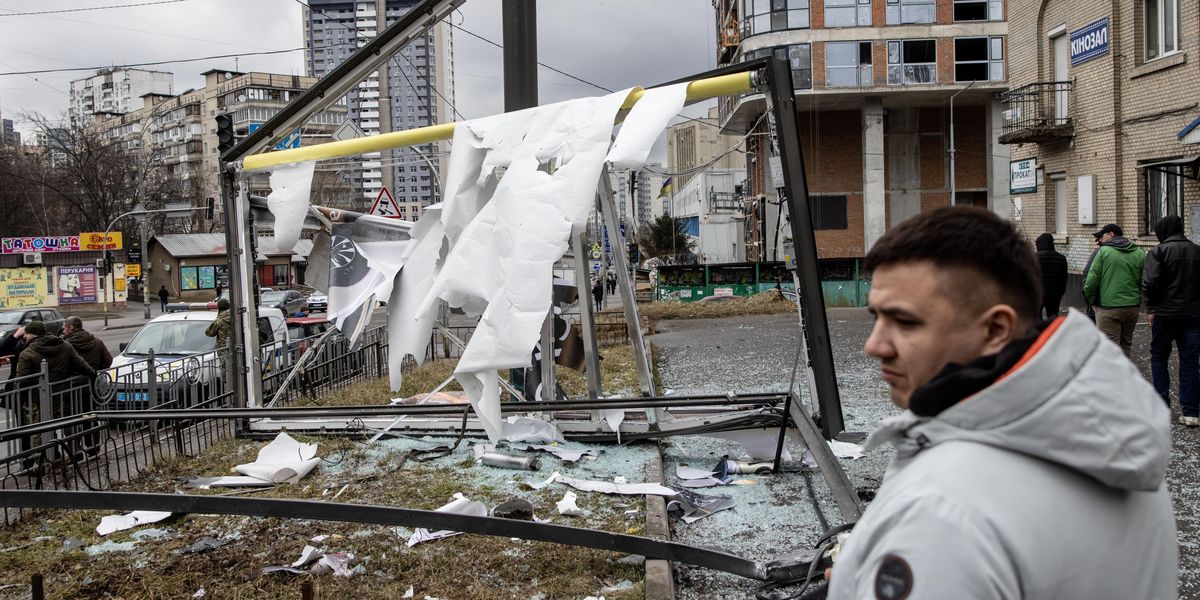 Chris McGrath/Getty Images
Vladimir Putin's invasion of Ukraine is the latest, and most serious, example of the rise of authoritarianism around the world. Over the past year, far more countries have witnessed a decline in democracy than an improvement, according to a new report issued just hours after Russia attacked Ukraine.

"Global freedom faces a dire threat." That's the opening line of "Freedom in the World 2022," the latest edition of Freedom's House's annual study of political rights and civil liberties. Russia already ranked near the bottom of the list of 210 countries and territories even before invading its neighbor and triggering a worldwide crisis.
In contrast the study indicates that freedom has stabilized in the United States over the past year after declining for the past decade.
---
At the heart of the conflict is Putin's authoritarian desire to both expand the Russian sphere of influence and remove threats to his power. (Vox offers an excellent piece explaining the history that led to the invasion). In doing so he threatens to accelerate the dire threat to global freedom.
The impact of Russia's invasion extends far beyond the decline of democracy. The Biden administration has estimated a full invasion could result in more than 75,000 military and civilian casualties, as well as a refugee crisis involving millions of people.
Sign up for The Fulcrum newsletter
Autocracy "is not designed to serve the best interests of populations, or to enable people to improve their own lives. Instead it is grounded in autocrats' shared interest in minimizing checks on their abuses and maintaining their grip on power. A world governed by this order would in reality be one of disorder, replete with armed conflict, lawless violence, corruption, and economic volatility," wrote the report's authors, Sarah Repucci and Amy Slipowitz. "Such global instability and insecurity would have a significant cost in human lives."
Freedom House researchers assess countries on two broad categories, political rights and civil liberties, with points awarded for various subsections like electoral process, functioning of government, freedom of expression and rule of law. Russia accumulated just 19 points (out of 100), down 1 point from last year, putting it in the "not free" category.
"Power in Russia's authoritarian political system is concentrated in the hands of President Vladimir Putin," the report states. "With loyalist security forces, a subservient judiciary, a controlled media environment, and a legislature consisting of a ruling party and pliable opposition factions, the Kremlin is able to manipulate elections and suppress genuine dissent. Rampant corruption facilitates shifting links among state officials and organized crime groups."
For example, in 2021, the Russian government jailed opposition leader Aleksei Navalny and labeled his organization as extremist, banning it from participating in the parliamentary elections and eliminating any threat of competition.
But it's not just Russia where liberal democracy (a form of representative government based on the rule of law) is falling to authoritarianism. Freedom House found that in every one of the past 16 years, more countries have seen a decline in democracy than an improvement. This year's report shows just 25 countries have improved while 60 have declined.
"Authoritarian regimes have become more effective at co-opting or circumventing the norms and institutions meant to support basic liberties, and at providing aid to others who wish to do the same," Repucci and Slipowitz wrote. "In countries with long-established democracies, internal forces have exploited the shortcomings in their systems, distorting national politics to promote hatred, violence, and unbridled power."
Ukraine showed a very slight uptick in the latest report, but is still classified as "partly free" by Freedom House, which praised the country for enacting positive reforms while taking away points for a failure to stop corruption and continued attacks on journalists and activities.
The United States is considered a "free" country and matched last year's low-water mark of 83 out of 100 points. In 2010, the U.S. had reached a high of 94.
While the rule of law and freedom of expression remain core elements of a "vibrant political system" in the United States, according to the report, the decline of some institutions, increased polarization, and enlarged economic and political divides keep the U.S. from rising in the rankings.
The report identified four key developments that prevented the United States from scoring higher:
Former President Donald Trump's repeated false claims of election fraud and the Jan. 6, 2021, insurrection at the Capitol. Even though Congress completed the election ratification and Joe Biden's inauguration proceeded without incident, "Trump's false assertions about large-scale fraud continued to pervade Republican Party discourse throughout the year, leading to intraparty tensions and the threat of political marginalization for Republicans who vocally rejected the claims."
Many states passed laws that make it harder to vote and increase the risk of partisan interference in election administration, and a number of states placed restrictions on civil liberties.
Race continued to be a major issue, with courts dealing with cases involving the police killings of Black civilians, including George Floyd.
Covid-19 deaths surpassed 800,000 as the spread of misinformation continued to convince a significant number of Americans to avoid vaccination. A Biden administration order requiring employees at large companies to be vaccinated became another dividing line.
As we assess the international ramifications of Russia's invasion of Ukraine, it serves us well to consider how these events are just one example of a global threat to democracy.