College athletes focus on civic action
https://twitter.com/davidlnevins?lang=en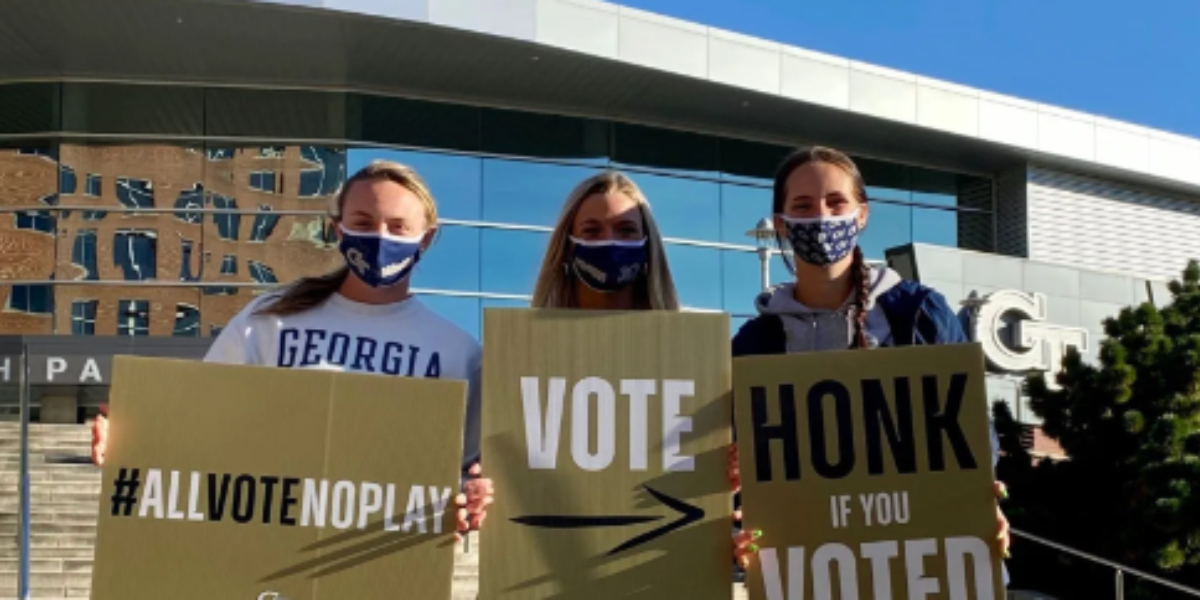 David Nevins is co-publisher of The Fulcrum and co-founder and board chairman of the Bridge Alliance Education Fund.
As fans from across the country prepare for the fall college sports season, we will once again witness the power of sports to bring people together regardless of the differences that divide us as a nation. Whether your team is good or bad, whether you are a Democrat or Republican, it doesn't matter as we come together as one community rooting for our team to win. No matter what our backgrounds are, fans feel like a part of the same team as they share in the agony of defeat and the exaltation of victory. The collective energy is powerful.
---
College athletes are in a unique position as campus leaders to take this energy and help us all rise above what divides us to elevate civic action and a sense of community.
A new program on college campuses across the country aims to do just that. The inaugural season of the Engaged Athlete Fellowship is focused on building upon the sense of community that sports generates by inspiring and shaping the leaders of tomorrow. This groundbreaking program will engage a diverse group of 28 student athletes from across the country offering nonpartisan programming focused on: leadership development, mentoring, a year-long civic project, and a multi-day end of year experience in Washington, D.C.
Sign up for The Fulcrum newsletter
A list of this inspiring group of student athletes can be found here.
This unique leadership program is a partnership between The Team and the Bridge Alliance Education Fund. The work aims to empower a diverse class of motivated student athletes to strengthen nonpartisan civic participation on their teams, their campuses, and their broader communities. Athletes are in a unique position as campus leaders to use their voice in building bridges to bring the athletic and campus communities together!
The Engaged Athlete Fellowship (EAF) will focus on three areas:
Phenomenal leadership and professional development curriculum developed by esteemed professors, coaches, professional athletes, and civic leaders.
Mentorship and support for athletes to execute a project connecting civic engagement, community service, and athletics while working with The Team staff.
Multi-day civics experience in Washington, D.C. This unique forum will allow athletes to meet each other, participate in workshops, network with sports/business/civic leaders, and present their project work from the year.
EAF is led by Joe Kennedy, a 2007 graduate of Northwestern, former basketball player, and coach who served as a special assistant for the Office of Public Engagement at the White House. Most recently, in September of 2022, Kennedy became the first Executive Director of All Vote No Play. In 2020, Kennedy connected with Coach Eric Reveno, where they became a major force leading a new college athletics movement to expand student-athlete voter registration and create civic resources for coaches and teams. After teaming up with designer and civic catalyst Lisa Kay Solomon in 2021, the movement grew, becoming the pioneer of civic engagement in college athletics. Coach Joe Kennedy is working toward a future where all student athletes and athletic departments establish civic engagement as a priority, and he and his team are working to make that dream a reality through the Engaged Athlete Fellowship program.
Student athletes working with The Team have won prestigious awards and recognition for their work, been invited to work on programs with athletic greats like NBA star Stephen Curry and Athletes Unlimited Cassidy Lichtman, received opportunities to present with city mayors, and had their stories published in major media publications like ESPN, Teen Vogue, Forbes, and others. See the full story and impact here.
Stay turned in the coming weeks as we further share the goals and aspirations of the incredible 28 participants in this inaugural year of the Engaged Athlete Fellowship Program.