What's next for U.S. democracy after the president's stress test?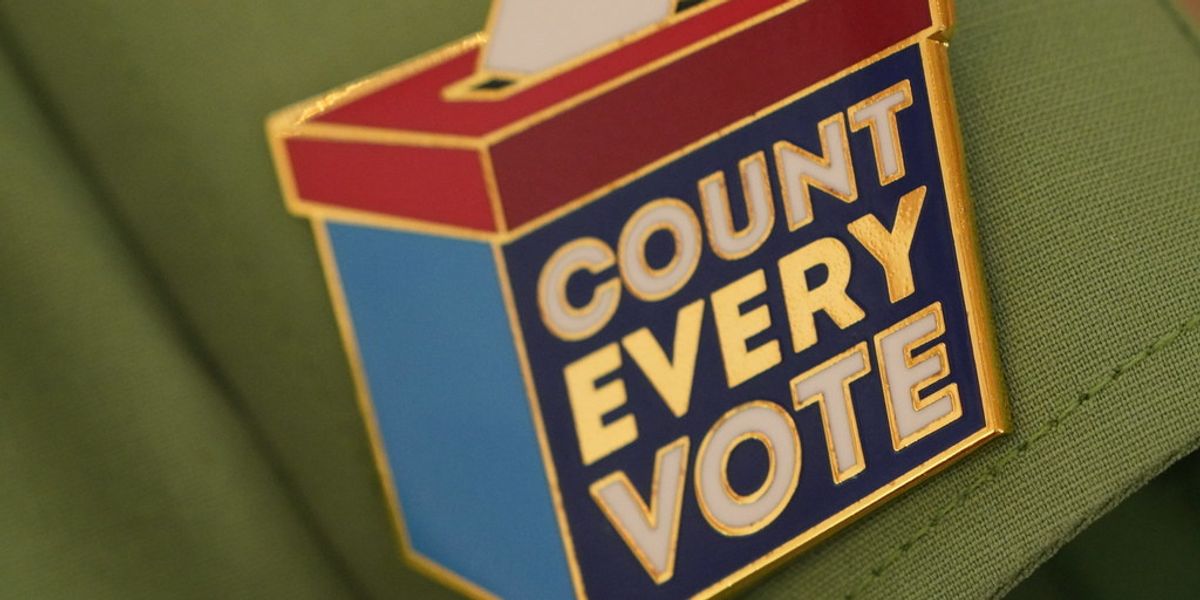 Jay Cross/Flickr
In another assessment of the 2020 vote so far, Election Dissection sat down with Laura Williamson, who works on voting rights and democracy at Demos. We spoke about President Trump's election night remarks as a stress test for the United States. Williamson had plenty to say about the state of the elections and some things that need fixing after the votes are finally counted.

What was your reaction to the president?
The president's remarks and actions are a test of our ability to show up, as a people, to mass mobilize and resist his authoritarian calls to end the counting. The basis of our democracy is that we pick our leaders. It's not the president or the courts that choose. So it's a test of our ability as a people to resist what is so clearly an anti-democratic attack.
And Americans are rising to the test. We're seeing masses of people calling for every vote to be counted. They're showing up and exercising their political power. We flexed our political power one way, by voting before or on Election Day. Now we're exercising it again in a different way — showing up in the streets and demanding every eligible vote is counted.
---
What did the election say about American democracy?
American democracy wasn't functioning well for many Americans before this election. Sure, it's working well as it was designed by our all-white, all-male founding fathers — to protect white political power — but it's still failing Black and brown people. For example, we have the legal principle of one person, one vote. In practice, however, not every eligible person has the opportunity to cast their ballot or have it counted, and those disenfranchised are disproportionately Black and brown Americans. 2020 made that clearer than ever, but it's not new.
Sign up for The Fulcrum newsletter
The question is, after we survive this particular assault, whether we're going to change the institutions and systems that make our democracy unhealthy. It may be tempting to think if we survive Trump's call to stop the count that our democracy passed the stress test and everything is OK. I would challenge that idea and encourage us to prioritize structural reform that will help us build an inclusive democracy for the first time.
What are your highest priorities after the election?
One of the biggest projects at Demos is a constitutional amendment guaranteeing the right to vote for all eligible people. If we had a guaranteed right to vote, a lot of the voter suppression efforts we saw this year would have been moot. A right-to-vote amendment would state the right in an affirmative way. Ideally, it would also undo all of the attempts we've seen over the centuries to make the right to vote not a real right for a lot of people, particularly Black and brown people. It would have prevented a lot of the problems we saw this year, like states not accepting Covid-19 as an excuse for absentee ballots, or the Supreme Court prohibiting curbside voting in Alabama.
Any other observations about Election Day?
The turnout was impressive. Voters went to the polls at the highest rate in more than 120 years. But we should also not lose sight of the counterfactual, the things we can't quite quantify. Like all the people who were not able to overcome the tremendous barriers to the vote this year. Or those who didn't turn out because of the very credible threat of violence.
I talked to one registered voter, a Black woman in Graham, N.C., who generally votes. She decided not to vote after what happened on the Saturday before the vote. Police there pepper-sprayed a group of voters marching to the polls for early voting. This woman said she couldn't risk facing something like that. We may not have had open violence in the streets, as we feared, but we still absolutely had voter suppression.
Yet, despite all the threats, Black and Latinx folks turned out, especially in the states we're watching right now. I think Black and Latinx voters flexing political power to reject the assaults on their communities is the biggest story of the 2020 election. And it's the result of deep, sustained investment by local groups who have been organizing for years, day in and day out. Groups like LUCHA (Living United for Change in Arizona), BLOC (Black Leaders Organizing Communities) in Wisconsin and the New Georgia Project. These are the groups who have been knocking on doors, talking to people about education, health care, workers rights and immigration — everything that affects people's lives. That's how we build a democracy that reflects all of our voices and works for all Americans.