Partisanship continues to hinder vaccination rates
https://twitter.com/saramswann?lang=en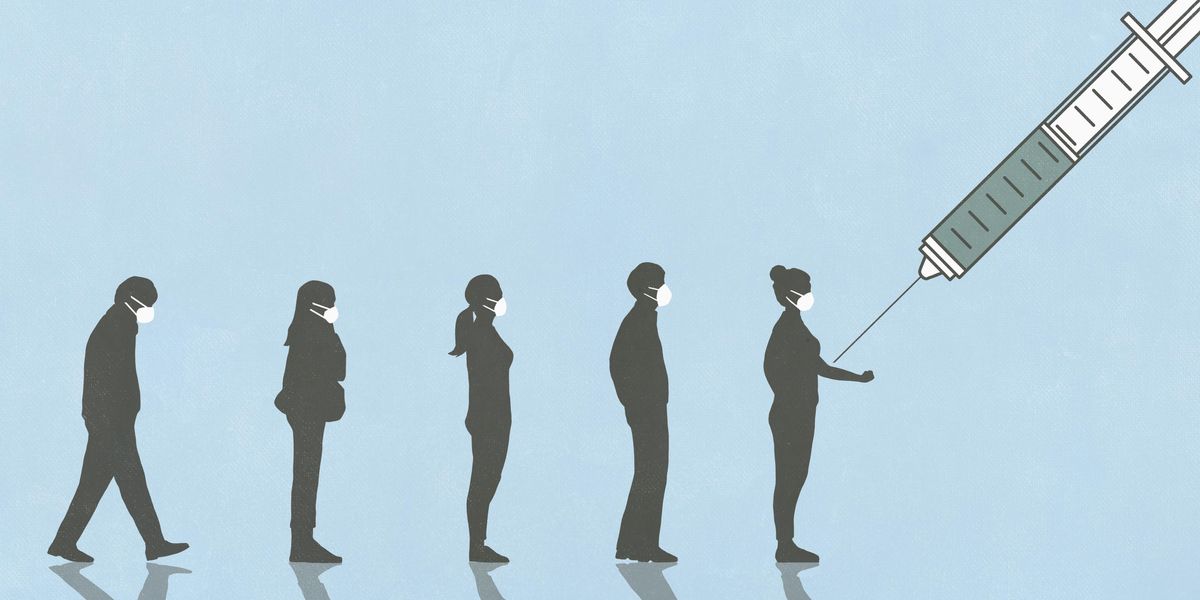 Malte Mueller/Getty Images
Even though more Americans are getting vaccinated against Covid-19, inoculation rates remain significantly depressed in some conservative and rural parts of the country.

More Republicans are opting to get vaccinated, but many remain hesitant due to the polarizing rhetoric that has persisted throughout the coronavirus pandemic, according to research released Monday by Citizen Data. Vaccine hesitancy is particularly high in rural, conservative areas, the nonpartisan research organization found.
---
Citizen Data's analysis of Centers for Disease Control and Census Bureau data found that vaccine hesitancy is most severe in parts of Georgia, Virginia and West Virginia. And by folding in its own ideology modeling, the research group determined a hesitancy score (0 for least hesitant to 100 for most hesitant) by media market.
At the top of the list is Dothan, Ala., a city of 261,000 that borders Georgia, with a vaccine hesitancy score of 100. Citizen Data determined 3 in 10 adults there are considered "rural conservative" and just 6 percent of its overall adult population is vaccinated.
The rest of the "most hesitant" list includes: Harrisonburg, Va.; Roanoke and Lynchburg, Va.; Albany, Ga.; Clarksburg and Weston, W.Va.; North Platte, Neb.; Macon, Ga.; Charlottesville, Va.; Amarillo, Texas; and Springfield, Mo.
Sign up for The Fulcrum newsletter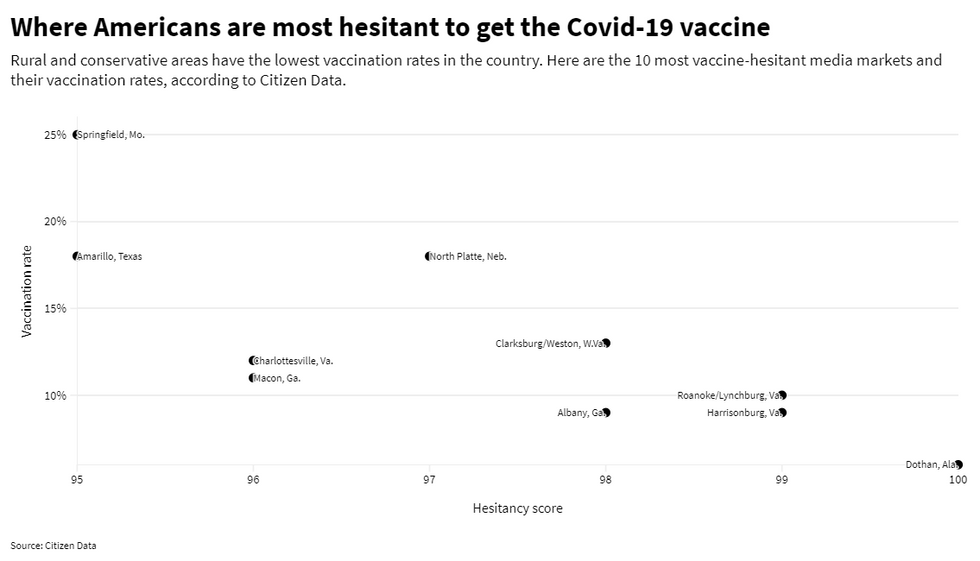 Source: Citizen Data
Although these areas and others continue to see vaccine aversion from conservatives, polling conducted in April by the Kaiser Family Foundation shows more Republicans are becoming amenable to it.

As of last month, 55 percent of Republicans surveyed said they had already received at least one dose or planned on getting vaccinated as soon as possible — an increase of 9 percentage points from March. Meanwhile the percentage of Republicans who said they would "definitely not" get vaccinated decreased from 29 percent in March to 20 percent in April.
Democrats remained the most enthusiastic about the vaccine, with 80 percent saying in April they had already received at least one dose or planned on getting it soon. This is only a slight increase from 79 percent in March.
Independents also saw a small increase in vaccination enthusiasm, from 57 percent in March to 59 percent in April.