Elections study finds digital tools gained popularity in 2020
https://twitter.com/saramswann?lang=en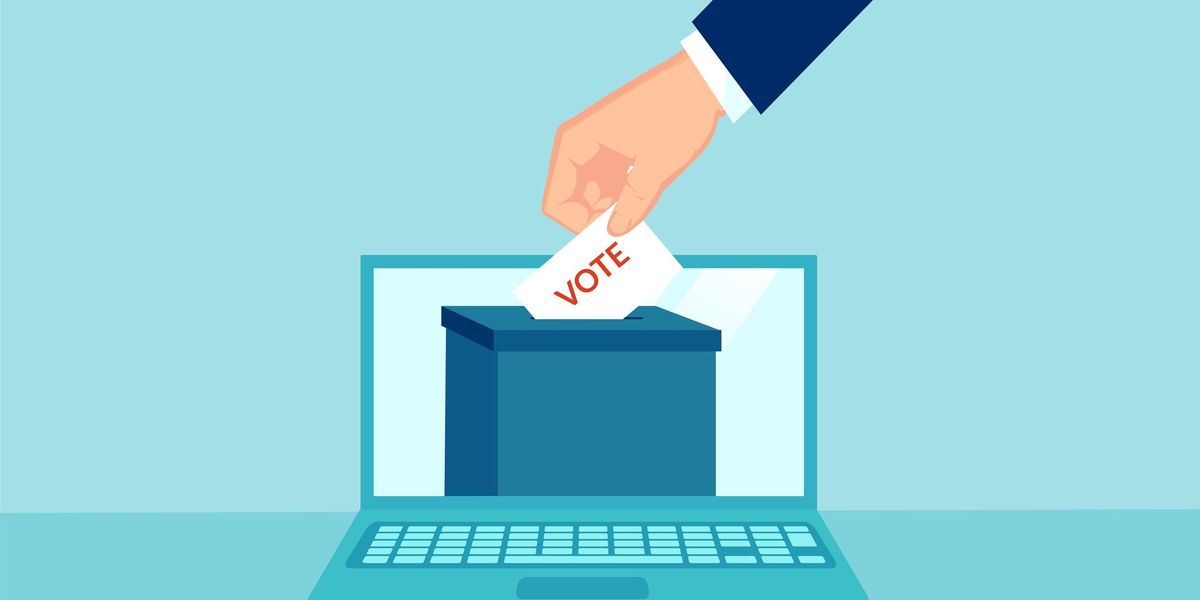 Feodora Chiosea/Getty Images
Digital voter registration and online balloting rose in popularity during the 2020 election, a recent government report found.

On Monday, the Election Assistance Commission released its findings from last year's pandemic-era election in a comprehensive 252-page report. The federal agency has conducted extensive biennial surveys of how Americans voted and states conducted their federal elections since 2004.
The 2020 report provides a detailed look into how voting and election administration were impacted by the Covid-19 pandemic. The Fulcrum broke the findings down in two parts. The first installment provided a general election overview and details on state policy changes. This article focuses on voter registration and military and overseas voters.
---
EAC Chairman Donald Palmer said the data collected in this report not only provides key insights into the 2020 election, but will also inform election policies and best practices moving forward.

Voter registration
Perhaps a prelude to the record-high turnout in the presidential election, 2020 also saw a spike in voter registrations. Nearly 104 million voter registration applications were submitted following the 2018 midterm and prior to the 2020 general election — a 34 percent increase compared to the period leading up to the 2016 election. Thirty-two percent of those applications were new valid registrations and another 49 percent were updates to a voter's name, address or party affiliation.
Sign up for The Fulcrum newsletter
Motor vehicle departments continued to be the most common way Americans registered to vote, making up 39 percent of the 2020 applications. But online registration saw the largest growth in usage over the past couple years, with 28 percent of applicants submitting electronically.
The EAC noted this increased use of online registration portals was helped by three states adopting such a policy since 2018: Minnesota, New Jersey and Oklahoma. In total, 42 states and D.C. allow citizens to register online. While Mississippi and Texas allow voters to update their registration information online, new voters cannot submit applications electronically.
The use of same-day voter registration, either on Election Day, during the early voting period or both, in 29 states also accounted for more than 1.6 million new registrations in 2020. Massachusetts, Michigan, Nevada and American Samoa were the most recent places to adopt this policy ahead of last year's election.
Automatic voter registrations systems used in 23 states also likely boosted new voter sign-ups, but the exact number is hard to quantify since most AVR systems are set up through motor vehicle departments. However, when comparing the change in voter registrations at the DMV between 2016 and 2020, the EAC found that states with AVR reported an 80 percent increase in registrations, whereas states without AVR reported just a 10 percent bump.
In addition to processing new registrations, states and territories are also charged with maintaining voter rolls to ensure they are accurate and current. While federal law provides minimal guidelines for how voter rolls should be updated, states are given considerable freedom to adopt their own policies.
Sometimes this results in what voting rights advocates call "voter purges," or mass removals of eligible voters. But generally states' periodic maintenance efforts remove deceased voters or people who have moved to another jurisdiction.
States usually send confirmation notices to voters who may have moved. If the notice is not returned, states may change the voter's status to inactive (and the voter would have to confirm registration before casting a ballot again). If an inactive voter does not participate in the following two federal elections, federal law instructs states to remove them from the rolls.
Between the 2018 and 2020 elections, states reported removing more than 18.7 million voters from the rolls. One-third of these removals were due to a lack of response, 29 percent were because the voter moved to another jurisdiction and a fifth were deceased voters.
Military and civilian overseas voters
For the 2020 election, more than 1.2 million ballots were sent to overseas voters including uniform service members, military spouses and dependents over the age of 18. These individuals reside outside of the country but hold legal residence in the United States. A large portion of these voters (40 percent) are concentrated in three states: California, Florida and Washington.
Since 2014, a majority of the ballots sent outside the U.S. were to non-military voters. In 2020 that trend continued with 60 percent of these ballots going to overseas civilian voters and 39 percent to members of the military.
Given the lengthy mailing process and high mobility rates of this voting population, a federal law was enacted in 2009 that gave military and other overseas voters the ability to vote electronically. Since then, receiving and returning ballots online has become increasingly popular.
For last year's election, military voters were almost evenly split on their preference of receiving a ballot in their mailbox or their inbox, whereas a vast majority of overseas citizens (71 percent) opted for email.
However, fewer overseas voters chose to return their completed ballots electronically (38 percent overall). Military voters showed a strong preference for returning ballots by mail, while overseas citizens were more divided.
More than 8,100 ballots returned by military and civilian overseas voters were received by election officials too late and not counted in the 2020 election. Overall, 2 percent of the votes cast by this population were rejected — less than half the rejection rate in 2018. Tardiness was the most common reason for ballot rejection last year.